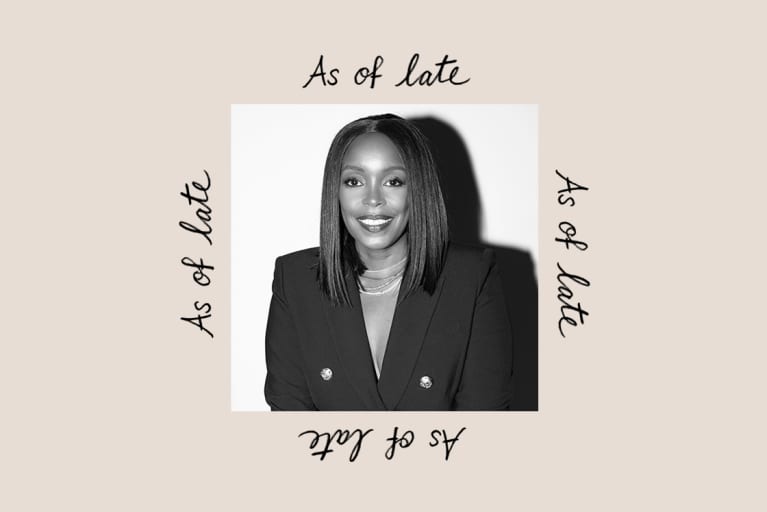 Our editors have independently chosen the products listed on this page. If you purchase something mentioned in this article, we may earn a small commission.
August 30, 2022 — 10:34 AM
Beauty routines are never truly stagnant—practices evolve and change like we do. In As of Late, we chat with influential folks about their current products and rituals. Here, we get a snapshot of what they're doing right now: the sacrosanct formulas they use until the last drop, the fresh launches they've got their eyes on, and of course, the why behind it all. 
Nyakio Grieco has clean beauty in her blood. Her grandmother—a Kenyan coffee farmer who she met when she was 8 years old—taught Grieco her very first beauty secret: using crushed coffee beans, oils, and rods of sugar cane to exfoliate her skin. Her grandfather—a medicine man—also relied on oils and herbal remedies to treat different skin concerns and ailments. 
"Using things that came from the Earth, the restorative power of oils…it was something I always knew, long before we termed 'clean beauty.' It was just part of my DNA," the co-founder of Thirteen Lune (a beauty e-tailer dedicated to BIPOC-owned brands) tells me over the phone. To Grieco, clean beauty is not a "movement" but simply a way of life. 
She upholds this ethos today, calling upon memories of her grandparents to create her newest beauty venture, Relevant: Your Skin Seen, and she draws on her upbringing when choosing the products and rituals to incorporate into her own everyday routine. Each is thoughtful and intentional, with a nod to the natural world—below, Grieco reveals the current lineup. 
The tried-and-true: A nourishing face oil.
"The one thing I definitely stand by, going back to the inspiration from my grandfather, is the restorative power of cold-pressed, good-for-you oils. I always say that you have to use oil to fight oil. And while now it's more commonplace in Western culture for people to embrace the power of using oils—for their skin, hair, etc.—that is something that has been tried and true my entire life.
"Right now I'm really loving the Clarity Facial Oil made by Katini Skin. It was created by a founder who is Ghanaian-Japanese but was raised in Australia, and it's something that I use in my ritual every day."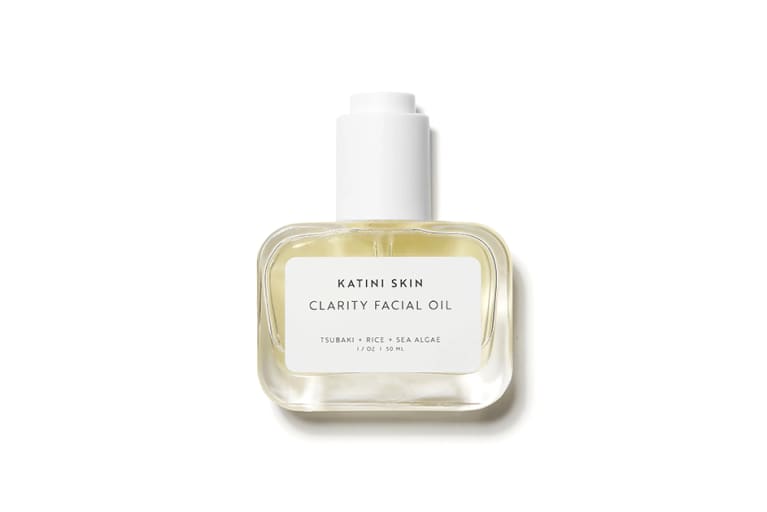 Katini Skin
Katini Skin Clarity Facial Oil
$95
Founded by Katini Yamaoka, this nutrient-rich blend includes a cocktail of healthy oils, like safflower seed oil, evening primrose oil, macadamia oil, and papaya seed oil (to name a select few).
The surprise hit: An LED mask.
"I'm a very busy entrepreneur and mommy, so I really just started to embrace tools in a bigger way than I ever had before. Part of that ritual in self-care is using an LED light mask. We have one that we carry at Thirteen Lune by DMH Aesthetics. What I love about it is that there's three different colors within the mask, so it's very efficient. Because I suffer from hyper- and hypopigmentation, I find that using the orange light has really, really helped me. 
"I know people have been using tools for a long time, [but] the various tools that I use now have really enhanced the performance of the products I use and really helped my skin. A lot of these LED masks are very expensive, and this is still an investment—it's $190. But I think it definitely allows the consumer, if they're going to make that investment, to do it at a price that's a little bit more affordable."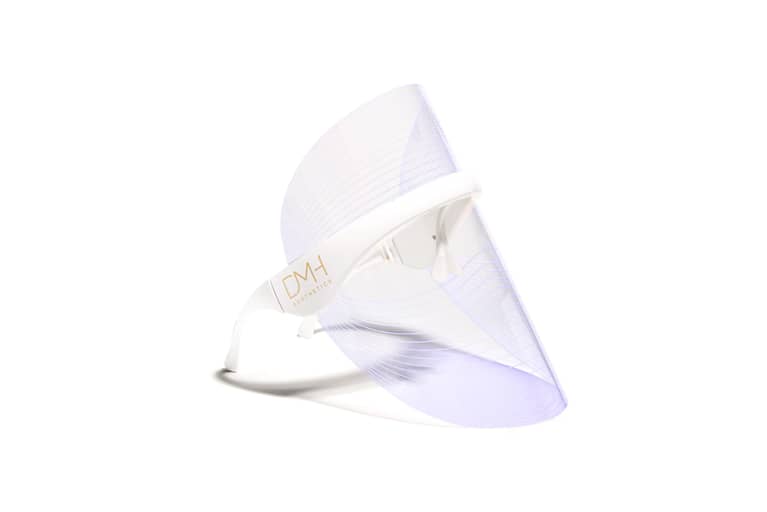 DMH Aesthetics
DMH Aesthetics Light Shield
$190
This LED mask contains a red, blue, and amber light setting for various skin goals (fine lines, breakouts, dark spots, etc.). These hi-tech tools can get pretty pricey, but this quality device lives on the more affordable end of the spectrum.
The carry-on: Sunscreen & vitamin C.
"The One & Done Everyday Cream that we just launched with Relevant: Your Skin Seen. Sunscreen is nonnegotiable. It's a 365-day-a-year job. And part of the reason I created the One & Done Every Day Cream with SPF 40 is because I felt that especially in Black and brown communities, when we're starting to see melanoma numbers climb, I wanted a product that was a four-in-one. So it could be your moisturizer, it could be your serum, and I use it as my primer, but it's also your SPF 40 without having to think about adding SPF as an extra step. 
"[People have told me], 'You helped me not have to bring so many products on my trip,' because it's a four-in-one and it's light. It's not waterproof, so you have to reapply it just like any sunscreen, but it does give you that sheer glow, and for darker-skinned people, it really helps to minimize the white cast a lot of mineral sunscreens leave behind.
"I also always travel with a vitamin C serum. [For my last trip], I brought Hyper Skin. When you use a vitamin C serum before you apply SPF, it helps your SPF to work better, so I always layer vitamin C under SPF."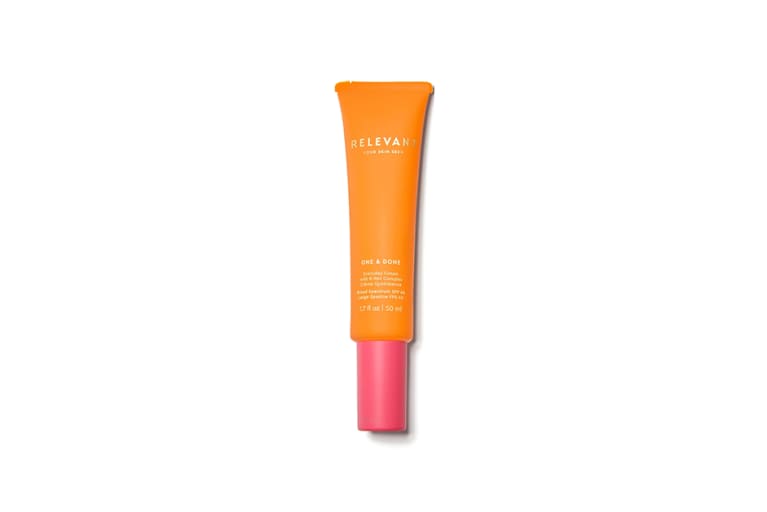 Relevant: Your Skin Seen
Relevant One & Done Everyday Cream
$38
Grieco's moisturizer-serum-sunscreen hybrid is truly a delight to apply. It has the creamiest texture that melts into the skin, and it leaves zero white cast.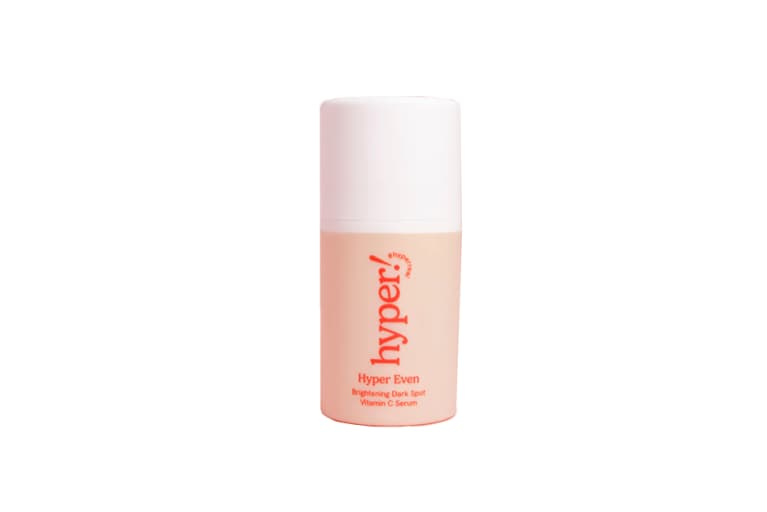 Hyper Skin
Hyper Skin Hyper Even Brightening Dark Spot Vitamin C Serum
$36
Dark spots are no match for his vitamin C serum. In addition to ascorbic acid, kojic acid, turmeric extract, and alpha arbutin work to brighten and even skin tone.
The secret: Quick cat naps.
"I keep sharing it, so maybe it's not a secret anymore, but I always say that naps are nonnegotiable. As a busy mom and entrepreneur, sometimes it's hard to prioritize [my] own self-care, especially when it comes to rest. My secret to the energy that I have is that I try to prioritize napping at least 30 minutes a day. I'm very blessed that I could literally fall asleep anywhere. 
"It starts with a five- to seven-minute meditation so that I can actually settle my mind. [I put] my phone away, and after about five to seven minutes I'm asleep, but the key is never to sleep more than 30 minutes…I honor it, and it's really, really good for your skin."
The pleasure: Professional facials.
"Getting facials with [celebrity esthetician] Shani Darden. I've been a part of the skin care industry for 20 years, but I only really started to get regular facials a few years ago. Having an esthetician who is such a pro and investing in those facials…I don't even consider it a splurge. It's just something that has just helped me to better take care of my skin.
"Especially when we think about inclusion in beauty, there are many acids and peels and things that people who have more melanin-rich skin have to be cautious about doing to not cause hyperpigmentation. Shani, being an esthetician and a woman of color, really understands that none of us want to feel left out of certain peels and treatments. So she really customizes [treatments] based on your skin and takes your melanin into consideration. 
"Now, I'm able to get certain peels from her that I wouldn't otherwise have been willing to try because I was afraid that it would hurt my skin. In fact, it's done the opposite—it's actually really helped my skin. She's amazing. I call her 'magic hands.'"
The steal: A rich body cream.
"One product that I've just been loving is the Weleda Skin Food. You can get it at the grocery store or some drugstores. I have extremely dry skin, and I live in California, so many of my days are spent walking around in Birkenstocks or open-toed heeled shoes, and that Weleda Skin Food helps me with my [dry] hands and feet."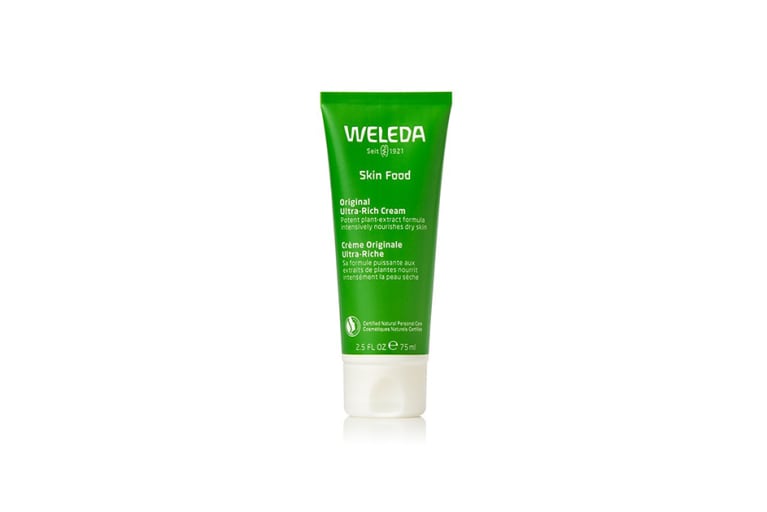 Weleda
Weleda Skin Food Original Ultra-Rich Body Cream
$18
It's a classic for a reason: This cult-favorite rich moisturizer is top notch for smoothing rougher areas, especially the elbows, feet, knees, and hands.
The seasonal staple: Minimal makeup.
"Ami Colé mascara. Often in the summer, I avoid mascara because you're sweating and in and out of the sun, but this is just the most perfect mascara. It doesn't clump; it doesn't pill throughout the day; it just stays, and it's light. It doesn't feel heavy. 
"I also tend not to wear a lot of bright lipsticks in the summer, so I really love the CTZN Nudiversal lipstick and lip gloss combination. What I love the most about that brand is that they created a nude for everyone. There's this misconception that nude is from peach to pink, and that's not everyone's nude. I'm able to find my nude within CTZN. Anytime we can be more inclusive makes the brand even better. I just pop that in my bag, and even if I'm not wearing a lot of makeup, I'll wear that Ami Colé, and I'll put the CTZN lipstick on. I also love the Dehiya Lip + Cheek Tint. With my One & Done, that is my beauty ritual for summer."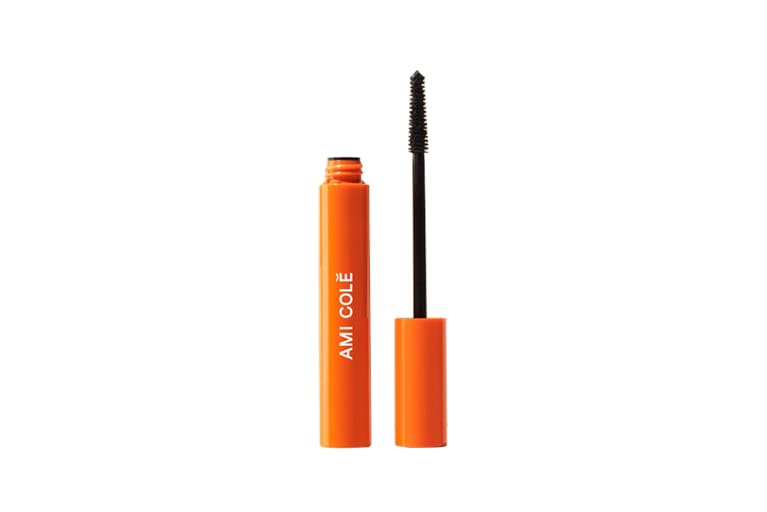 Ami Colé
Ami Colé Lash Amplifying Mascara
$19
This mascara has a tapered wand, which helps you evenly coat every last lash—even the ones at the inner and outer corners—without any clumping. It's buildable, richly pigmented, and formulated with 87% naturally derived ingredients.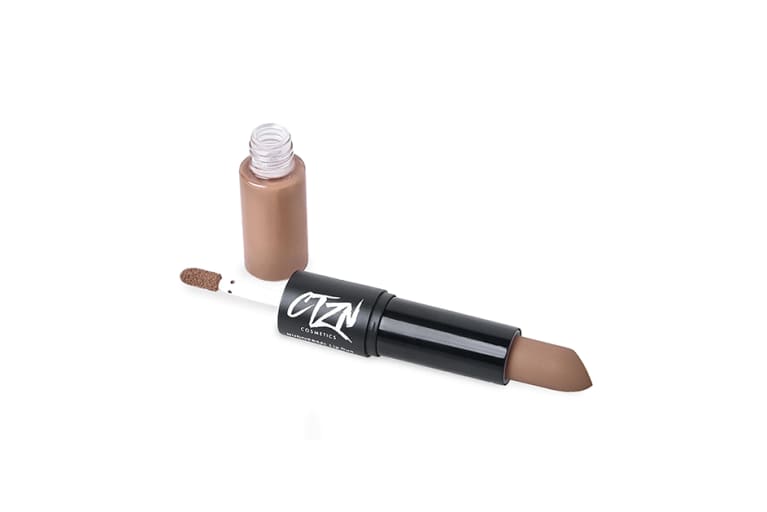 CTZN Cosmetics
CTZN Cosmetics Nudiversal Lip Duo
$25
A nude for every skin tone. CTZN has 25 gorgeous shades for you to choose from, so you can craft your perfect, my lip but better pout.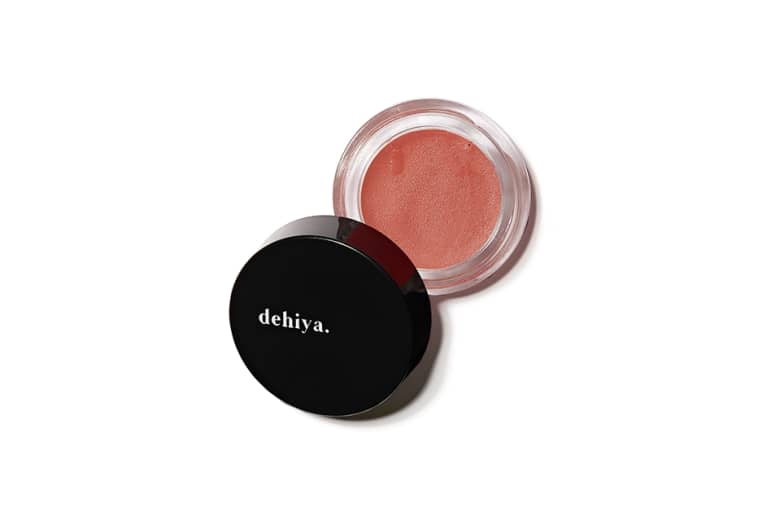 Dehiya Beauty
Dehiya Beauty Lip + Cheek Tint
$38
A good multiple is the hero of minimal summer makeup. Use this creamy tint on your cheekbones, lids, and lips for the prettiest flush.
Heal Your Skin.
Receive your FREE Doctor-Approved Beauty Guide
You are now subscribed
Be on the lookout for a welcome email in your inbox!
https://www.mindbodygreen.com/articles/as-of-late-nyakio-grieco