If you're on the hunt for the perfect stability ball, you've probably noticed they're available in a variety of sizes.
The right size stability ball for you depends on your height, weight, and how you intend to use the ball.
So how can you figure out what size you need? What's the best stability ball for a home workout, or for replacing your desk chair? How much weight can a stability ball hold?
Here's what you need to know.
What Is a Stability Ball?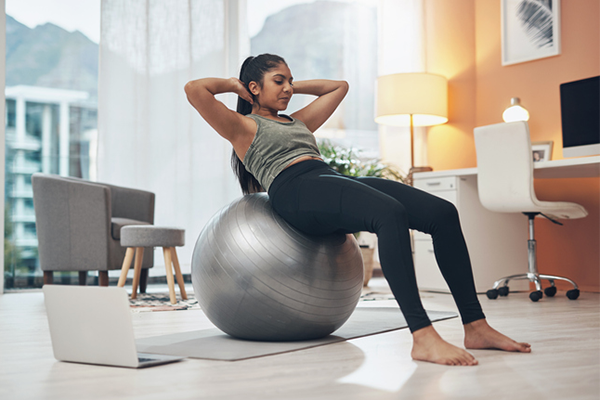 Stability balls — also known as exercise balls, Swiss balls, or balance balls — are large, inflatable balls typically made from a thick, anti-burst plastic.
Stability balls can be used for core training, strength training, physical therapy, Pilates, improving posture, and more.
"Stability balls are great for strengthening your core and keeping many different muscle groups active by requiring you to maintain balance while doing other exercises," says Sabrina Correia, ACE-certified personal trainer.
Because a stability ball is more unstable than a flat surface, sitting or lying on a stability ball requires you to engage your abdominal and back muscles to maintain your balance.
This can make everything from sitting at your desk to performing strength exercises more challenging — because why not add another layer of pain to that fitness game?
Stability balls also conform to your body shape when you lie on them, so they provide support to your spine and joints.
What Size Stability Ball Should I Buy?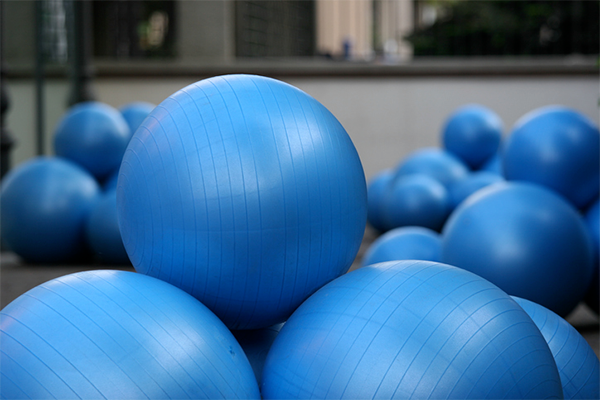 The size of your stability ball depends on the size of you.
Most high-quality stability balls are designed to accommodate 250 to 300 pounds. Keep in mind the weight limit includes any weights you'll be lifting.
If you weigh 200 pounds and plan to use a set of 25-pound dumbbells, make sure your stability ball can support at least 250 pounds.
For most people, height will play the biggest role in choosing the right size stability ball.
Correia recommends this simple method for estimating what size stability ball you need:
Do a wall sit with your back against the wall and knees bent 90 degrees.
Measure the distance from your butt to the floor in centimeters.
That's the approximate size you should use.
You can also head to the store (or the gym) and try sitting on different sized balls. If you can keep your feet flat on the floor and your knees bent at 90 degrees, that's about right, Correia adds.
Otherwise, refer to the size chart below.
Stability ball size chart
Stability balls are measured in centimeters.
Based on recommendations from stability ball manufacturers Gaiam and Swiss Ball, this chart can help you narrow down the best stability ball for your height — though the most important factor will be whether you feel comfortable on the ball.
| | |
| --- | --- |
| Height | Stability Ball Size |
| under 5'0″ | 45cm |
| 5'0″ – 5'5″ | 55cm |
| 5'6″ – 5'11" | 65cm |
| 6'0″ and up | 75cm |
The measurements above are geared towards exercises where you sit or lie on the ball.
For certain moves — like leg curls, hip extensions, or plank variations like "stir the pot" — a smaller ball may provide a more challenging workout.
How Do I Know If My Stability Ball Is Inflated Enough?
Your stability ball should come with instructions on how to inflate it properly, but a good rule of thumb is to base it on the diameter size — a 65cm ball should be about 65cm across when fully inflated.
(If you're struggling to measure the diameter of the ball, measure around the widest part — in centimeters — and divide by 3.14.)
When you put your weight on the ball, it should have just a little bit of give — not too firm or too squishy.
One exception: If you're struggling to keep your balance, you may want to slightly under-inflate the ball at first.
"A slightly softer ball helps with balance, so if you're just starting out, you may find it more helpful to start softer and work your way up," Correia says.
6 Stability Balls to Try
Here are six stability balls suitable for your home, gym, or office use.
Stability balls for the office
If you want to improve your posture — or just turn your eight-hour work day into a solid core workout — consider replacing your desk chair with a stability ball.
(Desk sets are usually a bit pricier than your average stability ball, but include a base to keep the ball from rolling away.)
When buying a stability ball for office use, choose a size that lets you work comfortably at your desk without slouching or straining.
Vivora Luno Sitting Ball Chair (Amazon)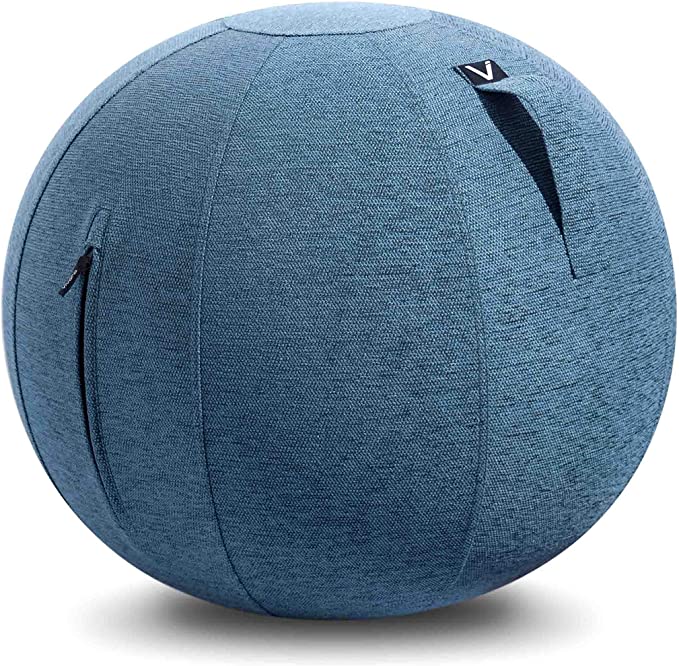 This stability ball comes with a patented self-standing base design, extra-thick carrying handle so you can easily transport it to the office, and a stylish fabric cover that doesn't scream "exercise ball."
Gaiam Classic Balance Ball Chair (Amazon)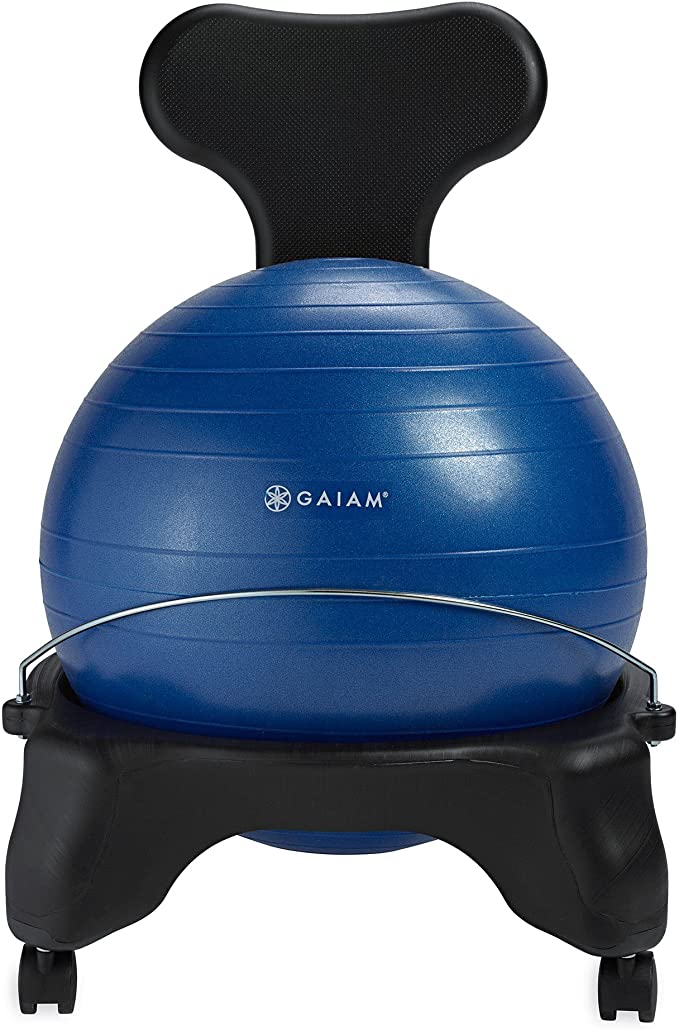 This two-in-one set includes a wheeled base and a removable 52cm stability ball, so you can use the same ball for work and for working out.
The base features easy-glide casters, lockable back wheels, a metal support bar to keep your ball in place, and optional leg extenders to add extra height if needed.
Stability balls for the house
These home-gym-friendly stability balls can be stored away easily and are sturdy enough to be safely used for weighted workouts.
URBNFit Anti-Burst Exercise Ball (Amazon)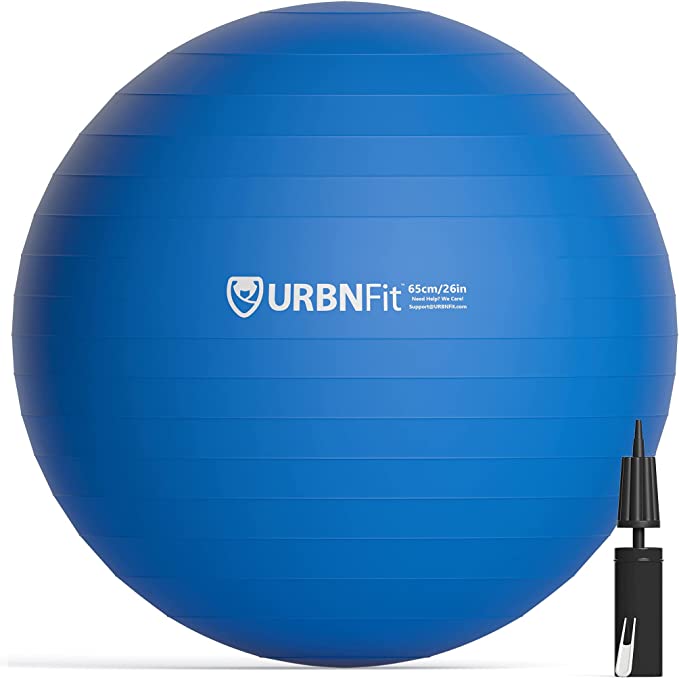 This non-slip stability ball is designed to withstand up to 2000 pounds of pressure, so you can feel comfortable even when doing weighted exercises.
Need to deflate your stability ball for storage? The included dual-action pump re-inflates it quickly.
SmarterLife Exercise Ball (Amazon)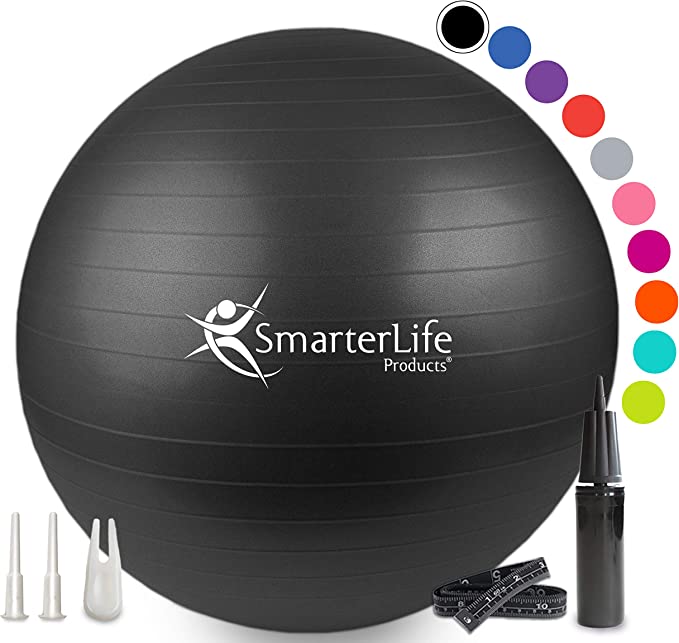 If you're squeamish about the idea of an exercise ball popping, this super-durable model features anti-burst technology — so even if you puncture the ball, it's designed to deflate slowly instead of collapsing.
Stability balls for the gym
If durability is your top priority, these high-quality stability balls are built to withstand any workout.
Live Infinitely Extra Thick Balance & Stability Ball (Amazon)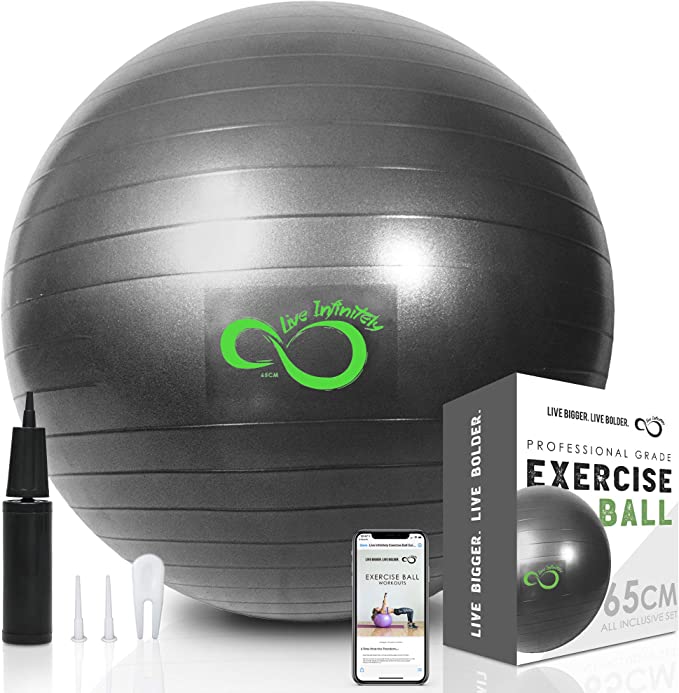 Made with professional-grade PVC, this stability ball is designed to support up to 2,200 pounds of pressure and withstand a puncture up to 2cm without bursting.
It's also latex-free, BPA-free, and phthalate-free — and if you need workout inspiration, it comes with access to an online stability ball exercise guide.
Trideer Extra Thick Heavy Duty Stability Ball (Amazon)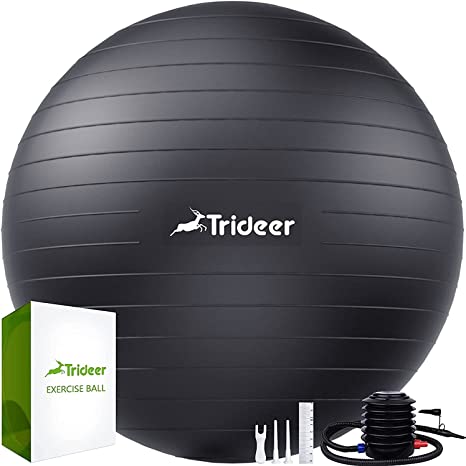 This stability ball supports up to 2,200 pounds of pressure, and its BPA-free PVC material can withstand even the toughest of workouts.
With a quick-inflation foot pump, extra air stoppers, and a 12-month warranty, this balance ball is built to last.