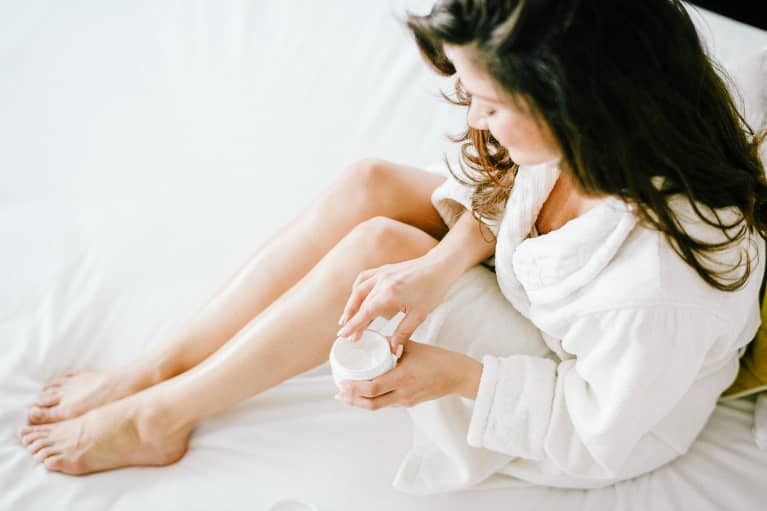 Our editors have independently chosen the products listed on this page. If you purchase something mentioned in this article, we may earn a small commission.
September 2, 2022 — 9:00 AM
Whoever said, "Beauty is pain" was seriously mistaken. Beauty formulas and devices should not hurt your skin. In fact, pain is often a telltale sign that what you're doing, or what product you're using, is actually not a good fit for your skin. 
One prime example: Your body lotion shouldn't sting upon application—or ever. Even if you apply your lotion after shaving, this sting may be a sign that you should check the back of your bottle, as some lotions are better than others for that post-shave hydration. Here's how to find the best pick. 
Ingredients that might make your skin sting post-shave. 
If you have sensitive skin, then ingredients like essential oils and harsh exfoliants may irritate your skin even when you haven't had a fresh shave. However, even those with generally nonreactive skin may experience more sensitivity if you've just run a razor over the surface.
Here's why: Shaving in itself is a form of physical exfoliation. If you exfoliate pre-shave, the blades will glide across the skin much easier and won't get stuck on dead skin buildup. Either way, after this process, your fresh, raw skin will naturally be more sensitive to irritants. 
So if your lotion burns post-shave, it may be due to some sneaky AHAs or BHAs (think salicylic, glycolic, lactic, and other acids), retinol, concentrated essential oils, or other irritating fragrances. That doesn't mean you shouldn't moisturize at all; it just calls for a different product pick. (We repeat: You should moisturize after every shower.) 
If you're experiencing burning, post-shave or not, then you should look for a barrier-supporting body lotion free of fragrance and exfoliants of any kind. A few ingredient alternatives that should soothe instead of burn include: 
Aloe vera 
Coconut oil 
Panthenol (vitamin B5)
Oat oil
Sunflower oil 
Of course, this list only scratches the surface; there's a long list of calming ingredients you can use post-shave. Just know that looking through ingredient lists can be deceiving because of how cryptic some formulas may look. To make browsing a touch easier, seek labels like "fragrance-free," "unscented," "eczema safe," or "safe for sensitive skin" as a start. 
And if you want to save a few steps, you can opt for our post-shave holy grail: the mbg postbiotic body lotion. This formula comes in an unscented version, perfect for those with sensitive skin and post-shave applications. Not only does this lotion have soothing ingredients, sans irritants, but it also provides microbiome support, which is essential for healthy, happy skin. 
Important note: If you're shaving in the bikini area, stick to products formulated for that purpose, like the Fur Ingrown Concentrate.
Remember, self-care shouldn't be painful. If your lotion is stinging your skin post-application, it may be due to fragrance, exfoliants, or generally irritating ingredients. Look for a body lotion that tends to the moisture barrier instead, especially right after you shave. If you want even more options to scroll through, shop these 11 fragrance-free body lotions. 
https://www.mindbodygreen.com/articles/what-makes-your-skin-sting-post-shave-what-to-use-instead