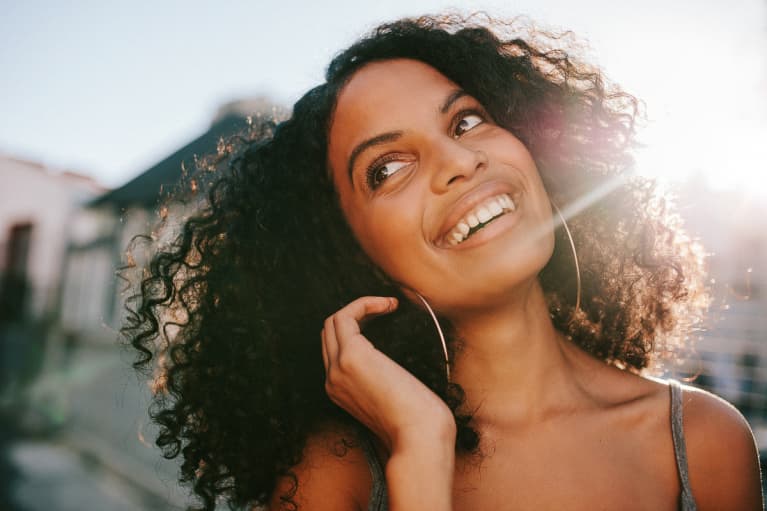 Our editors have independently chosen the products listed on this page. If you purchase something mentioned in this article, we may earn a small commission.
September 5, 2022 — 9:33 AM
As much as I hate to admit it, summer is indeed winding down. My hope is that you were able to make the most of it, with long days spent enjoying the warmer temperatures, time in the sunlight, and days outdoors. I also hope that you were protecting your skin with adequate sun protection.
But even with diligent skin care routines, dark spots may slowly start to appear with age. Dark spots (or often called sun spots or liver spots) are a very common skin care concern that often become more apparent with time. Hyperpigmentation occurs when cells produce more melanin in one area than the rest of the skin, and is usually the result of a combination of genetics, lifestyle factors, and cumulative sun exposure. (So, yes, even if you're diligent about SPF in your later years, dark spots might creep up thanks to the sunbathing days of your youth.)  
The most often recommended topicals to tend to these marks are retinol and vitamin C, which are worthy ingredients that are hugely beneficial for the skin. However, they're not for everyone; some people find that their skin can't tolerate the potent actives, especially those with sensitive skin. 
This all begs the question: What topicals can effectively fade dark spots, without causing irritation? Don't worry, there are several lesser-known ingredients that can improve the appearance of dark spots, that are sensitive-skin approved. 
This ingredient is particularly effective for pigmentation because it can be used proactively. 
"Arbutin is a naturally occurring compound that functions as a tyrosinase inhibitor to provide skin brightening effects. This happens because when your skin and these cells come in contact with UV light, the tyrosinase enzyme is activated. Arbutin blocks this," says board-certified dermatologist Keira Barr, M.D., in our explainer about arbutin. Essentially, it works by stopping dark spots from forming in the first place. 
The active is extracted from the leaves of some plants, such as pear trees and the bearberry plant. Not only is it naturally-derived (for those who prioritize those ingredients), but it's a much safer alternative to hydroquinone. Hydroquinone is a skin lightening agent that comes with sensitivity and toxicity concerns.  
Alpha hydroxy acids are chemical exfoliators that buff away the skin surface, revealing brighter skin underneath. This can be helpful for pigmentation issues, as they can gently fade dark spots triggered by the sun. But (just like vitamin C and retinol), they have varying levels of tolerability. 
One such AHA that is great for sensitive skin? Mandelic acid. "It's my absolute favorite AHA—way underrated in my opinion—as it is the most gentle," says board-certified dermatologist Roberta Del Campo, M.D. about the ingredient. "Meaning, anyone can use it, but it is just as effective as other AHAs, such as lactic acid and glycolic acid."
And it's just not topical either. Supplements with whole fruit pomegranate extract have been shown to help. In general, orally consumed plant antioxidants can help buffer the skin against photoaging by both absorbing UV rays and helping neutralize UV-induced free radical damage, per research.*
As for a concentrated pomegranate extract, clinical studies have shown that this targeted phytonutrient-rich botanical has the ability to enhance photoprotection.* In fact, a double-blind, placebo-controlled clinical trial found that taking pomegranate extract orally could help with common sun-induced pigmentation.*
If you are pregnant, breastfeeding, or taking medications, consult with your doctor before starting a supplement routine. It is always optimal to consult with a health care provider when considering what supplements are right for you.
https://www.mindbodygreen.com/articles/surprising-ingredients-that-can-treat-sun-spots