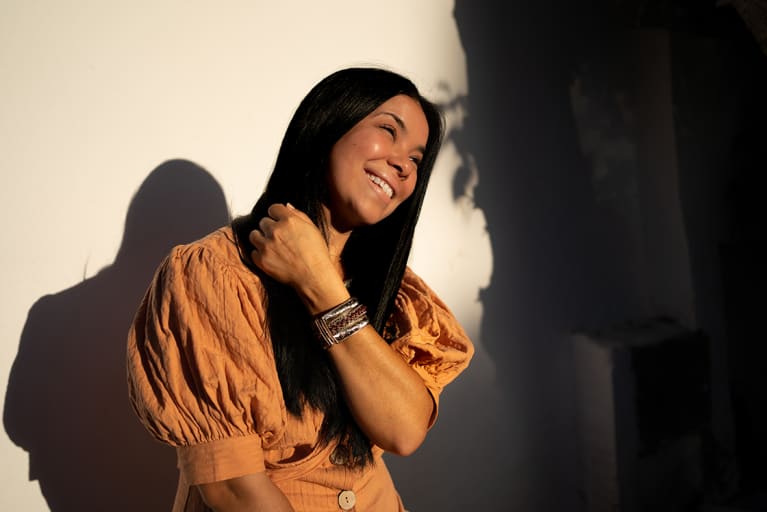 Our editors have independently chosen the products listed on this page. If you purchase something mentioned in this article, we may earn a small commission.
September 5, 2022 — 9:01 AM
Dare we say the uber-bouncy blowout has some competition as of late? If you've been keeping up with beauty trends, you've likely started to see a resurgence in ultra-sleek, shiny locks. 
The current popular term: glass hair. This look is precisely what it sounds like—hair that is so glossy it looks like (yep, you guessed it!) glass. Here's how to nail the look, straight from the pros. 
"Glass hair is the shiniest kind of texture achieved when utilizing both shine-infused product and heat styling to close the cuticle and make each strand as smooth as possible," stylist & co-owner of Broome Street Society in NYC Andrea Hans tells mbg. 
So while it may look like an extra-luscious straightening job, there's much more to the process than meets the eye. The benefit? "It will typically last longer than a regular blowout, because the hair is styled and locked into place with an extra pass of heat," Hans says. 
Technically, glass hair appears straight with a blunt cut to closely resemble a pane of glass (hence the name), but that doesn't mean you can't achieve a head full of glassy, shiny curls, too. Feel free to use these tips below and keep your hair's natural texture and flair—just because glass itself is one-dimensional doesn't mean your mane has to be.
Here, experts offer a step-by-step guide. Heat protectants at the ready…
1.
Thoroughly wash your hair. 
Second- and third-day hair may be the best fit for some styles, but glass hair isn't one of them. The first step to nailing glass hair is to have freshly washed hair, as build-up can make the strands appear dull. "Think of handprints on a glass door," Hans says. 
If you have them on-hand, wash with products specifically intended for hydration and shine, and be sure to leave your conditioner in for a few extra minutes. If you want to go above and beyond, you can even opt for a hair mask—here are some of our top picks. 
2.
Prep your hair for the blowout. 
This style calls for a blowout. You'll want to prep the hair with a heat protectant in order to prevent unnecessary heat damage from the blow dryer and subsequent flatiron. Stylist and other co-owner of Broome Street Society Josie Sanchez recommends a multi-functioning oil, like this protective styling Oi Oil from Davines. 
3.
Blow dry the hair in sections. 
Rather than doing an express rough dry, you'll want to put some time into your blowout. In order to get a salon-grade finish, you'll want to section the hair, use a round brush, and pull up at the root if you want some extra volume. 
4.
Iron in small sections. 
Again, glass hair isn't a style that's achieved with minimal effort. Before you go in with the straightener, section your hair into layers. Then run your straightener through the hair in small sections from the very root to the tip. As a rule of thumb, stick to sections that are no wider than your actual iron, Sanchez says. 
If you keep the sections small, it will take less effort to create a slick look—think one pass instead of two or three—which is ideal for preventing unnecessary damage. And before you head out the door or shake around your fresh style, be sure to let your hair cool down.
Don't skip this step: Grab your go-to finishing oil (like the Oi Oil mentioned above) and run a bit of product from the mid-shaft of the hair to the ends. This will add the last layer of shine and create the glossiest finish. 
The secret to nailing the look. 
What interrupts ultra-sleek styles? Flyaways and dead ends. In order to nail this look, make hair health your upmost priority. "Keep up with your regular haircuts and deep conditioning treatments," Sanchez recommends. 
And while you might think this style calls for an extra-hot iron, that's not always the case. "Most people don't need the highest heat setting on an iron," Sanchez says. "So start low and add 10 to 15 degrees at a time until you find a heat setting that works for your needs." 
Achieving hair so glossy it looks like glass isn't as simple as you might think. In order to nail the glass hair look, be sure to start with freshly clean hair, style in small sections, and top it off with a finishing oil. Of course, you can achieve shiny, juicy locks no matter your hair's texture—here's how to build a full routine for each hair type. 
Heal Your Skin.
Receive your FREE Doctor-Approved Beauty Guide
You are now subscribed
Be on the lookout for a welcome email in your inbox!
https://www.mindbodygreen.com/articles/glass-hair