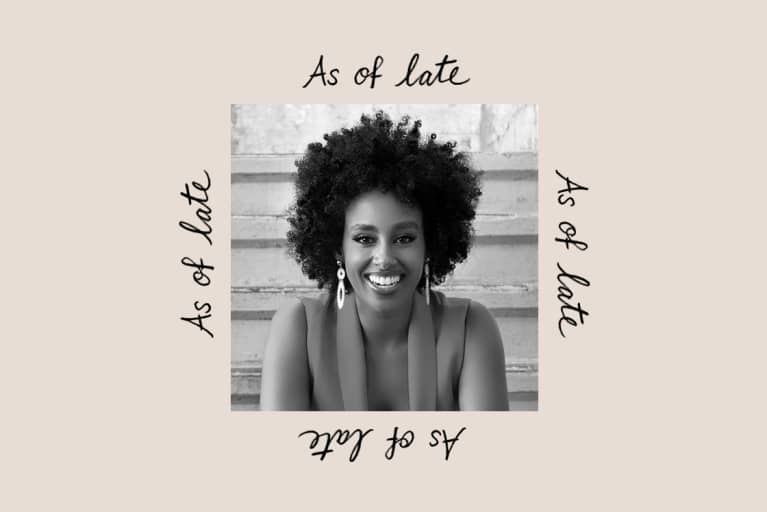 Our editors have independently chosen the products listed on this page. If you purchase something mentioned in this article, we may earn a small commission.
September 6, 2022 — 9:59 AM
Beauty routines are never truly stagnant—practices evolve and change like we do. In As of Late, we chat with influential folks about their current products and rituals. Here, we get a snapshot of what they're doing right now: the sacrosanct formulas they use until the last drop, the fresh launches they've got their eyes on, and of course, the why behind it all.
After only a few minutes spent with makeup artist Delina Medhin, it's perfectly clear why she's built such a bright community around her. Hearing her give advice about beauty must-haves, career trajectory queries, or even just day-to-day life mundanities is infectious. The beauty expert and entrepreneur (who hosts her own entrepreneurial-forward podcast It Takes A Village and YouTube series Exploring Harlem) quite literally radiates as she shares her learnings and tips.
If you follow her on social media, you already know this: Medhin's feed is a mix of glow-enhancing makeup tutorials and conversations about how to build a brand or business. (Her tagline should be "Come for the complexion advice, stay for the career acumen.")
And given her busy schedule, you know that whatever product catches her eye must be good—including what she's using lately.
The tried-and-true: A cult-classic French mask.
"One mask I talk about all the time is Biologique Recherche Masque Vivant—I am obsessed with it, for a lot of reasons. I first heard about the mask a few years ago, when I was looking for products to help with acne.
"Their original toner—Biologique Recherche Lotion P50—kept on coming up. It's a classic, the original toner. It was a product I felt I had to try because everyone talks about it, but I didn't see too many people of color recommend it so I wanted to see if it would work for me and my skin. Well, it worked well for a long time, but then I started to use a retinol, and it felt like it was just a bit too much for me: It caused me to have a bit of irritation. I couldn't use it anymore, but I went back to the brand and was like What else do you have? 
And that's how I found the Masque Vivant. The way this mask is talked about is basically, 'You're going to look young for the rest of your life,' and oh my god the first time I tried it I took it off and thought, 'I think I look younger now!' I was more lifted, hydrated, and glowing.     
"As I've gotten older, I feel like I see more fine lines on my face, especially underneath like the eye area. I can apply this pretty close to the eye without any irritation. It also helps with inflammation and redness. Sometimes I get a gluten allergy and get a bit of a rash on my forehead, so I just put this on the area for an hour and it evens it out. 
"It smells insane by the way—it smells terrible. The brand isn't known for their scents. But if you want clear, younger looking skin this will give you that."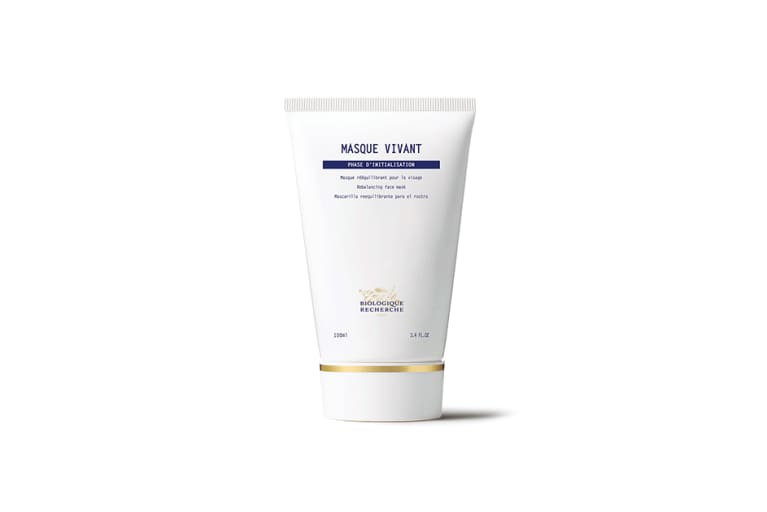 Biologique Recherche
Biologique Recherche Masque Vivant
$159
A blend of yeast, cucumber, and witch hazel clears blemish-prone skin, revealing a brighter, more balanced complexion overtime. The price is up there, as Medhin tells me, you can get your money's worth by spacing out your use to once or twice a week.
The signature: A smooth, radiant canvas. 
"I am such a complexion person. For example, whenever a new foundation comes out, people want to see if I like the texture, coverage, and how I play with it. I think people are really interested in how I make the complexion look clean and what I do with the skin. 
"I think it's because that's the one area that, even growing up as a girl, I would practice and perfect. I couldn't wear makeup until I was like 18—so when I started doing my makeup, I would come down stairs and my mom and dad would be like 'No, go back and take it off' or 'that foundation is all wrong.' So I had to get really good. It was almost like my mom was editing me.
"Another reason why I am really good at doing skin is because I've worked with so many mediums: I do red carpet, editorial, film, TV, everyday makeup, my own makeup for social media. These all require different techniques, prep, and amounts. For example, if my client goes on the Colbert Show, I know that because Colbert's skin has a natural redness in it his light is green. In that case I actually need to make my client a little bit more red to correct it." 
The surprise hit: A cleansing balm.
"I didn't get acne until I was an adult. I went through my teens, college, everything with clear skin. Seriously, I could fall asleep in my makeup and it wouldn't be a problem! But then I got to be 22 and started being an entrepreneur and eventually moved to New York. It was stressful, which started breaking me out. The most intense my breakouts ever were was from the ages of 22 to 30. Stress is definitely my trigger for acne. 
"And the advice I got was 'Don't strip your skin or over cleanse, it will only make the acne worse.' So I never tried double-cleansing, because I was afraid of making my acne worse than it already was. 
"But then I got introduced to this product, Farmacy Beauty Green Clean Cleansing Balm. At first I was so hesitant to try it because I was really apprehensive about trying new skin care at the time. But I loved this: Now I have backups on backups of this product so I never run out. I do not play. 
"It's a solid balm that turns into an oil when you put it on your face. When you rinse it off, your skin feels so clean—there's no residue. And double-cleansing gets rid of all makeup, even around the eye, which is very difficult. And I love eyeliner, mascara, and tight lining my eye so it's all really close to the lash line. I used to use micellar water and cotton pads to get off the makeup, but I just felt like it was pulling at the skin. This is so much more gentle on the skin. It has completely transformed my night routine."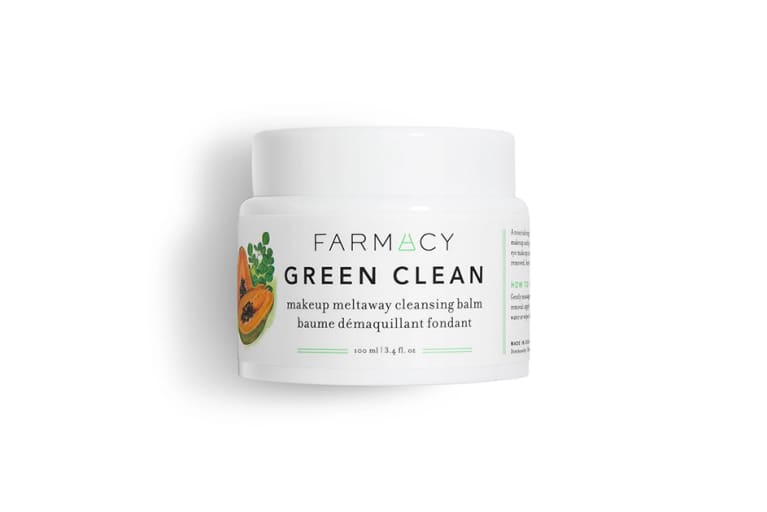 Farmacy Beauty Green Clean Cleansing Balm
$36
Sunflower and ginger root oils help melt away oil-based makeup (such as most foundations and eye products). In addition, there's a very subtle exfoliation from the papaya enzyme and antioxidant-power from the moringa and turmeric extract. All around, it's a lush, oh-so-enjoyable nightly wash.
The secret: Freshly washed fabric.
"It's incredibly important for me that whenever I wash my face I use a new washcloth or towel. I also change my pillowcase every two or three days, and flip them on the days in between. These fabrics carry so much bacteria and dirt from your face. Or you're just slathering on all these types of creams on your face before you're going to bed, which are absorbed by the pillow. And then they just mariante in the cloth and on your skin. I've been dealing with acne for a long time, and it's just something that helps keep my skin clear."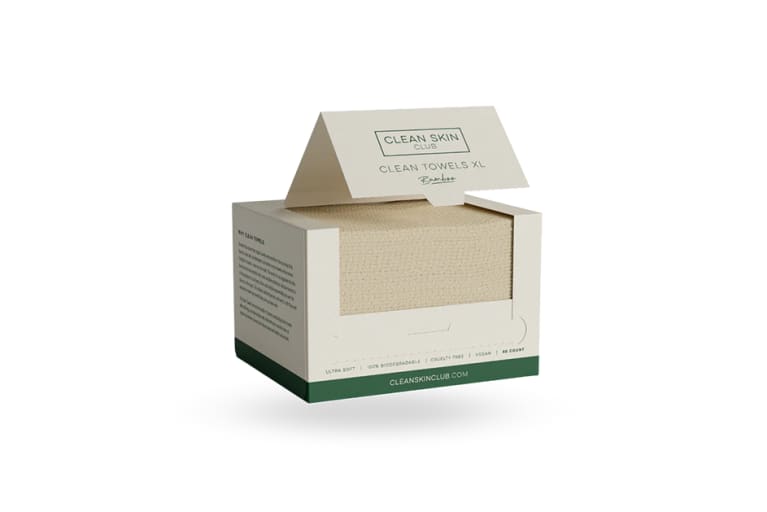 Clean Skin Club Clean Towels XL Bamboo
$18
While Delina says she prefers to use towels to dry her face (more sustainable), she doesn't always have access to laundry services ("It's New York City—we just don't have room for in-unit laundry," she laughs). So she'll use Clean Skin Club in a pinch; the bamboo options are biodegradable and made from a readily renewable material.
The pleasure: A regular facial. 
"Honestly, I enjoy spending money on myself. Even when facials are quite expensive, I enjoy giving my skin a reset. I don't feel guilty or bad about it. But my point of view is that your face is an investment—so if there's something that I want to spend my money on, it's going to be that. 
"There's something about having someone else really look at your skin, analyze it, and tell you what you could be doing more of. I was once told by an aesthetician to come in twice a year; a reset for different seasons. And this was back when I didn't even have the money to do this, but she said if you come in right when the seasons switch from warm to cold, or cold to hot, yor skin will be in a better spot. I moved to New York at 27, and that's when I started to do them more regularly. I feel like we start to do it when we get around 30 pretty regularly. 
"My aesthetician is amazing; she normally does a HydraFacial for me because I have insanely sensitive skin and I love getting all that moisture."
The steal: A longwear red lip.
"I love The Lip Bar and their long-wear lipsticks, and especially this red that has a bluish undertone to it so it makes your teeth look whiter. It truly stays on all day, but your lips don't get super dry. The brand is in Target and Walmart so you can find them pretty easily. 
"I've been working with Violette a lot, and her French aesthetic is such a vibe; she just nails the red lip and mascara. The combo just always looks perfect: You look put together, even if you don't have the time to really do much more. So the more I've been around V, I've noticed I've started to wear it more."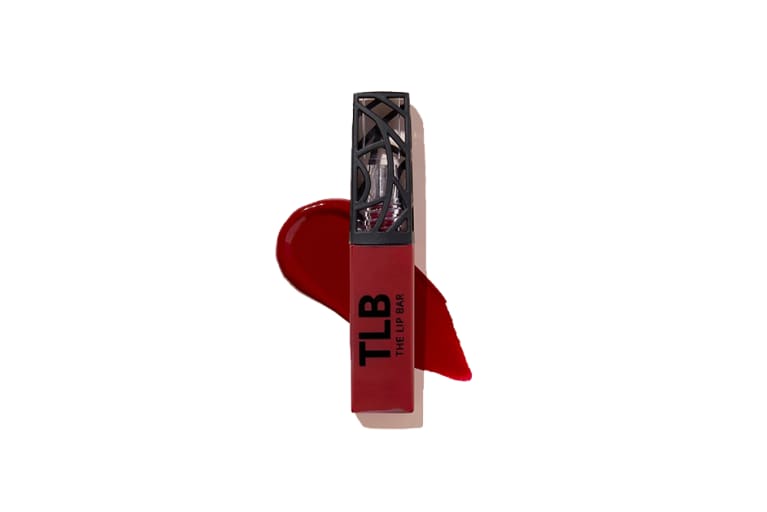 The Lip Bar Nonstop Liquid Matte in Bawse Lady
$13
An all day-formula, rich color payoff, and a decedent matte finish? Yes, please! This vegan and cruelty-free number is infused with vitamin E and jojoba oils so you get a side of skin care with your gorgeous lip color.
https://www.mindbodygreen.com/articles/celebrity-makeup-artist-delina-medhin-shares-her-beauty-routine