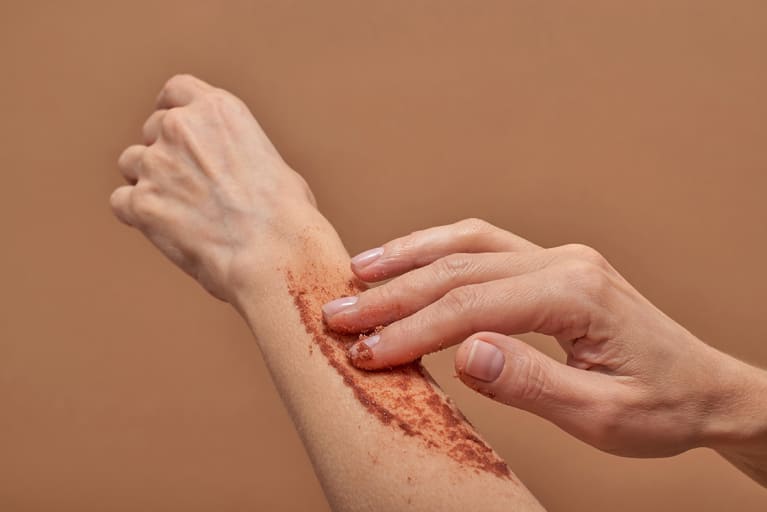 September 6, 2022 — 9:33 AM
While you wouldn't want to use a super grainy scrub on your face too frequently, this kind of exfoliation on the body is generally A-OK, assuming you don't have hypersensitive skin. Your body can generally handle slightly rougher granules, but if you're using a body scrub, you should let the product do the work for you rather than applying too much pressure; otherwise, you could go a bit too far and damage your skin barrier.
It's a common body scrub mistake, but there's another far more cringey blunder beauty folks often make: skimping on moisture post-scrub.
Why you should never skip body lotion post-scrub. 
The final step of a body (and face) exfoliation routine? Moisturize, moisturize, moisturize. See, when you exfoliate, you're sloughing off dead skin cells and speeding up cell turnover. If you're using a chemical exfoliant, noticeable results generally take some time. Physical exfoliators like scrubs, however, often produce more of an instant glow.
While your skin may look supple and bright post-shower, that dewy look will fade quickly if you don't rehydrate the skin, thanks to something called transepidermal water loss. Translation: Water will evaporate through the skin, leaving it drier than before. Using moisturizer right after the shower helps to mitigate this process by trapping that water inside. 
And if you want to go a step further, applying your body lotion to wet skin will help it spread more easily and lock moisture in, according to the American Academy of Dermatology. Every moisturizer is different, but if you just used a physical scrub in the shower, you'll want to select a product that contains gentle, healing ingredients rather than more intense exfoliants like AHAs, BHAs, retinol, etc. After all, body scrubs provide some exfoliation already, and you don't want to double up.
Our pick for gentle, nourishing hydration: The mbg posbiotic body lotion. This formula was specifically designed to tend to the moisture barrier, support proper microbiome function, and protect the skin from oxidative stress (which can lead to premature skin aging). The blend of rich shea butter, pre- and postbiotics, coconut oil, and aloe vera provide an all-around dose of moisture that's perfect for post-exfoliation. And if you're sensitive to fragrance, it comes in an unscented version as well. 
If you ever use a body scrub, or any kind of body exfoliator for that matter, don't forget to rehydrate the skin. This will support skin barrier function and extend that post-scrub glow even longer. Avoid layering on more chemical exfoliants; instead opt for something ultra-hydrating. If you want to start shopping for a new post-shower moisturizer now, here's a list of 15 A+ options. 
https://www.mindbodygreen.com/articles/why-you-shouldnt-skip-body-lotion-post-scrub