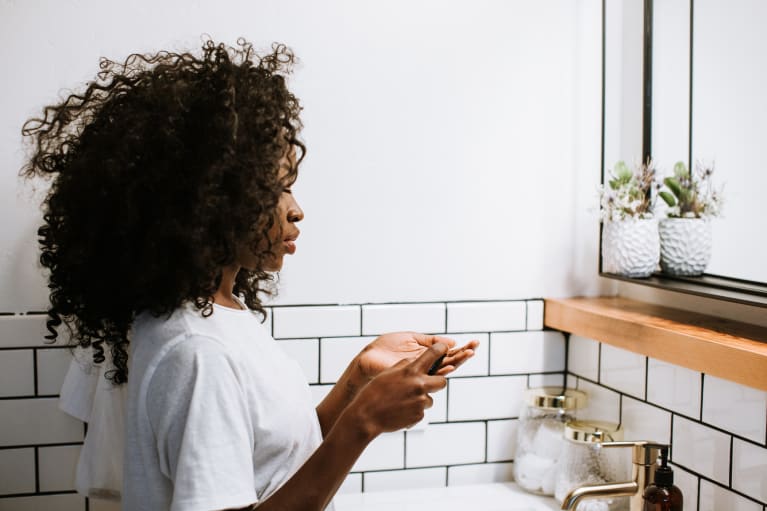 Our editors have independently chosen the products listed on this page. If you purchase something mentioned in this article, we may earn a small commission.
September 13, 2022 — 10:35 AM
Fluctuating daytime temperatures combined with cool winds are a recipe for dry, irritated skin. Coming off summertime, your skin is recovering from the harsh sun, and after a season of perspiring, you may notice your pores are larger than usual. You may consider turning to restorative facials to help soothe sun damage and rehydrate your skin. This can also be a fun time to take some of the seasonal foods from your plate and incorporate them into your skin care routine for nourishing, natural remedies.
Here are seven skin care practices to incorporate in your fall natural beauty reset. You can choose one per day or choose several to repeat throughout the week. Note your favorites and continue using them through the fall season.
1.
Bump up the hydration in your moisturizers.
Look for moisturizers for your face and body that include naturally-derived hydrating ingredients such as hyaluronate, niacinamide, glycerin, and plant-based oils such as pomegranate seed oil, cranberry seed oil, and apricot kernel oil. Avoid mineral oil and other petroleum-based ingredients that may feel lightly hydrating but lack the same kind of nutritional enrichment as plant-based oils. You want to look and feel hydrated but not gooey and sticky.
For DIY cleansers, steams, and masks, include ingredients such as honey, coconut oil, oats, and essential oils such as lavender and ylang-ylang. (Note: Because essential oils are highly concentrated, be sure to use caution around pets and young children.) For extra skin-pampering hydration, apply body lotion after stepping out of the shower or bath while your skin is still damp and then gently pat your skin with a towel.
2.
Use a hydrating cleanser and skip the toner. 
Start your skin care routine using a cleanser with plant-based oils such as jojoba, argan, and almond. Avoid high-pH cleansers, like those that make suds and foam. If you're not sure of the pH, simply use a pH strip and check for yourself. 
If you choose a cleanser that fits this description (such as The Spa Dr.'s CLEAR Gentle Cleanser), you won't need a toner. Because they often contain alcohol and astringents, toners can be drying to the skin, which you do not need in fall months. Toners are typically designed to tighten the skin and remove residual dirt, pollutants, and impurities on the skin that remain after cleansing. If you're feeling the need for a toner after cleansing your face because your face still feels oily, try changing your cleanser first, then follow that with a highly nourishing antioxidant-rich serum.
3.
Bump up the antioxidants.
To help soothe damage from a summer of sun and outdoor air pollutants contacting your skin, look for skin care with high-antioxidant ingredients such as resveratrol, green algae extract, turmeric, and green, black, white, and rooibos teas. To create DIY options, look to seasonal foods high in antioxidants such as pumpkin, apples, pomegranates, grapes, chia seeds, honey, chard, and kale. 
4.
Exfoliate gently and with care. 
With the change of seasons to cooler months, and especially if you tend toward drier skin, reduce or eliminate the use of more intense exfoliating ingredients such as retinoids, glycolic acid, salicylic acid, and benzoyl peroxide. There's never a season to stop exfoliation, but fall is the time where less is more. 
Exfoliating gently is also key. To do so, choose natural enzymatic ingredients such as pineapple fruit extract and physical exfoliants that are ground to the texture of fine sand. Skip the exfoliating brushes and devices, and switch to soft facial cloths and sponges such as a konjac facial sponge that is made with 100 percent natural and biodegradable konjac. With a well-designed exfoliant, you only need to apply light pressure, and your skin should still feel hydrated afterward.
5.
Ensure your sunscreen is broad-spectrum. 
While you have less UVB going into the fall and winter months, UVA levels are still significant skin agers, and they haven't gone anywhere this time of year. Make sure your sunscreen is broad-spectrum or has a high UVA rating. UVB is the wavelength that stimulates vitamin D, so you want more of that this time of year but without the UVA damage.
With drier air comes dehydrated skin, so soothing your face with an herbal steam treatment can help your skin feel revitalized and hydrated. Choose fresh seasonal herbs and flowers or dried herbs from late summer, such as calendula and sunflower. If you're feeling tense, add calming essential oils like lavender for mind and skin benefits. 
If you live in a dryer climate, consider using a humidifier in your bedroom and living areas to support your skin and airways. Find one that allows cool moisture, and be sure to clean it regularly to prevent mold growth. Ideally, choose a humidifier that has an option to add essential oils to get the most bang for your buck.
7.
Pamper yourself with a restorative facial. 
Whether you choose to do this with a natural-product-minded aesthetician or on your own during a spa day at home, you'll enjoy the physical, emotional, and mental benefits of a restorative facial. Start with a relaxing environment and clean, fall-focused skincare. If you're going the DIY route, try to recruit a loved one to join in to boost oxytocin levels from their touch and to fully embrace relaxation. After rinsing off the mask, enjoy some relaxation time with soothing music, journaling, and breathwork.
Adapted from Natural Beauty Reset by Trevor Cates, N.D., published by BenBella Books, Inc. Copyright © 2022.
https://www.mindbodygreen.com/articles/must-have-tips-for-your-fall-beauty-routine-from-naturopathic-doctor