Contributing writer
Contributing writer
Jamey Powell is a writer and editor living in Brooklyn, NY. Previously the senior market editor at Healthline.com, she has years of experience scouring endless product reviews and testing out the latest and greatest products in the sleep, fitness, and nutrition markets.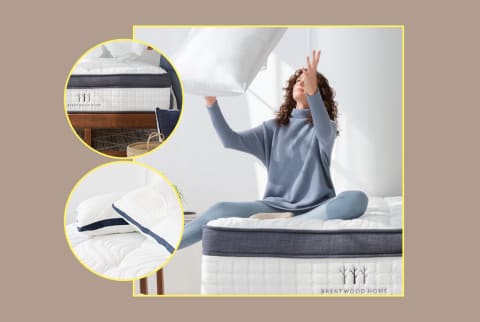 Our editors have independently chosen the products listed on this page. If you purchase something mentioned in this article, we may
Have you ever slept on a hotel mattress so comfortable, you wanted to take the bed home with you? If so, odds are it was a pillow-top mattress—the perfect combination of firm support with soft, pillowy comfort on top.
Sleep is essential for so many aspects of our physical, mental, and emotional health, and studies show that more than 70% of Americans are not getting as much restorative sleep as they should. If you're hoping for a hotel-quality sleep at home, a new mattress might be just what you need. Read on for our picks of the best pillow-top mattresses to bring a feeling of five-star luxury to your bedroom.
What is a pillow-top mattress?
Pillow-top mattresses are beds that are topped with an added layer of fiber or foam to provide a pillowlike feel. "They have a very light and airy feeling; they're super comfy and fluffy," explains Shelby Harris, PsyD, DBSM, and author of Women's Guide to Overcoming Insomnia. 
On our list, you'll find traditional pillow-tops (which are sewn onto the top of the bed) and Euro pillow-tops (which are incorporated into the top layer of the bed and are typically a bit firmer and flatter). 
The added layer of cushion and plushness doesn't often take away from the overall support of a bed, so Harris says pillow-top mattresses are generally a good pick for any sleep style. Side sleepers, in particular, will appreciate the cloudlike feeling on their shoulders and hips.
Are there any downsides to going plush?
Not many, but Harris says there are a few factors to consider. First, pillow-top mattresses "tend to be a bit heavier than a standard mattress, making them more of a challenge to rotate or move around if needed," she explains, noting that some do require regular rotation to evenly disperse wear and tear. 
If you're switching to a pillow-top mattress, you should also be prepared for some added height. "You typically need deeper sheets to fit the mattress as well," adds Harris. 
Lastly, some people don't like the tufted feeling of a pillow-top bed. If that's you, a Euro top might be a better fit. For added comfort and joint support with a potentially smoother surface, you could also consider a mattress topper.
How we picked.
Each mattress on this list is made in the USA and is CertiPUR-US Certified, which means it meets rigorous quality and emissions standards. Some even have additional certifications for organic materials.
Some pillow-top mattresses cost slightly more than an all-foam option, but there are still plenty of budget-friendly options out there. We tried to meet a range of budgets with our list.
We read hundreds of positive and negative reviews on these beds to ensure they were worth the hype, especially when it came to their pillow-top layers.
Wherever possible we try to highlight brands that are taking Mother Earth into consideration with their manufacturing and business practices. There are a few standouts in that department on our list.
Our picks for the best pillow-top mattresses:
How to choose.
With multiple materials available (memory foam, latex, cotton, wool, etc.), taking stock of what you like in your current mattress can help you decide which material is best for you. For example, if you're a hot sleeper, breathable materials like latex or cotton are probably your best option. 
Mattresses can get expensive, but these days there are plenty of budget-friendly options on the market. Weigh the pros and cons of each, and there's bound to be a cloudlike bed that works for you without breaking the bank.
We also recommend taking advantage of your chosen mattress brand's trial period. Each brand featured here has a trial of at least 100 nights, so you can make sure the mattress is the best fit for you before committing to a long-term relationship.
FAQ
What's the difference between a pillow-top and a Euro top mattress?

The difference lies mostly in the mattress' design. A standard pillow-top is a comfort layer that is often sewn onto the top of a mattress, while a Euro top is incorporated into the top layer of the mattress and therefore might appear more flat.
Are pillow-top mattresses good for side sleepers?

Pillow-top mattresses are a great pick for side sleepers, as they offer an additional layer of pressure-relieving cushion that cradles hips and shoulders.
How long should a good pillow-top mattress last?

The longevity of a mattress depends on the quality of the bed and how much use it gets. A quality pillow-top mattress should last between five and 10 years, assuming you take good care of it. For an even longer shelf life, consider a flippable mattress.
The takeaway.
If you love the luxurious feeling of a hotel bed, you'll be happy to know you can achieve that same pillowy comfort in your own home. Whether you're a side sleeper, a hot sleeper, or anything in between, we're sure one of the pillow-top beds on our list will have you sleeping like you're on vacation in no time.