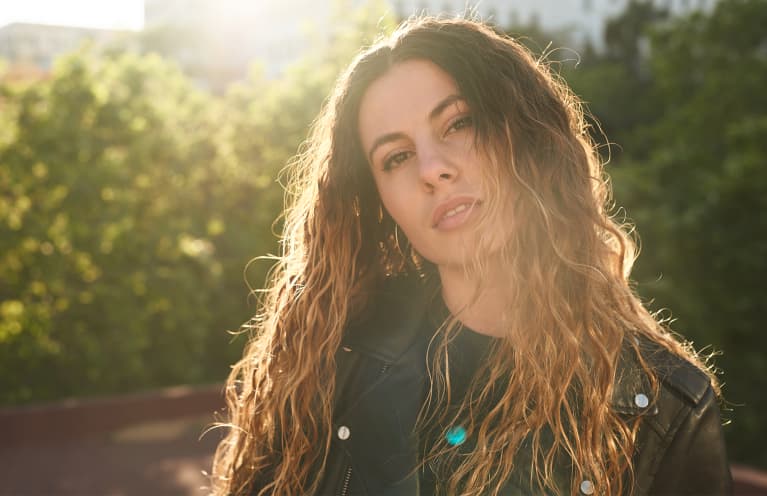 Our editors have independently chosen the products listed on this page. If you purchase something mentioned in this article, we may earn a small commission.
September 22, 2022 — 23:01 PM
Every beauty professional has their nonnegotiable steps. In our series, Like A Pro, we tap experts for the top three techniques they absolutely swear by. Here, you'll hear from a variety of industry insiders on the fail-safe tricks they always keep in their back pockets. We're all about simplifying your beauty regimen wherever you can, and sometimes the best routines are as easy as 1, 2, 3.
Even if fall doesn't call for the most authentic beach waves (read: literally salt-covered and sun-kissed), you can still fake the look year-round. This intentionally distressed style is perfect for days you want to nail the "effortless" chic aesthetic. Think of it like a no-makeup makeup look for your strands. 
To give us a crash course on ocean-free beach waves, we tapped celebrity hairstylist Justine Marjan. Let's dive in. 
1.
Opt for a flat iron rather than a curler. 
While you may not think to grab your straightener to create waves, that's exactly what Marjan recommends. She uses the GHD Platinum Styler Flat Iron, but any 1- or 2-inch iron will do. 
In this TikTok tutorial, Marjan gives a visual demonstration. You'll want to run the straightener down your hair in 1- to 2-inch sections, avoiding any stagnant moments (translation: Keep the iron moving). 
Instead of twisting or curling the iron vertically, Marjan keeps it at a horizontal angle and uses her wrist to create the wavy shape. "The key is to turn your wrist like you're opening and closing a doorknob," Marjan says. Be sure to have one hand operating the iron while the other holds the bottom of the section. And of course, don't forget heat protectant.
2.
Avoid overdoing it with styling products. 
The key to achieving truly natural-looking waves is to use as little product as possible. "Beach waves should look soft and effortless, not stiff or sticky," Marjan tells mbg. You'll want to use a texture spray to create grip, but try to start light and build up as you need. Here, a few curl-friendly styling products for your browsing pleasure. Or if you're feeling crafty, you can even make your own salt spray DIY-style. Here's the how-to. 
You'll want to apply your texture spray post-iron to avoid any unnecessary heat damage. And if your hair is naturally on the drier side, consider prepping it post-shower with a leave-in conditioner. This way, your strands will be healthy and hydrated without coming off too shiny. 
3.
Remember: This doesn't have to involve heat. 
If you're looking to keep your hot tool use to a minimum, you're in luck. Faux beach waves can be achieved with a simple overnight styling routine. First, Marjan recommends spraying your hair with a leave-in wave styling product. Then create several loose braids in the hair. If these are too tight, the look may come out more forced than effortless, so keep the braid long and loose. In the morning, take out the braids, and voilà! Overnight styling, sans heat. 
For Marjan's clients that have shorter hair but crave a long, beachy look, she recommends enlisting the help of extensions. "I recommended the Great Lengths Pre-bonded or Tape-In Extensions. They blend seamlessly with natural hair and last months! They also have the most beautiful soft wavy texture perfect for beach waves," she says. 
Beachy, natural-looking waves are always on trend, no matter the season. In order to achieve this look without actually swimming, Marjan calls upon a straightening technique, texture sprays, and overnight braids to mimic the unrefined, intentionally messy look. If you're on the hunt for new styling products to nail this look, here are 11 clean and natural options to get you started. And if you have a curlier strand pattern but still want to hop on the heatless curls bandwagon, here's a full guide to define your ringlets.
Heal Your Skin.
Receive your FREE Doctor-Approved Beauty Guide
You are now subscribed
Be on the lookout for a welcome email in your inbox!
https://www.mindbodygreen.com/articles/how-to-create-effortless-beach-waves-from-celeb-stylist