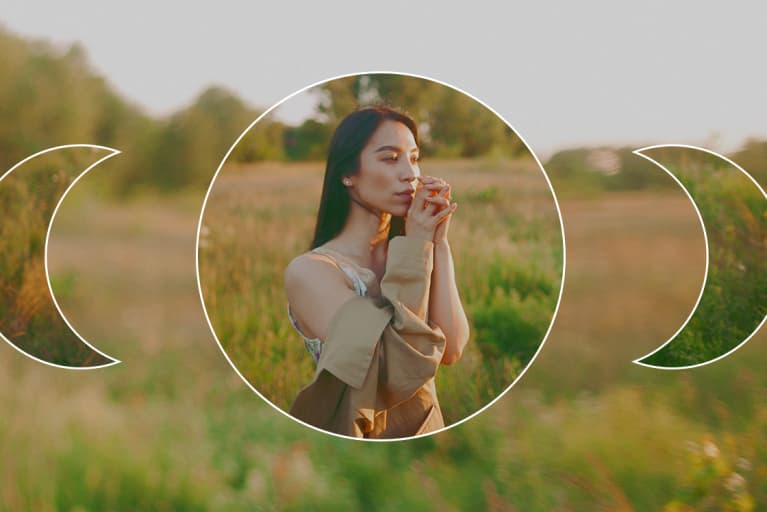 Our editors have independently chosen the products listed on this page. If you purchase something mentioned in this article, we may earn a small commission.
September 23, 2022 — 9:01 AM
Libra season is officially here, and with it, the new moon in Libra is just around the corner. It'll be peaking around 6 p.m. EDT on the evening of Sunday, September 25. Here's what each sign should know, according to astrology expert Desiree Roby Antila. (Be sure to check your sun and rising signs!)
Ready for a relationship reset, Aries? According to Roby Antila, the Libra new moon lands in your seventh house of partnership, "offering an opportunity to refresh your closest relationships and a space to think about what you want and need in your union." She adds that whether you're single or attached, right now you're able to gain valuable insight, work through a pain point, and move into a new phase of even deeper commitment.
Taurus, September's new moon in Libra falls in your sixth house of organization, health, and service. Roby Antila tells mbg that this energy is supportive for starting new projects or refreshing your daily routine. During the next six months, she adds, you could even reach a major goal—if you can stay focused, that is. "Remember, it is always smart to invest in yourself, so give yourself the grace you need to reach your goals," she says.
Feeling emboldened, Gemini? This new moon highlights your fifth house of passion, creativity, and expression, and under partnership-oriented Libra, this is your time to shine on the dating scene. According to Roby Antila, this energy can help you find a fresh new love interest, or if you're already in a relationship, take it to the next level.
Don't resist leaning into homebody energy under this new moon, Cancer, which will land in your sentimental fourth house of home and emotional needs, Roby Antila says. With the new moon offering opportunities to begin a new cycle, she notes this is a great time to refresh your home before the holiday season gets underway. "Emotionally," she adds, "this can trigger you to crave a more stable environment, which can start a whole new chapter for you."
Leo, the new moon in Libra falls in your third house of communication and local community. According to Roby Antila, strategic unions are highlighted under this collaborative, fair-minded moon. "The trick," she says, "is to find people that have a joint goal in mind. Make this moon a starting point to attracting and retaining those that mirror your drive and ambition." This energy will last for the next six months until the Libra full moon, she adds, "So don't rush, and cast a very wide search net."
This new moon will highlight themes of finances and stability for you, Virgo, landing in your second house of work and money. Roby Antila notes that this moon could even signal the start of a new business or financial venture, and its energy is supporting you. "This is a great time for financial planning and making goals around your moolah. Come up with a six-month money manifesting plan and work toward it," she adds.
Libra, this new moon is a big one for you, as it lands in your sign and your first house of self, identity, and beginnings. Essentially, you've got a double-whammy of "fresh start" energy at your disposal, so roll with it. "This is the perfect time to wipe the slate clean and come up with some fresh personal plans," Roby Antila explains, adding to treat yourself to some pampering and self-care because you deserve it.
She suggests creating a vision board of how you'd like the next six months to go, and sending your wishes into the universe. "Because when the moon is in your first house, it means it is your time to shine," she adds.
New moons are typically thought of as relating to beginnings, but beginnings can't happen without endings. You'll find this to be true for you, Scorpio, as the new moon moves through your 12th house of endings and fantasy. According to Roby Antila, if you've been dreaming about letting something go so you can start over, now's the time.
"If you need to cut the cord on something toxic, this moon will give you the courage and compassion to get it done. The next few weeks are a great time for working through some short-term goals and planning some exciting things for the near future," she adds.
Feeling sociable, Sag? You very well might be, as the new moon lands in your 11th house of friendships, networks, and the collective. Roby Antila notes that your friends will come into play in a big way under this moon, so it's a great time to put yourself out there. "Get your crew together for a night of new moon magic and feel your cup get filled all the way up," she suggests, adding that it's also a good time to rebrand and/or refresh your online presence.
This is an important new moon for your career, Capricorn, as it falls in your 10th house of career and public image. Every new moon corresponds to the full moon in the same sign six months later, so Roby Antila explains that the career moves you make now can have a lasting impact. "This moon marks the beginning of a six-month cycle for your biggest goals, so make sure to be intentional," she says, adding to think about what you want to accomplish in 2023 to get the ball rolling.
Aquarius, don't be surprised if you're hit with a travel bug under this new moon, as it lands in your ninth house of travel and expansion. It's also trining Libra, a fellow air sign, so this moon's energy will be felt strongly by you, Roby Antila notes. She suggests thinking about any trips you want to take in the next six months, classes you want to take—really anything you want to do or try. "Let this new moon spark you into planning in these arenas to make them a reality over the next six months," she adds.
Last but never least, Pisces, this Libra new moon lands in your eighth house of taboo, intimacy, and shared resources, bringing your concentration to these topics, Roby Antila tells mbg. And according to her, whatever presents itself under this new moon, whether loudly or ambiguously, will unfold over the next six months—so pay close attention. Themes of partnership are also highlighted under Libra, so she adds that if you want to call in more passion or a deeper partnership, see how you can add some sensuality to heat things up.
With the new moon in Libra, there's a strong emphasis on our relationships and interpersonal connections. There is some nuance, however, depending on your sign. But when we know what to expect from the stars, we can ride the cosmic wave with ease.