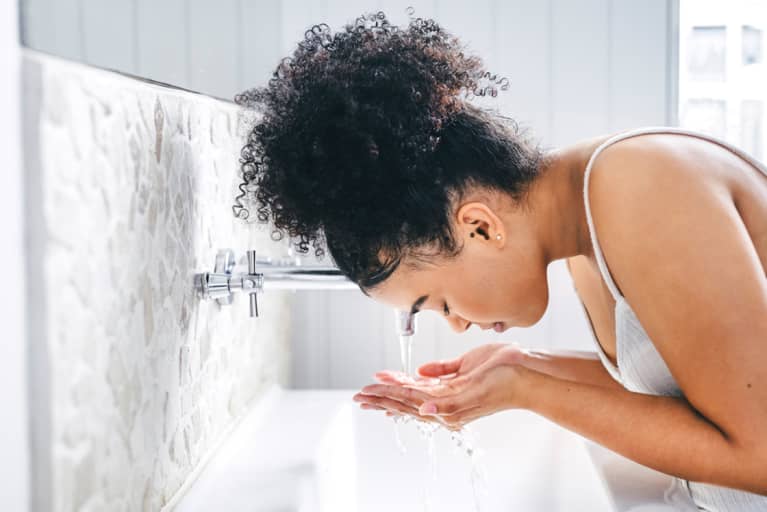 Our editors have independently chosen the products listed on this page. If you purchase something mentioned in this article, we may earn a small commission.
September 26, 2022 — 23:02 PM
In many ways, skin care isn't always about shoulds and should nots. You should always do what's suitable for your skin, which likely won't be a carbon copy of your best friend or partner's routine. That being said, there is one step that you (along with everyone else) could do without. 
Board-certified dermatologist Lindsey Zubritsky, M.D., FAAD, recently shared her ultimate skin care no-go on TikTok—here's her least favorite pick and what to use instead. 
Why a derm advises against makeup wipes. 
The culprit? Makeup wipes. Zubritsky describes these cleansing towelettes as, "actually the worst thing you can ever use for your face." That's a bold claim, but there's good reason why many experts (not just Zubritsky) says you should avoid them, if you can. 
"Not only are they bad for the environment, but they literally just smear your makeup around and don't actually clean your skin," Zubritsky explains. In the same video, Zubritsky rubs a makeup wipe on her own skin to show her viewers the real-time effects. "Look how red I'm already getting just from all of the aggressive wiping on my skin," she says post-wipe. 
Many traditional makeup wipes are packed with alcohols and harsh surfactants, which can irritate the skin, especially when coupled with the act of rubbing a towel back and forth to remove the makeup. Plus, these single-use products pile up over time, directly contributing to waste. 
Instead, Zubritsky recommends a double-cleanse. If you're unfamiliar, double-cleansing involves first using an oil cleanser or micellar water to remove makeup and sunscreen, then following up with a water-based cleanser. A few quick tips on double-cleansing: 
Use your oil cleanser on dry skin
Emulsify the oil cleanser after dry application (aka, add water) before rinsing
Opt for reusable cotton pads to cut down on waste 
Always cleanse into your hairline
If you've been a frequent makeup wipe user for years, you're not alone. And removing your makeup before bed is nonnegotiable, so if these towelettes help you remember to clean your skin, then we're not going to tell you to toss the routine. But according to Zubritsky, making the switch to double cleansing will be better for your skin, the environment, and possibly even your wallet. Here's a curated list of 11 different cleansing oils for your browsing pleasure, in case you want to swap methods.
Skin care is personal, meaning there's not a one-size-fits-all routine. However, most makeup wipes aren't that great for your skin and the environment, and many derms agree. Opt for a natural makeup remover or a good ol' double cleanse; here's a bit more information about how double-cleansing can change your skin and where to start. 
Heal Your Skin.
Receive your FREE Doctor-Approved Beauty Guide
You are now subscribed
Be on the lookout for a welcome email in your inbox!
https://www.mindbodygreen.com/articles/why-you-should-avoid-makeup-wipes-what-to-use-instead