CPT and certified nutrition coach
CPT and certified nutrition coach
Rachel Macpherson is a CPT and certified nutrition coach.

Expert review by
Holistic Podiatrist
Robert Kornfeld, DPM is a holistic podiatrist, dedicated to treating chronic foot and ankle pain at its source.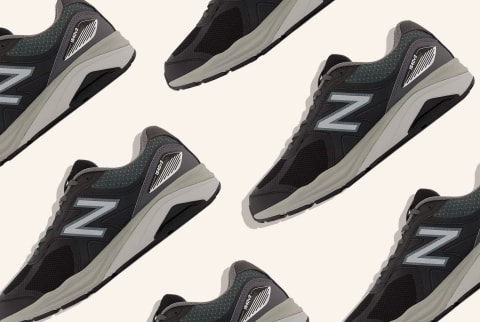 September 30, 2022
Our editors have independently chosen the products listed on this page. If you purchase something mentioned in this article, we may
Plantar fasciitis is an inflammation of the plantar fascia, a large connective tissue band that supports the foot arch. Research shows that this disruptive foot condition will impact about one in 10 people throughout their lifetime, and over two million Americans each year. It manifests itself through pain in the heel and arch—and the pain can be extremely intrusive. Treatment options include rest, hydration, custom orthotics, the proper stretches, and (of course) finding the best shoes for plantar fasciitis. The right shoes can minimize side effects and prevent the pain from worsening. 
Foot health is imperative to your overall wellbeing, and (no matter what injuries or conditions you are facing) a lot goes into picking out the right footwear. To learn more about finding the best shoes to relieve and prevent symptoms, we spoke with four medical professionals.
Read on for their expert advice, along with our picks for the best shoes for plantar fasciitis—and keep in mind, it's always best to consult an orthopedic surgeon or podiatrist for personalized advice.
How we picked:
Supporting the arch is crucial to reduce and eventually recover from inflammation and pain due to plantar fasciitis, so we prioritized shoes with sufficient arch support.
Pain due to plantar fasciitis typically arises in the heel and the arch. Plenty of cushioning in the heel will help to alleviate this pain, a must when you spend a lot of time on your feet.
Recovery will take time, and your footwear needs to last. This is why quality was a top consideration in our choices.
We spoke to experts in podiatric medicine who each stressed the importance of properly fitting shoes with arch support and heel cushioning. We took this criteria into account when selecting these shoes.
Our picks for the best shoes for plantar fasciitis
How to choose
If you experience pain due to plantar fasciitis, we recommend any of the shoes from this list. Your choice should be dictated by the specific use-case and the severity of your symptoms from plantar fasciitis. If you are experiencing a lot of discomfort, you may want to seek custom orthotics, which can be combined with many of the choices we have provided. To find an option tailored to your needs, you can speak with an orthopedic surgeon or podiatrist for personalized advice.
Can shoes make your plantar fasciitis worse?
As plantar fasciitis is cause by inflammation of the plantar fascia (a connective tissue band that supports the arch), relief often requires maximum support and cushioning for your arch and heel. According to Pinker, this support often comes in the form of footwear, meaning that walking barefoot or in poorly supportive shoes (such as flats or flip-flops) could worsen your condition. Although choosing one of the shoes from our list may relieve symptoms, each of our experts recommends that you see a podiatrist, too, as every foot is different and has its own needs for long-term relief from pain due to plantar fasciitis.
FAQ
What aggravates plantar fasciitis?

Pain from plantar fasciitis typically occurs at the insertion point of the plantar fascia on the heel bone. "Typically, the problem flares up with overuse of the foot, usually while exercising, especially when there is poor support on the feet,"  Dr. Laura Purdy, physician, says. "Sometimes, people with hard floors in their house can have pain in the plantar fascia from walking around their house barefooted."
Are soft or firm shoes better for plantar fasciitis?

Both soft and firm shoes can work for Plantar Fasciitis relief. "It matters less whether they are hard and soft and more whether they provide proper structure for the arch on the bottom of the foot," Pinker explains. "It's best for shoes to have a firm arch, which is often referred to as semi-rigid."
Can you permanently fix plantar fasciitis?

The short answer is yes, but according to Pinker, "Plantar fasciitis can easily return, as we walk all throughout our lives, and we can aggravate our feet." Shoes with plenty of arch support can be worn as a means of prevention, even if the pain goes away. Dr. Purdy adds, "It tends to be a condition that is more manageable in the long-term, and people learn what makes them more or less likely to have problems."
The takeaway.
The primary underlying condition of plantar fasciitis is inflammation of the plantar fascia (the connective tissue between the heel and the foot arch). To help alleviate pain and prevent future symptoms, you will want a shoe with plenty of firm support for the foot arch. Above, you can find 11 excellent choices to help you recover from pain due to plantar fasciitis, including orthopedic shoes, sandals, running sneakers, and more. For cases of high discomfort, a professional should be seen for a more custom direction and orthotics.