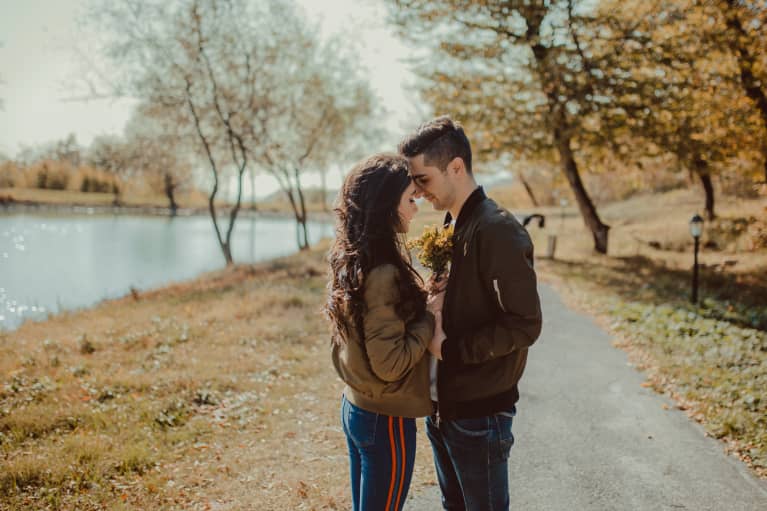 September 30, 2022 — 18:02 PM
Our relationships need nurturing at all times of the year, but as the temperature drops and summer's excitement comes to end, it's a particularly good time to be intentional about cultivating a sense of ease, warmth, and comfort in our relationships in preparation for the colder months ahead. And with all the hot chocolate, chunky sweaters, and scenic nature views, fall may very well be the time of year for cozy romance.
Whether you're married and looking for date night ideas, planning out a first date, or just looking for cute things to do with your friends as the weather cools, these fall date ideas promise to give you all the soft, dreamy, autumnal feels:
1.
Grab some hot cocoa and take a chilly walk.
Make it a pumpkin spice latte if you want to really lean into the season, but the point here is actually the walk: With a warm drink in one hand and your partner's hand in the other, taking a rosy-cheeked stroll around the city on a cool Saturday afternoon bundled up in chunky scarves and sweaters is peak fall. Bonus points if you want to drive out to a quainter nearby town with old-school architecture and brick-lined roads to explore together.
2.
Spend an afternoon at your local bookshop.
Bookshops are inherently warm and cozy, and there's always something very relaxing about wandering the aisles of your local bookstore and leafing through pages of a hefty tome. Pick out some wholesome reads to take home with you for future date nights in, snuggling and reading together on the couch.
The pumpkin patch is great, and we fully recommend a visit there too—but the sunflower patch is the underrated fall date locale. The warm yellow and orange tones feel so fall, especially if you go there wearing matching flannels. Sunflowers are typically in season in the early fall, making this an excellent September fall date idea.
4.
Make your own pumpkin spice lattes.
While you can of course drop by any coffee shop in town to get their version of the fall staple, make a true date out of PSL season by picking up some ingredients and attempting to make your own from scratch at home. (We've got a healthy PSL recipe ready to go for you, plus a few other cozy latte recipes you might enjoy trying out together.) Curl up in some big knitted blankets, light some candles, and enjoy your homemade lattes over some intimate conversation.
As the weather gets colder, it's the perfect time to stay in and get creative with what you've got. If you want to get really playful, get in your jammies, build a pillow fort together, and have a pillow fight. Research suggests a little play can support our relationships by promoting more presence, closeness, and even improved sexual experiences. Talk about a win-win.
6.
Hang out at your local coffee shop.
Grabbing coffee is a go-to first-date idea, but even long-term couples shouldn't underestimate the delight of finding a charming coffee shop and spending the day there just talking, reading, and people-watching. Especially as the weather starts cooling down, there's nothing like spending time tucked away with a partner in the corner of a cozy café with a big, warm mug in hand.
7.
Go thrift shopping for new (old) flannels.
Visit your local thrift store to see what kind of flannel shirts they have in stock. You can also check out their chunky sweater and dad jean collections. In addition to being an eco-friendly way to get your seasonal looks, thrift shops tend to just have a super cozy vibe that perfectly fits the fall spirit.
8.
Have a cozy board game night.
You can do this as a double date with another couple, or just pick up a few two-player games like chess, Connect Four, Scrabble, or even just some puzzles. Add to the vibes by lighting up a fire, making some hot cider, and sitting under piles of blankets.
9.
Go on a hike to enjoy the fall scenery.
When the leaves start to change colors it's the perfect time to take a hike in the mountains or even just a walk around your local park to enjoy the fall scenery. Bundle up, hold hands, and take in the beauty of nature together.
10.
Attend a pie contest—or have one of your own.
Look up whether there are any local pie contests in your area (whether that's a pie-making competition, a pie-throwing competition, or even a pie-eating competition) and make a date of it. Or, if you're feeling a little ambitious, have a little baking contest between the two of you and see who can whip up the best autumnal confections. Think pumpkin breads, apple crumbles, or nutty caramel tarts.
11.
Bring blankets to the beach and start a firepit.
You might associate the beach with summer, but a chilly fall night on the sand with some blankets and a fire going can be very autumnal—in addition to being very romantic. Just make sure to check out your beach's rules and regulations around bonfires.
12.
See a fortune teller.
Fall season is also witchy season, so lean into your occultist proclivities and visit a fortune teller, aura reader, or another spiritual expert together. If you're feeling daring, you can ask for some insight into what's in your relationship's future and get some tips for making it last for the long haul.
13.
Make your own matching Halloween costumes.
Speaking of all things witchy, why not go all out on couples' costumes this year? Come up with a seriously creative idea and then design your costume from scratch. Hit up a fabric store, whip out the sewing needles and craft glue, and make a day of it.
14.
Have a sleepover and tell scary stories.
Bring back your favorite fall hangout from your childhood, but do it with your boo. Pick up a book of scary stories and take turns reading them to each other. Add in some mulled wine and mood lighting to really get in the right zone, or take your spooky endeavors outdoors on a camping trip to up the fright factor.
15.
Visit a record store.
Record stores, like bookshops, have a cozy vintage vibe that makes them a delight to visit in the fall. Peruse your local record store's collection, talk about your old-time musical faves, and discover some new music together. Buy a few that you both love, take them home, and listen to them on your next date night in.
16.
Crash a local high school football game.
You could also go to a real football game, enjoy some tailgating, and do the whole stadium thing—another great fall date idea—but there is something just so quaint and nostalgic about hitting up a high school football game. You could even take a trip to your own hometown to attend one of your old high school's football games and maybe show your partner around your old stomping grounds.
Who says picnics are only for spring and summer? Throw on some layers, pack a basket of your fave fig jams and carrot dips, and spend an afternoon at the park. Don't forget some big blankets to curl up in and a thermos of hot cider.
18.
Host a cozy potluck with a few other couples.
If the weather is no longer permitting a fall picnic, take your feast indoors and invite some friends to make it a real occasion. Have a double or triple date night with one or two other couples you know and host a cozy potluck. Decorate with all the pumpkins and orange stuff imaginable, and have everyone bring a different fall-themed dish.
19.
Visit the local county fair or harvest events.
Look up to see if your area has any fairs, farmers markets, or other similar fall events coming up that you can take your date to visit with you. Around this time of year, you can expect apple bobbing, hay rides, maybe a corn maze, and, of course, pumpkin picking.
20.
Have a flannel photoshoot.
Rock your best flannel and get some cute couple pics for the 'gram (or just for yourselves). Alternatively, dress up your pets (or kids) in tiny pumpkin costumes and kindly send the photos to everyone you know.
21.
Get some paint supplies and paint the fall scenery.
Tap into your artistic side by having your own sip-and-paint date night together. Get some paint supplies, find a particularly scenic vista (your backyard also works great), and share some beers as you capture the fall colors on your own canvases. Don't forget to play some jazzy fall tunes, too.
22.
Take a knitting class together.
Taking classes with a partner always ends up being surprisingly fun just because of the novelty and new environs, and a knitting class sets you both up for having a cozy hobby to enjoy together on cool fall nights. Eventually you can knit each other some custom scarves and mittens, which is just cute as heck.
23.
Rake leaves for the neighbors.
Spend an afternoon raking leaves for all the folks on your street. It's a great bonding activity to do a little good deed for the neighbors, and it also gives you an excuse to jump around in some leaf piles together. Leaf fight, anyone?
Hit up a candle store and take your time smelling each and every candle together. Pick out your fall faves—think caramels, nutty scents, and of course pumpkin—and stock up for the season.
25.
Rent out a cabin in the mountains.
Combine a bunch of ideas on this list and take it all with you on a cabin getaway in the mountains. Bring your cozy blankets, hot cocoa, candles, and board games, and enjoy a cozy, secluded nest amid the orange-tinted peaks with your partner. Up the ante by getting a cabin with an outdoor hot tub.
From tromping through pumpkin patches to snuggling up by the fire at home, the fall season offers so much inspo for creative and cozy date ideas. Whatever you end up choosing for your date nights, focus on nurturing a little warmth and comfort in your relationship this season, and don't be afraid to lean all the way into the fall vibes. Go ahead: Order that PSL.