Contributing writer
Contributing writer
Jamey Powell is a writer and editor living in Brooklyn, NY. Previously the senior market editor at Healthline.com, she has years of experience scouring endless product reviews and testing out the latest and greatest products in the sleep, fitness, and nutrition markets.

Expert review by
Scott Nass, M.D., MPA, FAAFP, AAHIVS
Board-certified Family Physician
Scott Nass, M.D., MPA, FAAFP, AAHIVS is a family physician and HIV specialist in California. He takes a holistic approach to healthcare, incorporating principles of functional medicine and using food as medicine when working with patients.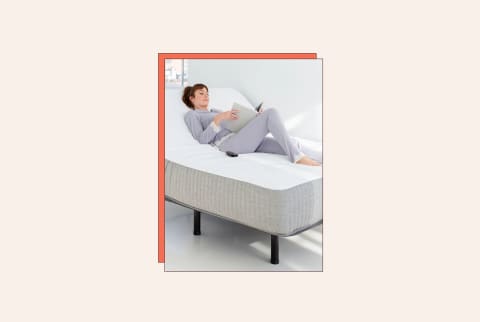 October 3, 2022
Our editors have independently chosen the products listed on this page. If you purchase something mentioned in this article, we may
Pregnancy is a time full of changes. Yes, many are magical, but some can be…well, less than. While your body adjusts to new sensations (aches and pains, constantly needing to pee), your sleep can take a hit—and without the best mattress for pregnancy, you won't be set up for success.
Research has shown a connection between lack of sleep during pregnancy, and complications such as increased pain during labor, preterm birth, and low birth weight. So if you're preparing for pregnancy (and planning the best approach to your nutrition, physical fitness, and sleep), now is a good time to evaluate your mattress, too.
Below are a few of the best mattresses for pregnancy that will keep you snoozing comfortably, before and after the baby has arrived.
What type of mattress is best during pregnancy?
While mattresses are typically a very personal-preference purchase, there are a few things to consider when picking out the best mattress for your pregnancy:
Side Sleeping
According to Navya Mysore MDCM, CCFP, the best type of mattress for pregnancy is one that allows you to sleep comfortably on your side. "Side sleeping is what is mostly recommended in pregnancy from 20 weeks onwards, as the uterus is larger and can press on the inferior vena cava (a large blood vessel that returns blood to the heart)," she explains. "When you have less blood returning to your heart, you also have less blood flow going to your other organs as well as to your baby."
One study from 2019 also concluded that side sleeping was the safest method for pregnant people, as well as current guidance from the American Pregnancy Association.
Medium-Firm Feel
When it comes to the best mattresses for side sleepers, there should be a balance of support for your spine and cushion to keep your pressure points happy. "For side sleeping I would recommend a mattress that is semi-firm," adds Mysore. "You want it to be able to support you well without sinking in, but not so firm that you can't get comfortable."
Keep it Cool
In a 2013 study that tracked 429 women throughout their pregnancy, 35% of participants reported hot flashes. Hybrid mattresses with springs can increase airflow, and beds with cooling materials like latex foam, moisture-wicking wool, or graphite can help promote a cooler sleeping environment.
Movement-Friendly 
Sleeping like a log is a bit more difficult when there's someone new movin' and groovin' in your belly. If you tend to move around throughout the night, a responsive hybrid mattress will help make those shifts a lot easier. Even better if you can opt for a King or California King bed that will provide more room for supportive pillows—especially if you're sharing a bed with a partner.
How we picked:
Based on our expert's advice, we focused on mattresses that were medium-firm (or customizable to provide more or less cushion) for comfortable side sleeping.
This list contains mostly hybrid mattresses, to ensure your best shot at medium-firmness and airflow. Still, some people love the feel of memory foam and latex foams, so we added some best-case options there too.
Each of these mattresses are made in the USA and use nontoxic, CertiPUR-US-certified materials. We also prioritized brands that use organic materials and have additional sustainability credentials.
We read hundreds of reviews and looked for feedback from pregnant people, hot sleepers, and side sleepers specifically.
mbg's picks for the best mattresses for pregnancy:
How to choose:
When picking out a new mattress, you'll want to think long term (you won't be pregnant forever). Be sure the mattress you pick will still meet your sleep needs even after your baby makes their arrival. That means finding a mattress that works for your typical sleep position.
If you're going to add pillows for extra comfort while you're pregnant, you'll want to be sure there's plenty of room. Solid edge support can make your bed feel bigger, as it allows you to stretch all the way out without the edges sagging.
As your body changes, your sleep preferences might too. Make sure you know the brand's return policy and sleep trial period—some brands will let you test a bed for an entire year before making a final decision!
Tips to sleep comfortably during pregnancy:
Invest in a pregnancy pillow
Sleeping on your side can be an adjustment if you're not used to it, so you might consider a new pillow for your head, or even a long pregnancy pillow (if you have the space). "I really think a body pillow is worth trying as it can help you find a position that you might find comfortable that isn't lying directly on your stomach, but instead provides enough support that you can get comfortable on your side," Mysore agrees. These longer pillows are designed to cradle your head, bump, and knees in a comfortable side-sleeping position.
Try sleeping with a pillow between your legs
"If a body pillow feels like it might take up too much in the bed, then a wedge pillow (between your legs) or even a pillow under the knees can help provide more support and increase comfort," Mysore advises.
Do what you can to stay cool
Temperature regulation is key for a solid night's sleep. If you're not ready to take the plunge and purchase an entirely new mattress, there are plenty of mattress toppers that can help cool you down while you snooze (and save you some cash in the meantime).
FAQ:
What mattress firmness is best for pregnancy?

Studies (and our expert) suggest that medium-firm mattresses are best for pregnancy as they help provide a good blend of support and comfort for side sleeping.
What's the best mattress topper for pregnancy?

A mattress topper that provides cushion under your hips and shoulders, as well as decent temperature regulation, will be the best fit for pregnant people.
Can you sleep on a memory foam mattress while pregnant?

You certainly can, as long as you feel supported in your side sleeping and are staying cool at night. Memory foam can run hot, but if you're getting a solid night's sleep on a memory foam mattress and sleeping comfortably on your side, you don't need to change it.
The takeaway.
There's no doubt that pregnancy can be an exciting time in a person's life. But if you're losing sleep or unable to get comfortable, that pregnancy shine can quickly wear off. Luckily, a new mattress that caters to your side-sleeping needs could help you achieve that deeper sleep you've been craving—just be sure it's a bed you'll still love after your little one arrives!