Contributing writer
Contributing writer
Jessica Ourisman is a therapist-turned-freelance writer covering topics related to beauty, fashion, and wellness. She has a master's degree in social work from Columbia University and bylines that include Brit + Co., TheThirty, PopSugar, Good Housekeeping, Woman's Day, Cosmopolitan AU, FabFitFun, Glam.com, and more.
Image by Amazon / mbg creative
October 12, 2022
Our editors have independently chosen the products listed on this page. If you purchase something mentioned in this article, we may
Cycling is one of the foundational forms of cardiovascular exercise—but it's not all SoulCycle classes and at-home Peloton rides. High-intensity training on a cycling bike isn't the only way to reap the benefits of this activity.
"There are plenty of benefits to any form of cycling, whether that's taking part in a spin class, going for a bike ride, or using a stationary bike," says London-based performance coach and celebrity trainer Artur Zolkiewicz. "Cycling is classified as an aerobic1 activity, and when performed consistently, can contribute to many positive health changes [such as] losing weight, increasing stamina, improving your fitness and strength, and over the long term, impacting heart health, lung capacity, bone density, and overall muscle strength."
What's more, one study found2 that engaging in moderate aerobic activity, like biking, improves sleep quality. Considering the effects of biking reach far beyond the power you feel pushing through max resistance on the belt, it's no surprise that interest in the at-home exercise equipment has soared. The best exercise bikes keep their cycling regimens going year-round, but there are many different forms of exercise bikes to choose from.
"Assault bikes are favored among CrossFit gyms due to their workload requirement, while stationary spin bikes are great because you can set the climb or resistance to whatever your fitness level or goals might be with guaranteed stability," says NASM-certified personal trainer and Sweat to Protect founder Brittnei Schaeffler, NASM-CPT.
Which brings us to the recumbent bike, a low-impact type of bike for cycling that can still get the heart rate up and support your well-being without putting as much stress on your body.
What is a recumbent exercise bike?
As opposed to upright bikes, which require that riders perch on top and lean forward over the handlebars, recumbent bikes seat the rider differently. "A recumbent exercise bike, in some cases referred to as a recline bike, is designed to offer a reclined body position [with] the pedals positioned in front of the body rather than underneath," Zolkiewicz says. "They usually have larger seats and typically offer full back support."
He points out that many riders find these bikes to be more comfortable, while Schaeffler adds that their supportive design can be easier on the joints. They also come in many different options. "They are made with longer or shorter wheel bases that can provide alternative forms of support and stability, and might also offer over- or under-seat steering, which just means that the handlebars can be placed in different positions according to comfortability requirements," she says.
What are the benefits of a recumbent exercise bike?
While the benefits of aerobic activity are vast, ranging from better mood and sleep to reduced health risks, Zolkiewicz shares the findings of a study3 showing that recumbent bikes work two muscles harder than the upright bike: the semitendinosus in the hamstring, and the tibialis anterior, located along the shin. (By contrast, the rectus femoris muscle, which is part of the quadriceps group, was worked harder by upright bikes.)
The specific benefits of recumbent bikes truly come down to the design, which takes ergonomics, comfort, back support, stability, and even seat size into consideration. Their design relays more support and stability, as well as a gentler degree of impact on joints and the back, which makes them great options for older adults, those with back issues or joint pain, larger-sized individuals, those in recovery from an injury, or simply for those days when you are tired, sore, or want to work out your legs.
"A lot of users find the body position more comfortable as compared to an upright bike," says Zolkiewicz. "They usually have larger seats that make them accessible for larger [sized] individuals, while full-back support makes the seated position more comfortable."
He explains that while upright bikes engage more muscle groups, the support afforded by the recumbent position helps make for an overall gentler ride. "The back support takes pressure off the lumbar spine, which means that you will feel less impact and minimize the strain on the back and neck," he says. "They can also be a great exercise option for older adults because they don't require a lot of balance to mount or dismount and are closer to the ground than upright bikes."
Lastly, Zolciewicz points out that greater comfort while working out often translates into longer workout sessions—ideal for the long-term sustainability of a regimen, and the journey toward reaching your fitness goals. This makes them excellent options for newcomers who want to ease themselves into a gym routine.
How do you choose a recumbent exercise bike?
Zolkiewicz outlines a few important considerations to take into account when shopping for an at-home recumbent exercise bike. One is to shop from trusted and well-reviewed brands, considering customer reviews if applicable. You should also consider the space you will place it in your home, as they are larger than their upright counterparts.
"If this is the only piece of workout equipment you want to have in your home, think about other exercises you can do to complement your bike workouts and ensure there will be space [for a mat, weights, etc.]," Zolkiewicz says. "Do you get bored easily? If so, get one with a screen so that you can watch your favorite shows while exercising."
Other considerations include the levels of resistance offered, maximum weight capacity, the adjustability of the seat (for height) and handlebars, built-in workouts, water bottle holders, and even aesthetics.
How we picked:
All of the bikes selected had positive customer reviews with special attention paid to reports of quality and any complaints related to malfunction or assembly.
All of the bikes below feature multiple resistance settings. Additional features include seat adjustability, lumbar support, ease of mounting, Bluetooth capability, and built-in programs.
The bikes below vary in cost. In instances where cost is high, warranties ensure that they will be long-term, high-quality investments. Plus, a higher cost often comes with a larger range of add-ons, such as seat inserts for more lumbar support or apps access for group workouts.
Size, weight, and the presence of wheels to aid with transporting the equipment are incredibly important in the home. Special preference was shown to compact designs and those with wheels on the frame.
Our picks for the best recumbent exercise bikes in 2022:
Pros:
Contoured seat
Affordable
Top-rated
Cons:
Short warranty
No touchscreen
Seat not adjustable (not good for short riders)
Resistance levels: 25
Weight capacity: 300 lbs
Adjustable seat: No
Screen: Yes
Subscription required: No
The popular design is surprisingly affordable for all that it offers—especially when you consider the bike has earned more than 9,000 ratings. Best described as the "Peloton" of recumbent bikes, this sleek design boasts a sturdy frame with a magnetic resistance belt offering 25 resistance levels. Most importantly, it offers a step-through mount that won't require users to lift their legs too high when setting up on the bike—making it a great pick for seniors.
Plus, the design boasts plenty of unique tech features that make it worth the extra cash. Along with Bluetooth accessibility, the frame has both a USB port to recharge your devices and built-in speakers to follow along with classes. Even better, the bike is VR compatible for an immersive workout that takes riders on epic bike rides around the world. One word of warning, however, is that the seat is not adjustable, meaning it is not a good option for riders of shorter heights.
Pros:
Live workouts with trainers
Diverse classes
Bluetooth-enabled
Lumbar support
Cons:
More expensive
Bulkier design hard to move around (192 pounds)
Resistance levels: 26
Weight capacity: 350 lbs
Adjustable seat: Yes
Screen: Yes
Subscription required: Yes, 30-day iFIT trial included
This is undoubtedly the Peloton of recumbent bikes, thanks to iFIT classes and workouts that range from interval biking and bootcamp to cross-training and yoga. With the instructors controlling the resistance of your bike remotely during the program, you'd be hard-pressed to find a difference between this equipment and an IRL class (except the lack of sweat flying from your bike neighbor).
Plus, the trusted brand comes through with a 14-inch LCD screen to show scenery across the globe, with Google Maps literally enabling you to cycle anywhere. Truth be told, this is our must-have due to its compact construction, back-supporting build, and dynamic design that brings the feeling of group workout classes into your home.
Pros:
Affordable price point
Comfortable and padded bike seat
Lightweight for easy storage
Cons:
No smart connections
Difficult self-assembly
A few reviewers complain of squeaking
Resistance levels: 8
Weight capacity: 300 lbs
Adjustable seat: Yes
Screen: Yes (LCD tracks distance, calories, time, speed, heart rate)
Subscription required: No
Lack of space has been one of the biggest apprehensions for many people exploring home gym equipment, but this foldable pick proves the perfect alternative. It weighs just 43 pounds, allowing you to fold and stash the equipment once your workout is complete.
Already trusted by more than 2,300 reviewers who gave it a perfect rating, the sleek pick offers eight resistance levels, as well as a small LCD screen to track distance, calories, speed, and heart rate. The oversize seat is often described by shoppers as "padded and comfortable." Many shoppers also confirm it's the perfect height to use with an adjustable work desk.
Best under $500: MarcyPro Regenerating Magnetic Recumbent Bike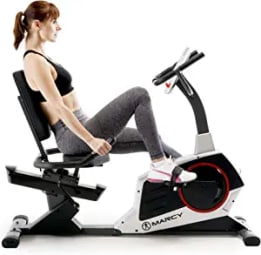 MarcyPro Regenerating Magnetic Recumbent Bike
Pros:
Cordless design
Adjustable seat for different heights
Two sets of handlebars
Cons:
Not a smart device
Heavier design is harder to move (weights 105 pounds)
Resistance levels: 24
Weight capacity: 300 lbs
Adjustable seat: Yes
Screen: Yes (time, distance, RPM, speed, calories, body fat, warrs, pulse recover, pulse)
Subscription required: No
What this bike lacks in fancy bells and whistles (no VR or workout glasses) it makes up for in functionality. It boasts a plush, foam-padded seat for a comfortable sprawl, as well as adjustable seat height that allows users to find the optimal cycling position for them. Additionally, the equipment has handles by the LCD display screen and along the undercarriage of the seat, giving users the opportunity to skip a hunched-over position on days when their core muscles need a break or their back is feeling strange.
The low-profile pick also offers 24 magnetic resistance levels, as well as 23 workout programs, making this hidden gem the best bang for your buck in the under $500 price bracket. Thanks to its cordless design and transport wheels, it can be used wherever you like—in front of the television, perhaps—and then wheeled back and out of the way.
Best with arm workout: Sunny Health Fitness Magnetic Recumbent Exercise Bike with Arm Exerciser
Sunny Health Fitness Magnetic Recumbent Exercise Bike with Arm Exerciser
Pros:
Adjustable arm workout
Compact width
Higher weight capacity
Cons:
Only 8 levels of resistance
180-day warranty period (for parts aside from the frame)
Resistance levels: 8
Weight capacity: 350 lbs
Adjustable seat: Yes
Screen: Yes (time, count, total count, calories, count per minute)
Subscription required: No
Most recumbent bikes that offer arm workouts are simply cross-trainers, which means you can't use the two components of the bike separately. This Sunny Health & Fitness model features an independently operating arm workout with adjustable weight resistance for your shoulders and forearms—meaning you truly get a 2-for-1 device.
When it comes to the leg workout, you'll still get plenty of pushback from three magetic resistance levels. Simply adjust the bike horizontally to your optimal height, step through to find your seat, and slip your feet into the adjustable pedal straps. The LCD display will track your speed, distance, calories, and time spent pedaling during your workout.
Although not the most compact pick, the equipment weighs less than 100 pounds and has wheels for easy transport. It also has floor stabilizers that allow you to adjust the frame to ensure a steady cycling surface.
Pros:
iFit enabled
Horizontal & vertical seat adjustments
Compact width
Quiet operation
Cons:
iFit not included after 30 days
Expensive option
Resistance levels: 25
Weight capacity: 300 lbs
Adjustable seat: Yes
Screen: Yes
Subscription required: No
Don't let people on upright exercise bikes have all the fun! You can still have top-of-the-line tech with a recumbent bike—and this ProForm design is proof. It features a 10-inch touchscreen with an ever-growing library of workout videos. Currently, the device is loaded with thousands of workouts, as well as automated tech that allows your bike to automatically adjust resistance in a workout based on an instructor's programmed course. Of course, you can always go for the class experience by connecting an iFit account, which gives you access to live classes and streaming (free for 30 days, paid after).
Naturally, the actual specs of the equipment are equally important, and this C10R model has plenty. For comfortable workouts for all heights, the seat adjusts both vertically and horizontally. There are handlebars placed next to the seat, as well as alongside the 10-inch LCD monitor to allow you to adjust positioning based on your body's needs that day.
Pros:
Adjustable seat
Ultra compact 30″-by-57″ size
Table holder
USB charing port
Cons:
Difficult assembly
More expensive model
Resistance levels: 20
Weight capacity: 300 lbs
Adjustable seat: Yes
Screen: Yes (9″ LCD)
Subscription required: No
While multiple models on this list boast compact designs, such as the Marcy Pro and the ProForm, consider this the premium version for a long-term investment in your home gym. Along with 20 resistance levels via quiet, magnetic resistance, riders can take part in 10 different programs on the adjustable seat—or countless more if they subscribe to Sole STUDIO. It also comes with a lifetime warranty on its frame and three-year warranties for parts and electronics, making it well worth the investment in your home gym.
Pros:
Cordless design
Adjustable back rest with extra lumbar support
34 built-in exercise programs
Cons:
Bulkier size is 70 inches wide
Resistance levels: 16
Weight capacity: 400 lbs
Adjustable seat: Yes
Screen: Yes
Subscription required: No
Most exercise bikes on this list cap out at a 350-pound weight limit, but this high-end pick supports up to 400 pounds. We'll note that it is pricey—an unfortunate downside for the most inclusive design—but it offers plenty of perks for this premium price point.
The adjustable seat reclines backward to provide more room for a wider range of bodies, and the seat itself offers extra lumbar support and armrests. The step-through design is also easy to mount, making it a valid option for those with back pain. It also features self-generating power, which means you can skip clumsy cords for a cleaner look. Beginners will also love that it comes packed with 34 exercise programs to help lead the way through the workout. All this comes with a 10-year warranty on its frame and a two-year warranty on parts.
Best for lower back pain: Fitness Reality X-Class 450SL Recumbent Exercise Bike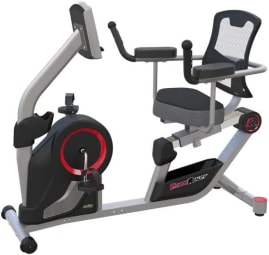 Fitness Reality X-Class 450SL Recumbent Exercise Bike
Pros:
Patented seat cushion with lumbar support and armrests
Free app subscription
5-year warranty
Resistance levels: 24
Adjustable seat: Yes
Screen: Yes/No
Subscription required: Free
For many, the swap from an upright stationary exercise bike to a recumbent one is all about reducing tension in the back, neck, and shoulders. This affordable pick meets those needs and more with a patented 3-inch-thick AirSoft molded seat cushion, which features air chambers to keep you cool and comfortable.
Along with an LCD touchscreen, it features a built-in tablet holder for your smart devices. Use the Bluetooth-enabled technology to connect to fitness apps, tracking your output as you power through 24 magnetic resistance levels.
That being said, if you fell in love with another option on this list, you can always buy set covers with additional lumbar support.
Pros:
20 exercise programs
15.6-inch touchscreen
Ultra aesthetic design
Resistance levels: 25
Weight capacity: 352 lbs
Adjustable seat: Yes
Screen: Yes
Subscription required: No
Recumbent exercise bikes are often bulky and far from aesthetically pleasing, but this luxurious design puts all others to shame (even Peloton). Slim, elegant, and beautiful, this Italian bike is more like artwork than cardio equipment, making it a piece you won't mind showing off in your living room.
Aside from the hefty price tag, this bike meets the must-have standards of any high-end recumbent bike: an adjustable seat, built-in workouts (both indoor and outdoor), and a 15.6-inch LCD screen for streaming live classes or entertainment. One of our favorite perks? You can even sync this bike to your wearable fitness device.
The takeaway.
Recumbent exercise bikes are popular Peloton alternatives offering aerobic workouts while still being gentle on the body. Zolkiewicz points out that the main challenge is getting used to this alternative form of cycling. But just because recumbent exercise bikes can be so beneficial doesn't mean you should get too comfortable; after all, most of us spend a lot of time sitting as is.
While there is no reason not to work a recumbent exercise bike into your fitness routine or at-home gym, Zolkiewicz emphasizes that versatility is key. "I'm a big believer in keeping physical activity as versatile as possible," he says. "The downside of using exercise machines in general is that they provide highly controlled movements, which our bodies can get efficient at very quickly. Doing different forms of exercise will challenge the brain and body to keep things interesting and keep you guessing and learning."