While there are a lot of gluten-free foods on the market, let's be honest — they're not all delicious. And we're not looking to waste time or carbs on bland cookies or bread that tastes like cardboard.
That's why Trader Joe's is a mecca for people who prefer to avoid gluten either out of necessity or choice — Trader Joe's gluten-free food is so good, you won't even miss the regular stuff. Even better, their gluten-free options won't break the bank.
One quick note: Products and recipes can change, so always double-check the packaging and read the ingredients list to make sure your favorite GF treats haven't been modified to include any ingredients that contain gluten.
Here are a few of our favorite gluten-free options for every meal.
Trader Joe's Gluten-Free Breakfast Foods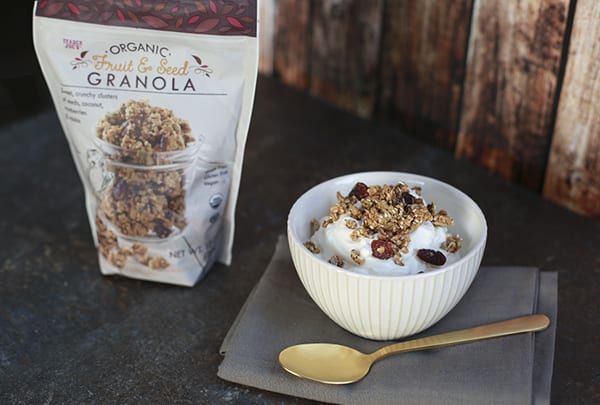 Gluten-free Cinnamon Raisin Bread
Trader Joe's gluten-free cinnamon raisin bread is soft and slightly sweet — not dense, dry, or crumbly like most gluten-free breads. Slather it with peanut butter and pair it with a side of scrambled eggs for a healthy breakfast.
Organic Fruit and Seed Granola
Instead of oats, this Trader Joe's granola is made with sunflower seeds, shredded coconut, dried cranberries, raisins, flaxseeds, chia seeds, and hemp seeds. The clusters are crunchy and sweet — mix them into Greek yogurt, or eat them straight out of the bag.
Trader Joe's Gluten-Free Lunch and Dinner Foods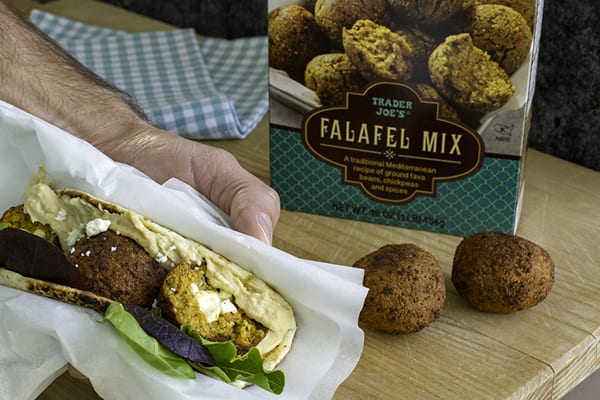 Falafel Mix
Made from ground fava beans and chickpeas, Trader Joe's Falafel Mix is naturally gluten-free and a tasty source of plant protein. It's also loaded with flavorful spices like garlic, cumin, and coriander. Pile your falafel bites on a bed of lettuce, or dip them in hummus and tahini for a satisfying snack.
Cauliflower Tabbouleh
This cauliflower tabbouleh trades the bulgur and couscous for a riced cauliflower base that's mixed with diced tomatoes, parsley, onion, and lemon juice — perfect as part of a fresh, quick lunch. Add protein and then toss it with spinach for a hearty salad, or scoop it up with tortilla chips.
Gluten-Free Egg Fettuccine Pasta
It'd be tough to find a GF pasta that rivals Trader Joe's Gluten-Free Egg Fettuccine Pasta. Made with brown rice flour, it has a firm, doughy texture and cooks in under four minutes. Serve it with olive oil, herbs, and cheese for a quick and easy dinner.
Trader Joe's Gluten-Free Snacks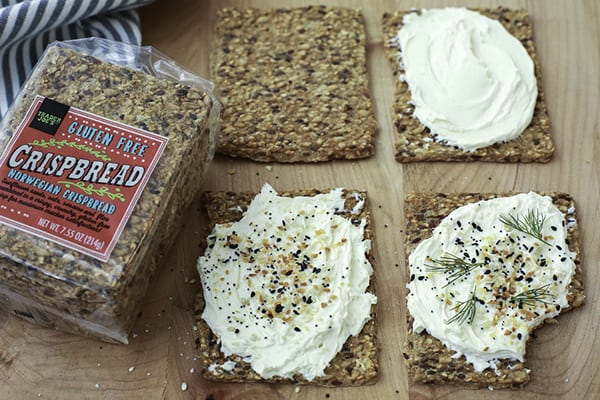 PB&J Bars
When you have a hankering for PB&J but no time (or no GF bread) to make a sandwich, grab one of these snack bars. The chewy bars are made with oat flour, peanut butter, and strawberry filling. Toss them in your bag for a midday snack, or crumble them over a scoop of ice cream for dessert. Just be mindful of the added sugar, and limit them to the occasional snack.
Plantain Chips
Trader Joe's roasted Plantain Chips are crunchy, salty, and only a tiny bit sweet. When you need a break from potato chips, eat these plain, or dunk them in hummus or bean dip.
Gluten-Free Norwegian Crispbread
Inspired by Norway's famous fiber-rich crackers, this crispbread is light, crumbly (in a good way!), and salty. Made with oat flakes, seeds, potato fiber, and honey, it's a versatile snack — spread it with cream cheese or peanut butter, or dip it in a bowl of soup. And with 4g of protein and 3g of fiber per cracker, it's super filling.
Trader Joe's Gluten-Free Frozen Foods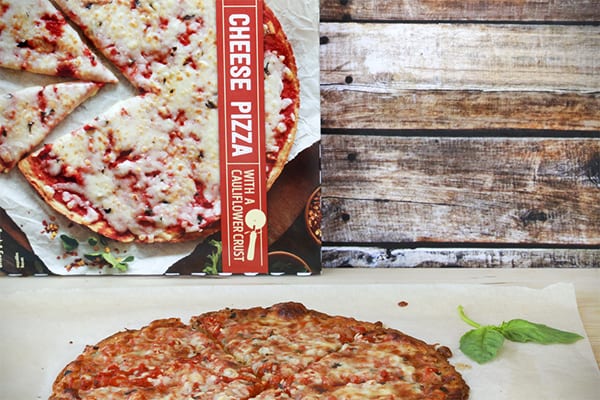 Organic Fully Cooked Quinoa
Quinoa is packed with nutrients, but it can be hard to cook it just right. These frozen packets take the guesswork out of it — just pop one in the microwave and you have perfectly-cooked quinoa ready for a curry dish or quinoa stuffing.
Breaded Chicken Breast Nuggets
These Breaded Chicken Breast Nuggets are tender and well-seasoned, and completely gluten-free, thanks to a crunchy breading made from corn and rice flour. Dunk them in BBQ sauce, or slice them up and add them to a salad.
Gluten-Free Cheese Pizza With a Cauliflower Crust
This cauliflower-crust pizza is a great option for a quick weeknight dinner. Made from a blend of cauliflower, chickpea flour, potato flour, and brown rice flour, the crust is crisp and has a slightly nutty flavor. To jazz it up, add extra toppings like veggies, pineapple, or grilled chicken.
Trader Joe's Gluten-Free Desserts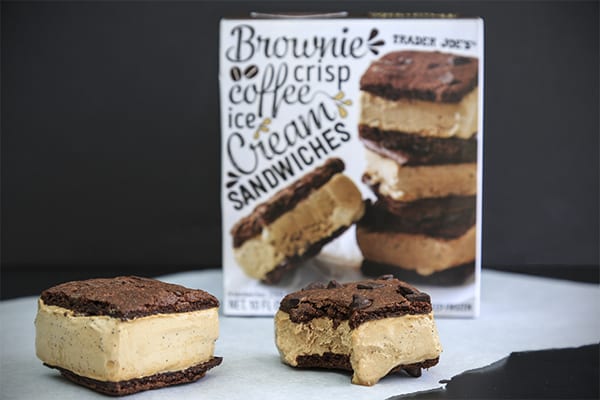 Brownie Crisp Coffee Ice Cream Sandwiches
​

​

When Trader Joe's Brownie Crisp Coffee Ice Cream Sandwiches are an elevated take on classic ice cream sandwiches. The palm-sized treats feature creamy coffee ice cream blended with ground espresso and sandwiched between thin brownie squares with chocolate chunks. And yes, they really are gluten-free, thanks to an oat and chickpea flour base… but they're also high in sugar (3 tsp.), so consume sparingly.
Gluten-Free Oat Cranberry Flaxseed Cookies
If you want a simple, satisfying dessert that actually feels homemade, Trader Joe's Gluten-Free Oat Cranberry Flaxseed Cookies hit the spot. Made with rolled oats, molasses, flax seeds, and dried cranberries, these cookies have a chewy texture and rich caramel taste. Enjoy them with a cup of tea.
Gluten-Free Pumpkin Bread & Muffin Baking Mix
​

​

This baking mix makes some of the best pumpkin-flavored desserts you'll find anywhere — gluten-free or otherwise. Rich and moist, this seasonal baking mix is made with sorghum, millet, and brown rice flours, plus tons of cinnamon and pumpkin spice. Add walnuts or chocolate chips if you want a crunch, and then give all but one of these things away because they're basically all sugar.