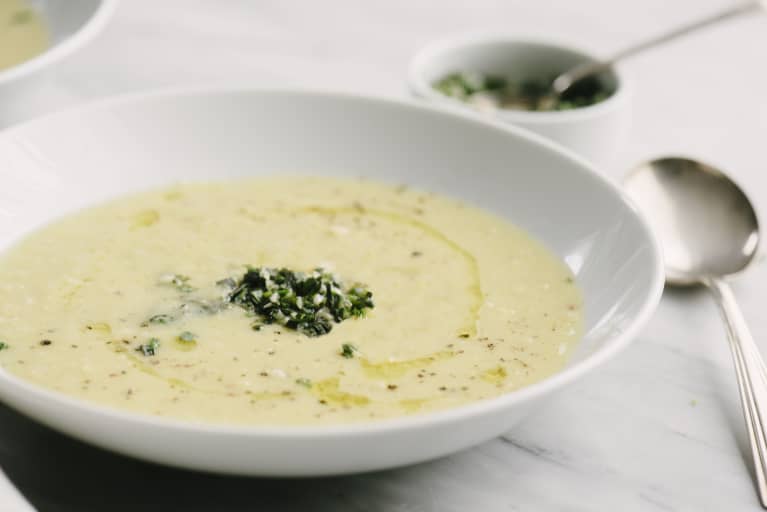 Our editors have independently chosen the products listed on this page. If you purchase something mentioned in this article, we may earn a small commission.
October 14, 2022 — 9:29 AM
A few weeks ago, I visited Divya's Kitchen in New York City to celebrate the launch of Divya Alter's new Ayurvedic cookbook Joy of Balance. While chatting all things Ayurveda, I got the chance to taste one of the new recipes—which ended up being one of the best soups I've had to date.
This cream of fennel soup will be my new comfort dish this fall, so I'm here to pass along the recipe for you to enjoy as well. If you want more recipes like this one, you have to check out Alter's new book for cover-to-cover deliciousness that's good and good for you.
How to make Divya Alter's cream of fennel soup. 
1 tablespoon ghee or olive oil 
1 teaspoon fresh ginger
1 teaspoon ground fennel seeds
1 teaspoon ground coriander
Tiny pinch of asafoetida
4 cups thinly sliced fennel bulbs (2 medium bulbs with or without fronds)
1 medium taro root, peeled and thinly sliced (about ½ cup)
1 teaspoon salt, or to taste
2 teaspoons fresh lime juice, or to taste
Freshly ground black pepper 
4 teaspoons minced fresh dill or fennel frond leaves
"Melt the ghee in a 4-quart saucepan over medium-low heat. Add the ginger, ground fennel, coriander, and asafetida, and toast for 10 seconds, then stir in the sliced fennel and taro.
"Cover and sweat the vegetables, stirring occasionally, for 5 minutes. Add 4 cups water and the salt. Bring the soup to a boil, then cover, lower the heat, and simmer for 10 to 15 minutes, until the vegetables are tender. Set the pot aside uncovered to let the soup cool down a bit."
"Using a blender, puree the soup to a smooth, creamy consistency. Transfer it back to the saucepan, and gently heat the soup to serving temperature. Stir in the lime juice." 
"Serve hot. Garnish each individual bowl with a few turns of the pepper mill, a drizzle of olive oil, and a sprinkle of dill." 
Note: "If you do not have taro root, mix 1 tablespoon arrowroot powder with 1 tablespoon water, and add it to the soup in Step 2 before blending." 
In Joy of Balance, Alter explains how each recipe affects the three Ayurvedic doshas. This soup, in particular, is beneficial for cooling and calming down excess pitta and vata in your body—which may be why it's a naturally comforting dish.
"It is easy to digest but nourishing enough to make for a light dinner when you don't have much of an appetite," Alter says. If you're craving more, pair it with another one of the delicious dishes from the book, like the green tabbouleh or lime rice pilaf.
mbg tip: For an extra boost of nutrients, add in a scoop of mindbodygreen organic veggies+—a gut-friendly blend of sea vegetables, leafy greens, herbs, digestive enzymes, prebiotics, and probiotics.* This clean and organic formula is packed with fiber and helps aid in digestion and nutrient absorption, taking the health benefits of any soup or stew to the next level.*
'Tis the season for soup, and this cream of fennel recipe by Divya Alter is an all-around winner. Keep this recipe on hand to pull out any time you need a comforting meal that's packed to the brim with nutrients. If you want to learn more about balancing your doshas, check out Alter's new cookbook for even more delicious recipes and a breakdown of Ayurvedic cooking.
https://www.mindbodygreen.com/articles/divya-atlers-cream-of-fennel-soup-health-benefits