You want to work out but you can't seem to find the energy. You want to eat better but your sweet tooth is always calling.
Get ready for the delectable nutrition duo that's going to help make those goals 1,000% easier.
Introducing the all-new Shake & Hustle!
It combines our two bestsellers Shakeology and Beachbody Performance Energize in 20-serving sizes.
Why You Need Shake & Hustle
Whether you're just starting out on your fitness journey or looking to build more nourishing and enjoyable habits, the new Shake & Hustle treats you to the delicious nutrition and motivation you need to help make your wellness goals fall into place.
Shakeology and Beachbody Performance Energize deliver an indulgent superfood dessert shake and feel-good, clean workout energy supplement to help you get excited about a healthier lifestyle and keep up with your busy life.*
Shakeology lays the nutritional foundation your body needs to help it function at its best — and feel its best* —while delighting your taste buds.
Energize's clean formula delivers targeted nutrients to help you show up, work hard, and feel good while you sweat, so you can get the most out of your workouts.*
While each is great on its own, the combination of Shakeology and Energize together can help you stay on track with both your fitness and nutrition, which is super-important for living a healthy, happy, well-balanced life.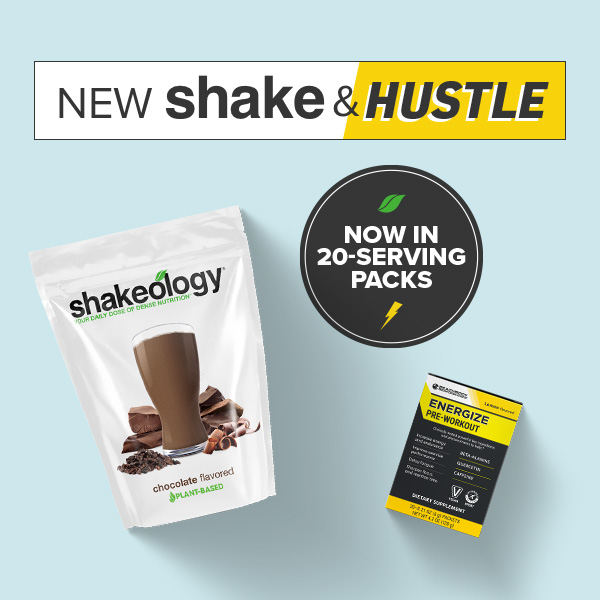 Treat yourself to superfood dessert every day with Shakeology
Maybe you've heard the phrase, "You get out of your body what you put into it." It's true.
Your body was built to run on a balanced, omnivorous diet of mostly plants and all the great things inside of them. This sounds great for your body, but maybe not so much for your sweet tooth.
Eat more dessert with our rich, creamy, and decadent superfood shake.
It lets you indulge your cravings and satisfy your sweet tooth while giving your body the powerful and necessary nutrition it craves.
Shakeology's unique blend of superfood ingredients gives you more of what you need to help nourish your body in all the right ways — phytonutrient-dense supergreens, functional mushrooms, berries and antioxidants, adaptogenic herbs, plus premium protein, and fiber (which is so much more important than most people realize).
Our proprietary 5-in-1 formula impacts so many bodily systems and functions to help you feel and be your best in the most convenient and delicious way possible.*
(Because not everyone has time to massage their kale or forage for mushrooms—and make them taste delightful.)
Love your workouts with the clean energy of Energize
When you need a little extra boost to work out, Energize is there to kick-start those feel-good vibes before you even break a sweat.
With a clean, energizing formula that's Informed Sport tested [certified] and helps you hype yourself up and get into the zone, Energize helps make your workouts feel easier.
It might even be a catalyst to help you love your workouts if you don't already.
Energize also helps boost your endurance and work performance — meaning, you'll work harder without even knowing it, to help you get the results you want faster.*
And when you see those results (hello, strong arms!) and enjoy your workouts, you're way more likely to stick with your fitness routine.
Why Do I Need to Eat Well if I'm Working Out?
Some people think they don't need to focus on their nutrition when working out, but you actually need even more nutrients to help your body repair and recover from the hard work you're doing.
If you don't get enough protein in your diet, for example, you won't be able to build the strength and lean muscle you're after.*
If you're training hard and don't give your body enough nutrients like minerals, vitamin C, and antioxidants, you might start to feel run-down or tired all the time, making it even harder to find the motivation to work out.
Can I Take Shakeology and Energize Every Day?
You'll get the most out of Energize and Shakeology when you treat yourself to them daily — even on days you're not working out.
But that's not the way everybody operates, and that's OK — which is why we created Shake & Hustle.
With 20 servings of Shakeology and Energize, Shake & Hustle aligns perfectly with your training days to help keep you satisfied, fueled, and motivated during your workout or "on" days.*
If you're nourishing your body with our nutritious, feel-good dessert shake five days a week, you'll not only notice a big difference in how you show up each day but also in your overall health.
The same thing goes for drinking Energize before every workout.
When Is the Best Time to Take Shakeology and Energize?
On training days, you always want to take Energize 30 minutes before your workout to get all the feel-good effects.
You have a little more wiggle room with your Shakeology; you can drink it on workout days, weekdays, play-hard days, or any other day you're craving your sweet superfood treat.
But no matter which days you choose, consistency matters, and that's why we recommend drinking it every day.
If you only drink Shakeology five times a week, tack it onto another existing routine, like working out or eating breakfast.
When you stack one routine on top of another existing routine, you're much more likely to remember to do it. Log it daily in the BOD app, just like your workouts.
Just as a couple of servings of veggies a week won't cut it, neither is a serving here or there of Shakeology.
Consistency matters.
What else do I need to know about Shake & Hustle?
You can buy Shake & Hustle as part of your Sure Thing Total-Solution Pack (or any other Total Solution Pack), or you can buy the duo on its own as a standalone that you can even subscribe to monthly.
Shakeology comes packaged in a 20-serving bag and Energize comes in a 20-serving carton of individual sticks.
When purchasing Shake & Hustle, you have the option to choose from our most popular flavors — rich and decadent Chocolate Plant-Based Vegan Shakeology or luscious and creamy Vanilla Plant-Based Vegan Shakeology; and sweet and tangy Lemon Energize or bright and juicy Fruit Punch Energize.
Whichever flavors you choose, Shake & Hustle helps give you more of the nutrients you need when you're working out and starting a new health and wellness plan — in the most mouthwatering ways you can imagine.
Think of Shakeology and Energize as the BFFs you need to help stay on track with your new fitness and nutrition journey.*
*These statements have not been evaluated by the Food and Drug Administration. This product is not intended to diagnose, treat, cure, or prevent any disease.