Our editors have independently chosen the products listed on this page. If you purchase something mentioned in this article, we may earn a small commission.
October 16, 2022 — 10:35 AM
As the seasons shift from summer to fall, your skin often mirrors the change. One day your complexion is ultra-dewy, the next it's starkly dry and begging for hydration. The drier winter climate can wreak total havoc on your body, including the occasional bloody nose or peeling, chapped lips. And while you can't magically restore the warm, humid air of summer, you can introduce a humidifier into your space.
Not only can extra moisture in your home be the key to keeping your hair, lips, and skin hydrated in the colder months, but it can also have an impact on your overall health. A space that's too dry could cause respiratory issues, while a room that's too damp could lead to mold. As a result, it's important to find a humidifier you trust to keep your space within the optimal 40 to 50% humidity range—and no design has impressed me more than Levoit's new Oasis Mist Smart Humidifier.
I added the humidifier to my bedroom around two months ago after the brand offered a free sample to test ahead of launch, and now I can't imagine my space without it. Since the day I plugged it in, my skin has been glowing more than ever before, even as the temperatures continue to drop. In fact, I can't imagine tackling the cold-weather transition without it.
Why does skin get dry in the fall and winter?
Dry skin in the fall and winter isn't caused by just one factor. Of course the air is less humid, but it's so much more than that. A chilly wind? That can trigger dry skin. Allergies? That too. Heating systems? That's a real doozy (and a more extreme variation of what's happening in the outdoors).
Even if you up the hydrating topical skin care products—as you should—these factors can all put you at risk for a damaged skin moisture barrier, which will lead to dryness and irritation.
One way to avoid this aiming to lock in as much moisture in your skin as possible. That means not only increasing the products used on your skin, but also adding a humidifier to your space to prevent the air from robbing your skin of moisture in the first place.
What makes the Oasis Smart Humidifier different? 
As a beauty editor, I'm no stranger to humidifiers. A personal humidifier is often touted as low-hassle way to keep your skin hydrated during travel, and it's an all-natural way to ensure you get skin that glows. But the reality is that not all humidifiers are made the same—and this ultrasonic pick is top tier.
The nozzle spins 360 degrees, which allows you to direct the mist into the areas needed most (and away from mold attractors like walls or furniture). Many ultrasonic humidifiers only release cool mist (as hot mist is typically used by evaporating designs), but this design allows both options. This means you can release warm arm during the winter or cool air during hotter months. The water tanks is also huge; it stores enough water for up to 45 hours of continuous use. And when you do need to refill the device, the top fill design makes it easy to transport the tank, fill, and return.
Of course, there are plenty of other reasons I'm impressed:
Doubles as a diffuser: Thanks to the aroma pad on the side of the humidifier, this product doubles as an essential oil diffuser. This means your side table won't be cluttered with candles and aroma sticks thanks to the 2-in-1 design.
Sleek design: I live in a tiny New York City apartment, so I've never been a fan of big clunky humidifiers. The Oasis is sleek and chic; it even fits on a nightstand. 
Ultra quiet: I am not exaggerating when I say that I never notice this humidifier is on due to loud operating sounds. It's near silent. If anything, it serves as a (very) light white noise machine. 
Phone control: I'm not a technology wizard or anything, but being able to control the humidifier from my phone has been unexpectedly convenient. I have my ideal humidity level set, and whenever it gets too far below that, the humidifier kicks on automatically. This makes it easier to let it sit and do the job for me, rather than having to turn the machine on and off again. 
Affordable: Given that this humidifier is phone-controlled, doubles as an oil diffuser, and has a chic design, I expected it to cost more than $90. Home technology devices aren't cheap, but this product gives you a true bang for your buck (especially while on sale)!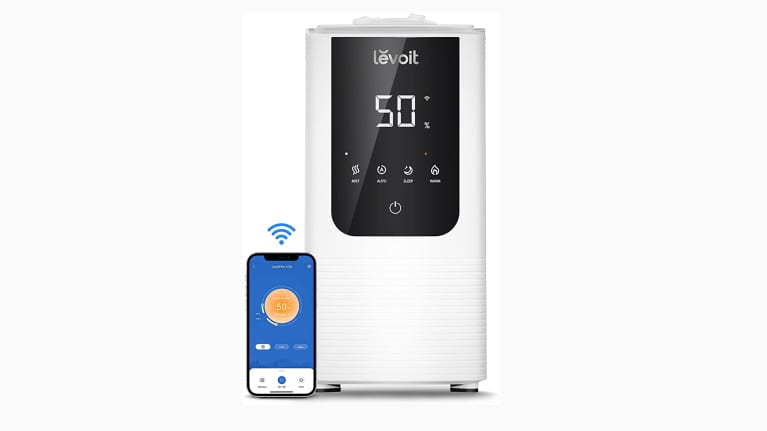 Levoit OasisMist Smart and Cool Mist Humidifier
$75 with onsite coupon
I like to keep the humidity level in my home at a nice 55%. Everyone is different and you can experiment with different levels, but I found this works best for my space. Typically, I leave my humidifier on auto-mode so I don't have to think about it during the day. In these instances, a sensor test the air to check whether it's at my preferred range and adjust the operation accordingly. Yes, it's actually that easy.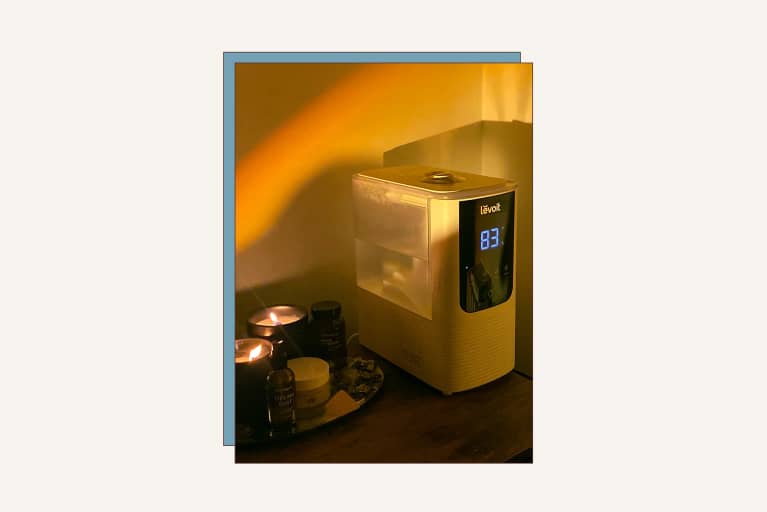 In the evening, I put the humidifier on night mode which turns off the display screen to minimize any light. This way I can keep it on during the hours my skin is soaking up moisture (from topicals and the air) rather than having to turn it off for the sake of a good nights rest. My tip: Add some lavender essential oil to the aroma pad for a relaxing drift into sleep. (It's the next best thing to using the mindbodygreen dream mist!)
Because I have my humidifier on regularly, I clean it once a week. There are easy step-by-step instructions for cleaning the device in the manual, but you can also check out this article for a quick overview of the general process. 
Remember:
To avoid mold and bacteria buildup wash your machine once a week and never point it toward a wall or furniture. 
Managing dry skin in the fall and winter is no simple task. Hydrating topicals will work wonders, but if the air is too dry, your skin moisture barrier may still suffer. Incorporating a humidifier, like this sleek new Levoit design, is the cherry on top of a great skin care routine for fall and winter. Plus, it's currently $15 off on Amazon right now with an onsite coupon, saving you even more money on a total steal (unless of course you want to buy direct on Levoit).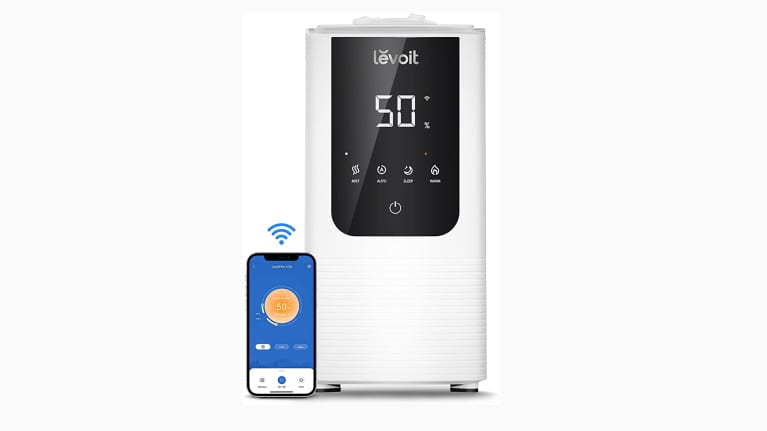 Levoit OasisMist Smart and Cool Mist Humidifier
$75 with onsite coupon
Reset Your Gut
Sign up for our FREE doctor-approved gut health guide featuring shopping lists, recipes, and tips
You are now subscribed
Be on the lookout for a welcome email in your inbox!
https://www.mindbodygreen.com/articles/levoit-oasis-smart-humidifier-review