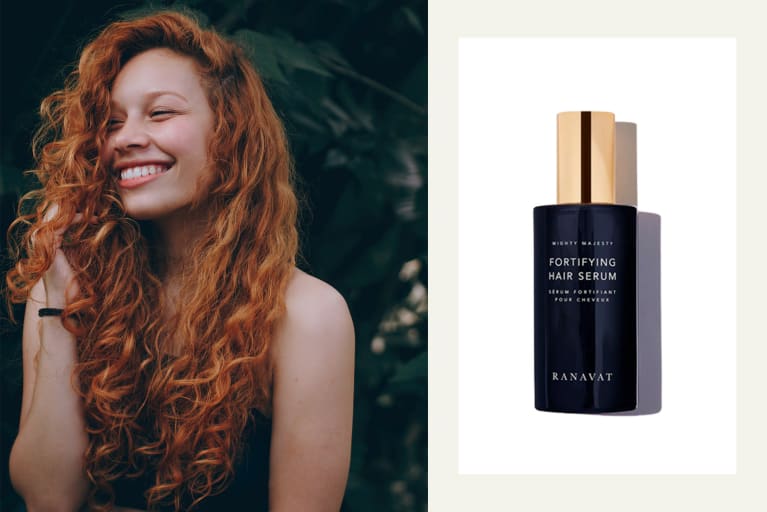 Our editors have independently chosen the products listed on this page. If you purchase something mentioned in this article, we may earn a small commission.
October 19, 2022 — 11:30 AM
You know those beauty brands that are so luxurious, you just feel like a fancier person when you use them? That's how I feel about RANAVAT. Every time I test a product from the brand's gorgeous offerings, I notice myself naturally slowing down, connecting with my routine, and marveling at the silky texture or delightful scent. (The elevated, elegant packaging doesn't hurt, either.) It's the kind of brand that simply dances on all of your senses, with effective, potent actives that put in the work.
Luckily for me, RANAVAT kicked off its annual sitewide sale, where you can score 20% off all orders from October 19 through 23. It's the brand's only sale of the year, so it's the perfect time to add some of the company's bestsellers to your cart, but if you're going to indulge in just one item, I highly recommend snagging the Fortifying Hair Serum. It's so beloved that it constantly flies off the shelves (it once even racked up a 3,500-person waiting list!), so I suggest you strike while the iron is hot—and at a discount.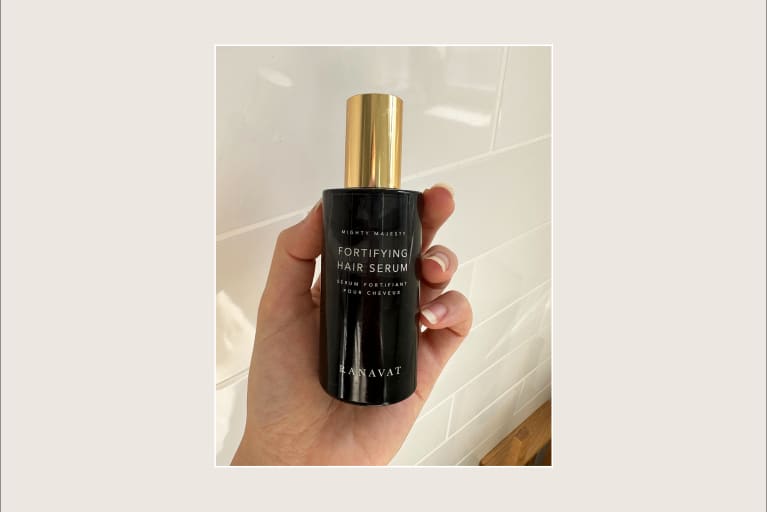 What makes the RANAVAT hair serum so divine? 
Take a peek at the back of the bottle, and you might wonder how in the world three simple ingredients can have such a transformative effect on your tresses. But the thing is, you don't need much to secure healthy, thriving locks—and in the case of this award-winning serum, less is certainly more.
You see, a good hair growth serum consists of fatty-acid-rich oils to moisturize the strands and keep them strong, antioxidants to help combat free radicals from UV rays or pollution, and scalp-stimulating players to deliver vital nutrients and oxygen to the hair follicles, and RANAVAT's three-ingredient formula ticks each box: It has organic sunflower oil to coat the strands in moisture, jasmine essential oil to nurture the scalp (this EO even has some antimicrobial properties!), and amla extract, a classic Ayurvedic ingredient with powerful antioxidant properties.
That jasmine oil also provides the most luxurious scent—my hair seriously smells like freshly bloomed flowers. I'm not usually a florals person (or a scent person, for that matter; my nose is pretty sensitive to lingering aromas), but I truly can't get enough of this natural fragrance. The scent is definitely one of the serum's best selling points, as countless reviewers also comment on the heavenly jasmine. That said, if you are sensitive to essential oils, you might want to patch test before applying it all over or use it sparingly.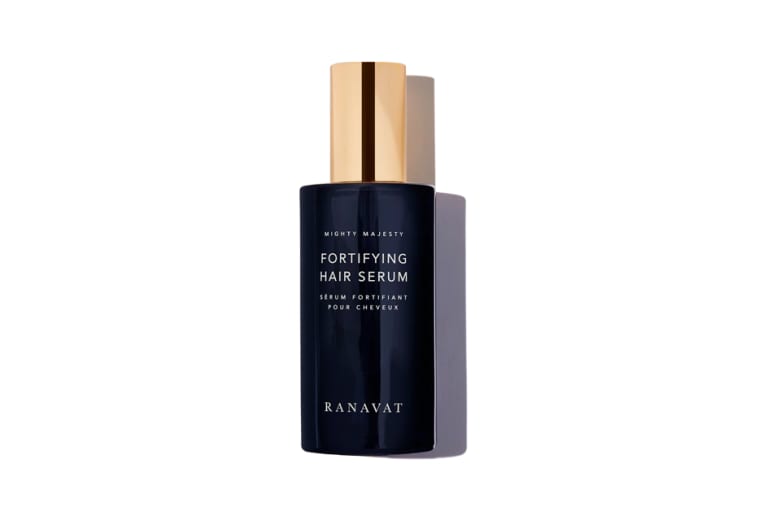 RANAVAT
RANAVAT Fortifying Hair Serum ($56, was $70)
I use the serum three ways: As a pre-shampoo hair mask, during my nightly scalp massage, and throughout the day to tame pesky flyaways and refresh dry ends. (A bonus tip from the brand: Apply on the brows to promote thick and full arches.)
For my weekly hair mask, I'll first warm up two to three pumps in my palms and massage the serum into my roots—it's wash day, so I'm not afraid to glob on the product and really embrace the grease (I'll usually sport a slicked-back look the few hours before rinsing). I'll even do a few passes with my scalp brush to further stimulate the hair follicles and give my scalp a tension-relieving massage. Then I'll split my hair into sections and coat my lengths with the serum, gently detangling section by section. Once my strands are fully covered (and smell like jasmine), I'll tie my hair in a bun or braid and let the serum marinate before hopping in the shower—usually for a couple of hours.
If my hair feels super dry, I'll reapply the RANAVAT serum after the shower, too (can you tell I can't get enough of this stuff?), so my lengths can further drink up those hair-healthy nutrients. Whether I air- or blow-dry, my strands feel noticeably softer and shinier every single time I use it.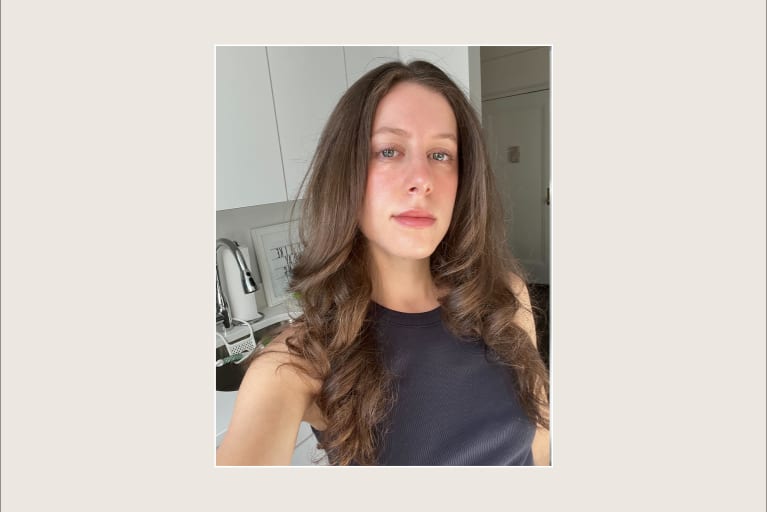 Finally, I'll use the serum to touch up any flyaways throughout the day. My hair is coarse and very prone to dryness, and it eagerly soaks up all the moisture it can get; so I can add half a pump to my dry strands and nix frizz without weighing them down. If you have finer locks, however, you might want to find a more lightweight confection to glaze over your strands—while this product is technically marketed as a serum, I find it has more of an oily consistency.
For those dealing with increased shedding right now (self very much included), a hair growth serum can keep your locks strong and help encourage thicker strands. I've tested more serums than I can count at this point, but RANAVAT's simple yet luxurious formula will surely remain a staple in my routine. Considering how often I use it, I'll be hitting the bottom of the bottle pretty soon—so you can bet I'll be adding another one to my collection before the sale ends.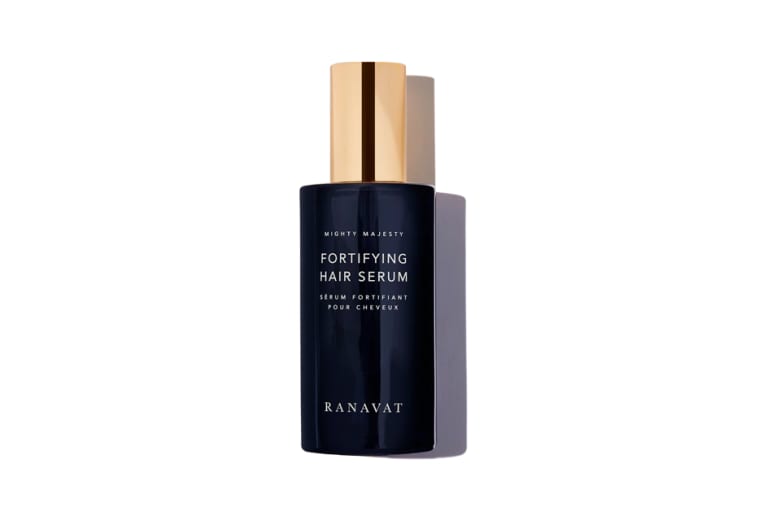 RANAVAT
RANAVAT Fortifying Hair Serum ($56, was $70)
Heal Your Skin.
Receive your FREE Doctor-Approved Beauty Guide
You are now subscribed
Be on the lookout for a welcome email in your inbox!
https://www.mindbodygreen.com/articles/ranavat-fortifying-hair-serum-review