mbg Beauty & Wellness Editor
mbg Beauty & Wellness Editor
Jamie Schneider is the Beauty & Wellness Editor at mindbodygreen, covering beauty and wellness. She has a B.A. in Organizational Studies and English from the University of Michigan, and her work has appeared in Coveteur, The Chill Times, and Wyld Skincare.
Image by supernal / victoriabeckhambeauty / bloomeffects
October 28, 2022
Our editors have independently chosen the products listed on this page. If you purchase something mentioned in this article, we may
As beauty editors, we're constantly testing products to deliver you the best, most informed recommendations. In our series, Talk of the Team, we highlight the tried-and-tested product launches that have made a lasting impact on our routines. These are the new formulas we can't stop gushing about—in our group chats, during team meetings, and, now, to you. This month's theme is "Enchantment." 
Advertisement
This ad is displayed using third party content and we do not control its accessibility features.
Beauty is a bit magical. Not in the, poof, all your complexion concerns are gone! sort of way (after all, skin care seldom provides instant results). But beauty is both emotional and ritualistic, which does have the ability to make you feel somewhat spellbound. Maybe you have a face mask with an alchemist-like experience, a fragrance that teleports you to a different time, or a jewel-toned shadow that catches the light so well, it must be magic. And when you discover that one eye elixir to help you fake a solid nine hours of sleep (at least for the day)? Sorcery! 
Not to mention, the "witchy" aesthetic has certainly cemented itself in the beauty zeitgeist—just take Sarah Jessica Parker's plum lips and platinum waves in Hocus Pocus or the grungy 90s glamour seen in The Craft. Of course, witches weren't always portrayed in this mysterious, ethereal manner; society has a long history of linking witchcraft with certain negative visual stereotypes, and I could dedicate a whole essay to the intersection of witchy tropes, beauty standards, and power over time (but that's a story for another day). For now, allow me to swoon over the mystical notes that always seem to reappear during spooky season. 
This month, the mbg beauty team kept a sharp eye on the products that made us want to channel our inner enchantress. Scroll below for our most valued launches of October—chances are you'll find them as bewitching as we do. 
You may already be familiar with the fan-favorite Buffing Bar from Soft Services. This beauty team staple just got even better with a first-time scent—New Spice. It's the ultimate fall addition to your shower, filling the steam with a blend of cinnamon and juicy cedar—think apple orchard meets musk. Use this bar as a gentle way to exfoliate the body to reveal softer, smoother skin in minutes. This bar is a cult-favorite for a reason, but this new scent is all the better for those who want to take a few minutes to slow down and enjoy a spa-like shower experience. —Hannah Frye, mbg assistant beauty editor
New Spice Buffing Bar, Soft Services ($30)
Soft Services
I'm not usually a 3-in-1 kind of gal, but this scrub may just make me change my ways. It's a physical-slash-chemical exfoliant that sloughs away rough skin on the body, yet it's gentle enough to lift debris on the scalp as well; the first time I tried it, I marveled at the fine, sandy texture. For the physical component, you'll find antimicrobial sea salt crystals to gently buff the skin and increase circulation, while a 14% AHA blend (glycolic, malic, and citric acids) and pomegranate enzymes dissolve dead skin and brighten tone.
Simply add water, and the scrub immediately transforms into a rich, shampoo-like later—like magic. Use it to relieve a flaky scalp, unglue clogged pores and keratosis pilaris, or soften cracked heels; this scrub works its magic from head to toe. Plus, it's made from upcycled tulips—please try to convince me of something more enchanting. —Jamie Schneider, mbg beauty editor
Royal Tulip Petal Polish, Bloomeffects ($49)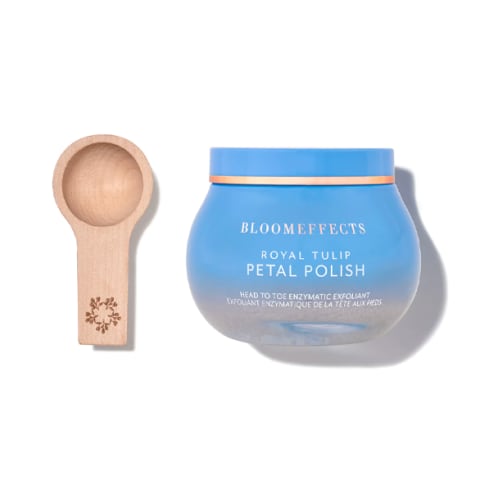 Bloomeffects
I believe that when you understand the story behind a product or brand, using it becomes more magical. All of a sudden, small details become illuminated and using it feels more purposeful. Whether or not this translates into better, glowier skin ins't really the point: Sometimes just enjoying the experience is enough. So let me tell you about Supernal's new Cosmic Stone Gua Sha in Nephrite Jade.
The brand was originally just two star products (an oil and serum made with high-quality natural ingredients), but has now expanded into gua sha stones. Gua sha is an ancient modality rooted in Traditional Chinese Medicine and is a common tool used in skin care practices, which influenced founder Melissa Medvedich's upbringing and the brand itself. The Nephrite Jade stone is hand crafted by artisans, and is one of the finest gua sha stone's I've ever used. It comes wrapped in a green velvet pouch and perfectly pairs with the Cosmic Glow Oil to bring you a brighter, more luminous complexion. It's a small treasure with each use. —Alexandra Engler, mbg beauty director
Cosmic Stone Nephrite Jade Gua Sha Tool ($68) and Cosmic Glow Oil ($108), Supernal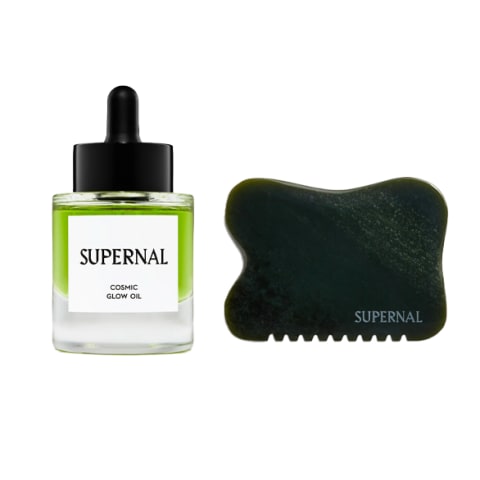 Supernal
Calling on natural elements from the earth and sea, the MARA Flower Acid Algae Serum will take your complexion from dull to dreamy overnight. The formula practically sounds like a witch's potion for youthful skin. A blend of proprietary algae, microalgae, and aqueous herbs helps to tighten skin and nourish the barrier. Vegan lactic acid from beetroot flushes away dead skin revealing a fresh, radiant surface. Glutathione (a gentle polyhydroxy acid) targets texture while a trifecta blend of bioactive flower acids from hibiscus, daisy, and everlasting brighten the skin twice over, just like magic. —Frye
Plankton + PHA Flower Acid Algae Serum, MARA ($74)
MARA
We can't have an enchanting beauty roundup without mentioning Rituel de Fille. The witchcraft-inspired beauty brand has dropped plenty of cult favorites over the years, including their beloved Thorn Oil Priming Facial Elixir. Recently, the brand debuted a new addition to their beloved Thorn Collection, a blood-red cleansing balm. Warm up the jelly in your palms, and it instantly breaks down into a silky oil that melts away even the most stubborn makeup (don't worry; it won't turn your skin red). Most importantly, your skin will feel extra soft and dewy, thanks to organic jojoba oil, babassu seed oil, and red radish root extract. —Schneider
Thorn Pulp Crunchy Jelly Oil Cleansing Balm, Ritel de Fille ($32)
Ritel de Fille
Straight from the iconic makeup artist Donni Davy, Half Magic just launched their first eye shadow singles—and they're full-on magical, to say the least. From Deep Taupe to Rusty Rose and Lilac Pink, you're sure to craft up a colorway that can go from day to night and beyond. A mix of buildable shimmer and matte hues provide an option for any look, whether it be a bold blue eye or an everyday brown smokey liner. The cherry on top: They come in a fully recyclable paperfoam compact. You can pick a few of your favorite hues to add to a custom palette or opt for a one-off star—the choice is yours. —Frye
Eyeshadow Singles, Half Magic ($12)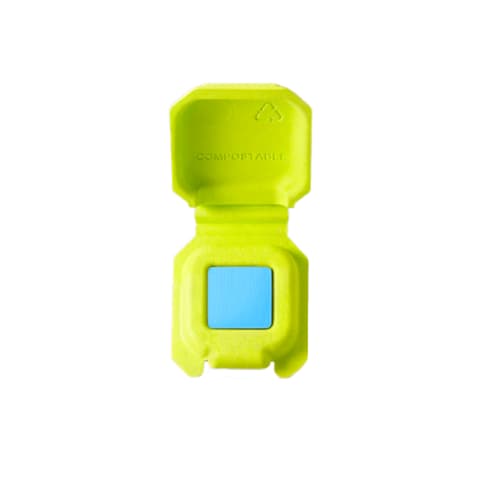 Half Magic
Is there anything more witchy than a plum lip? The moody hue is trending this season (researchers at Spate found searches for "plum lipstick" grew over 97% since last year), and this lip oil is perfect for those looking to test the glossy waters. Silky, shiny, and juicy, this lip treatment will nourish your lips while dressing them in rich color (while lip oils tend to be quite sheer, this one delivers drama—promise!). And because it's technically a lip treatment, it simultaneously infuses your pout with vitamin E, oat oil, and green tea, kelp, and honeysuckle extracts. I'll either glob it on for a full plum look or apply just a dab for a berry-stained pout; both are equally gorgeous and perfect for autumn. —Schneider
Superfood Lip Oil, Osmosis Beauty ($26)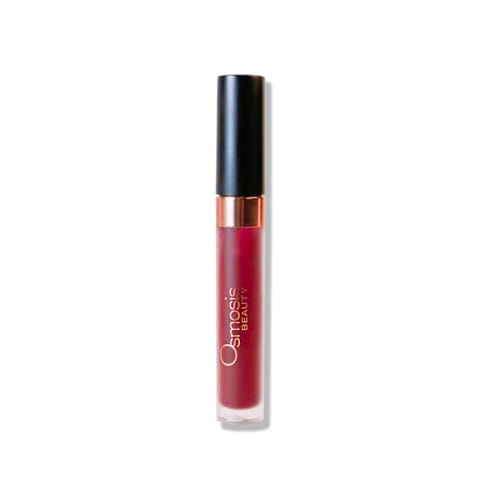 Osmosis Beauty
If you want to curate an enchanting setting, you'll have to target all of the senses—including smell. Char is the newest scent in the Henry Rose collection, and it will transport you from home to a cozy cabin in the woods in minutes—more specifically, your rich relative's extravagant cottage. Top notes include tonka bean and ginger, while patchouli and orange blossom add a soft contrast. To say the least, it's the perfect fall scent to add to your fragrance wardrobe. This unisex perfume is divine—not to mention the formula is EWG verified and Cradle to Cradle certified. This way, you'll get all of the woodsy goodness, sans harmful additives. —Frye
Char, Henry Rose ($120)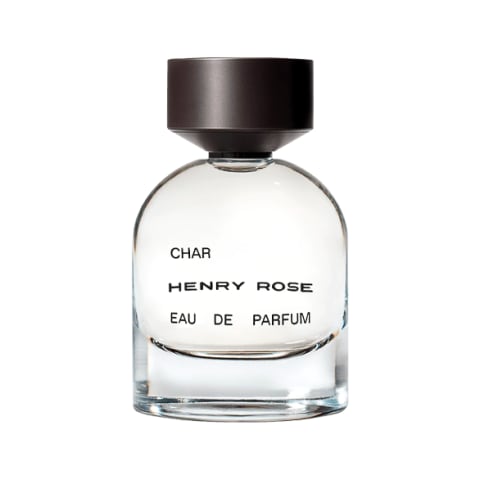 Henry Rose
Victoria Beckham's classic Satin Kajal Liner just got a cool, sexy upgrade. Enter, the waterproof Satin Kajal Jewel Liners, which deliver dramatic shimmer in three striking, jewel-toned shades: Night Flash (a charcoal number infused with silver glimmer), Gold Lamé (a gold pearl that sparkles like a glass of champagne), and Sequin Green (a must-have for "mermaidcore"). Every flick provides a wink at enchantment—and thanks to vitamin E, panthenol and chamomile, each creamy formula glides like a dream. —Schneider
Satin Kajal Jewel Liner, Victoria Beckham Beauty ($30)
Victoria Beckham Beauty
Advertisement
This ad is displayed using third party content and we do not control its accessibility features.