CPT and certified nutrition coach
CPT and certified nutrition coach
Rachel Macpherson is a CPT and certified nutrition coach.
December 10, 2022
Our editors have independently chosen the products listed on this page. If you purchase something mentioned in this article, we may
You can't say working out from home isn't convenient—and, if you're one of the almost 90% of people who has an unused gym membership, home exercise could also be cost effective. But choosing the best home gym equipment is a daunting task for many of us. The best home gym equipment will make you actually want to exercise, and will be conducive to a safe and effective workout.
Not sure where to begin? With so many options and new types of equipment hitting the market each year, it's tough to decipher the must-have fitness tools from those that will likely collect dust. That's why we've created this list of the best home gym equipment for every fitness level. In other words, everything you need to crush your home fitness goals.
The best home gym equipment of 2022:
How we picked:
While it's worth splurging on well-functioning equipment, it should live up to expectations and you should feel comfortable and confident with your purchase. We made our picks based on this criteria.
High-quality equipment is safer, longer-lasting, and easier to use. We looked for pieces made from sturdy, rugged materials, for the best home workout experience.
We read plenty of user reviews to narrow down our picks, checking for high satisfaction rates and using any negative feedback to inform our recommendations.
Building a home gym requires smart, space saving, versatile pieces of equipment to make the most of your budget and space. We chose pieces based on their versatility including multiple exercise options, motivational tools, and ability to help you progress.
Our picks for the best home gym equipment of 2022:
Best for limited space: Tonal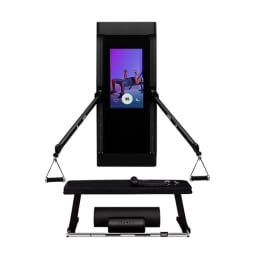 Pros:
30-day in-home trial
Over 245 different movements
High-quality steel construction
Cons:
Membership is an additional cost and is required for first 12 months
Tonal is an amped-up cable machine that allows you to perform typical cable exercises like bicep curls, tricep pushdowns, and rows, but it also works for compound lifts, such as squats and deadlifts. The best part is the machine's small footprint. It attaches to the wall and takes up a very minimal amount of space, but you won't have to sacrifice results or your favorite compound exercises by using Tonal. Even better? No need to store multiple weights or accessories.
The machine caters to every fitness level, so it's one piece of equipment you won't outgrow. The resistance goes up to 200 pounds, with heavy strength training encouraged. Virtual coaches provide motivation and structure for your workouts, making Tonal ideal for those who want the convenience of home workouts, but still appreciate expert-led programming.
Best treadmill: NordicTrack Commercial Series 1750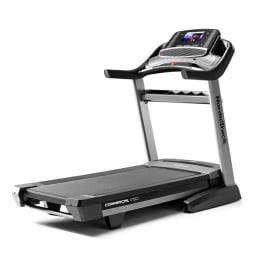 Pros:
Wide incline range
Cushioned running belt for smoother impact
Self-cooling motor
Cons:
Chest strap heart rate monitor not very accurate
Requires membership for classes
We're big fans of NordicTrack treadmills, and the Commercial Series 1750 is one of the best compact treadmills for running. With speeds up to 12 miles per hour and an up to 15% incline, this treadmill is a highly versatile pick for those looking for an indoor running option. The machine also comes equipped with integrated running workouts (with a paid membership), auto-adjusting functions, and additional workout options. It holds up to 364 pounds and is made from commercial-grade materials, making it a valuable, sturdy piece of cardio equipment that's built to last.
What's more, the machine is foldable for easy storage, and is actually very easy to set up. Although, the brand does offer white-glove delivery if you'd rather.
Advertisement
This ad is displayed using third party content and we do not control its accessibility features.
Best workout mat: Alo Warrior Mat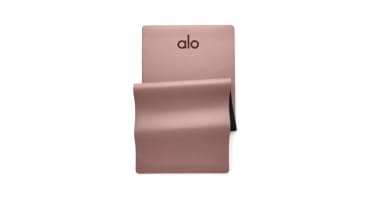 Pros:
Perfect balance of cushion, grip, & firmness
High quality design & materials
Multiple colorways
Cons:
Doesn't come with carrying case
Alo's mats are an investment, but once you experience the quality of a great yoga mat, it's hard to go back to anything else. This ultra-thin-yet-cushy mat is just half a centimeter thick, providing the perfect amount of cushion and support, with sufficient grip for even the sweatiest flows. While of course aesthetics isn't reason alone to buy a mat, it doesn't hurt that this one will look great in any home gym. It isn't as eco-friendly as options made from cork or recycled materials, but it's durable and well-made and will last you for years to come.
Best rowing machine: Aviron Strong Series Rower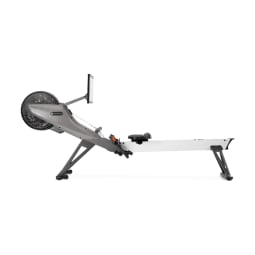 Pros:
Suitable for wide range of body types
Provides full body workout
Motivating and engaging
Cons:
Monthly subscription needed
Rowing machines are tough to beat when it comes to getting an effective full-body workout. These machines work your upper and lower body, and also provide a heart-pumping cardio challenge. 
That said, using a rower at home can be tedious, performing the same motion over and over. The Aviron Strong Series rower stands out above the rest as an engaging and motivating cardio machine. The 22-inch HD screen even has gaming and streaming capabilities, including Netflix, Youtube, and Spotify. Yup, you can play games while you row, enter live competitions, join coached and guided programs, or choose scenic rowing to immerse yourself in a natural landscape.
Other key features include accessible seating and frame size. The Strong Series has a large ergonomic seat and adjustable foot width, a low handrail, and a higher seat for an easier time getting on and off the rower. It also has a higher-than-average weight capacity of 507 pounds and accommodates people up to 6-foot-8, while still being surprisingly compact and easy to store upright. Another plus? If you tend to experience back pain, you can add lumbar support.
One downside is that you'll need a monthly subscription if you want to access the Aviron classes, which seems to be the only complaint amongst hundreds of positive reviews.
Advertisement
This ad is displayed using third party content and we do not control its accessibility features.
Best dumbbell set: Nuobell 80 pound Classic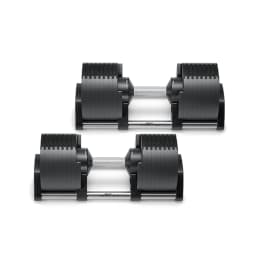 Pros:
15 sets in one
Space-saving
Comfortable to use
Cons:
A few reviewers mention wobbling plates
The Nuobell adjustable dumbbells are among the easiest to use of any adjustable set we've tested, and they take up a minimal amount of space—a huge selling point for adjustable dumbbells. These stand out due to their knurled steel handles and steel plates, which are uncommon among adjustable sets. These features make the Nuobell dumbbells feel more like traditional dumbbells. 
The higher weight range of up to 80 pounds makes these ideal for anyone consistently progressing in their strength training routine. If you are a stronger individual or wish to perform compound movements using large muscle groups for building strength, such squats, bench presses, deadlifts, and rows, you'll come to appreciate the higher-weight options. And if you're not quite ready to work up to 80 pounds, opt for the less expensive 50 pound set.
Having personally tested the Nuobells against other adjustable dumbbells, they feel the most natural and functional to use. Other versions can be bulky and make it difficult to perform certain movements properly.
Just note, these do have sharper corners, which make them not ideal for movements like goblet squats, or anything that requires grasping them by the platelets.
Best bike: Schwinn 190 Upright Bike
Pros:
One-year adaptive workouts and coaching subscription included
Comfortable, fully adjustable seat
Controls mimic outdoor terrain conditions
Cons:
After first year, subscription for workouts is $150 annually
May be a bit jerky at very low resistance levels
This upright bike offers high-performance cardio with features like Terrain Control Technology and high-quality design and engineering. It has weighted and strapped petals to keep your feet in place, plus an ergonomic seat and handlebars for maximum comfort—both of which can be adjusted to your desired specifications.
Bonus extras include Bluetooth speakers, a media shelf, a USB port, and a 7-inch LCD screen. This bike is an excellent choice for home gyms, and includes a year's access to the JRNY® adaptive fitness platform, with full access to coaching and classes.The Terrain Control allows you to select resistances and speeds that mimic outdoor conditions. It's also a very affordable bike in comparison to some other best at-home exercise bikes, potentially leaving you with more room in the budget to expand your home gym equipment beyond cardio machines.
Advertisement
This ad is displayed using third party content and we do not control its accessibility features.
Best value: Better Body Power Bundle with Squat Rack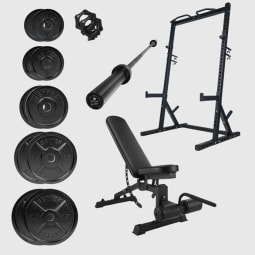 Pros:
All-in-one gym set
High-quality solid equipment with excellent value
Free shipping and 2-year warranty
While the initial cost of this full home gym set up seems high, the all-in-one value is fantastic. If you want to build a home gym on a budget, instead of scouring the internet for each individual piece of equipment, buying everything you'll need in one bundled package will save you money in the long run. This set includes a squat rack, Olympic barbell, adjustable bench, weight plates (5, 10, 25, 35, and 45 pounds), and barbell collars.
With a complete setup ready to go, including 700 pounds of weight, this bundle will take you from beginner to home-gym-enthusiast, with everything you need to get started on a serious lifting routine.
There are nearly 700 reviews for this set on the Better Body website, and it maintains a 4.7 out of 5 overall rating. Reviewers are "surprised by its solidity" and say it is "the best bang for your buck if you train at home."
Best all-in-one: Force USA G3 All-in-one Trainer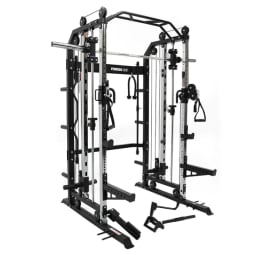 Pros:
Full gym experience in small footprint
Includes built-in storage
18 attachments included
Cons:
Cable bar storage may interfere with bumper plate storage
May wobble a bit with heavy loads
This all-in-one home gym option comes with everything you need to take your at-home setup to the next level. The set combines a power rack, functional trainer, smith machine, chin-up station, and core trainer, all in the footprint of a standard power rack. The design includes smart storage solutions for your barbells, plates, and cable attachments, ideal for small spaces, without sacrificing quality.
This system is plate-loaded and uses strong cable pulleys to provide resistance. With the smith machine option, you'll feel safe performing heavy lifts such as squats and bench presses. The smith machine allows for up to 772 pounds of Olympic weight plates, ensuring you can progress your workout safely. You'll be able to perform 75 different exercises using the cables and 18 included attachments. The chin-up bar station allows for classic grip, hammer grip, wide grip, narrow grip, pronated grip, underhand, overhand, and more and is rated up to 1500 pounds.
Advertisement
This ad is displayed using third party content and we do not control its accessibility features.
Best barbell: Rouge Fitness Ohio Bar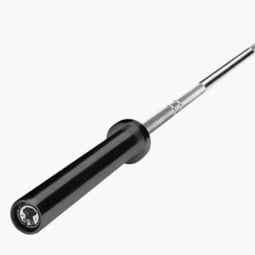 Pros:
High-quality knurling for better grip
Bar spin helps balance weight
Wide range of colors, coatings, and styles
Cons:
Some finishes may scratch easily
Rouge is a powerhouse when it comes to home gym equipment, making extremely high-quality, USA-produced gear and storage solutions. The brand carries a variety of barbells, including the Ohio bar, which comes in a wide range of styles and finishes. The bars are made from steel, with dual-knurling for excellent grip—and they also have bronze brushings, with coating options for added durability, such as stainless steel, cerakote, and black zinc.
As far as value goes, the Ohio bar boasts a lifetime warranty against bending. Another unique feature is the range of color options, so if you feel like matching your home gym to the rest of your aesthetic, you're in luck.
Best smart equipment: Tempo Studio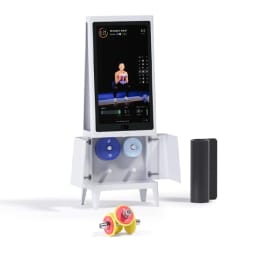 Pros:
High-quality coaching and class format
Wide range of workouts, including strength, HIIT, recovery yoga, and meditation
Large screen with form feedback
Cons:
Some reviewers report missing pieces and delayed shipping of all parts
May need some additional equipment for all workouts
Tempo offers excellent versatility and value. It's unique from other mirror-based home gym equipment because it includes free weight plates, allowing for a more natural and familiar workout experience. 
The smart AI has 3D tracking sensors that scan and monitor your movement to automatically count your reps and provide valuable technique and form correction feedback. The guided AI will even tell you if you are, perhaps, lifting too heavy for your abilities and lets you know when to progress your training.
There's a 30-day trial period if you want to test out Tempo Studio risk-free, and purchases come with 3 months of free one-on-one personal training to get you started. Choose from three package options which include various ranges of weight plates, dumbbell handles, barbell, bench, mat, and more.
Advertisement
This ad is displayed using third party content and we do not control its accessibility features.
Best for beginners: Obé level up kit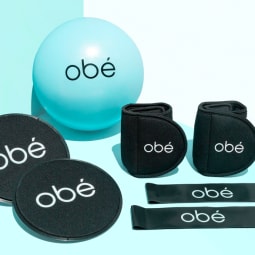 Pros:
Great beginner-friendly equipment set
Can use equipment for Obé classes or other workouts
Large selection of classes if you subscribe
Cons:
Paid subscription to access classes
Light weights only
If you are new to working out on your own, starting with trainer-led fitness classes and basic equipment is a great way to dip your toe into home workouts. Obé is a subscription-based exercise platform with a wide variety of workout modalities, including strength, meditation, cardio, HIIT, yoga, Pilates, boxing, barre, and more. Obé offers live or pre-recorded classes, and longer programs, with several beginner-level options.
Whether you plan to subscribe to the platform or not, the brand's Level Up Kit is a great beginner-friendly equipment kit that will amp up any home workout. It includes a set of two sliders, a barre ball, one pair of 1.5 pound ankle weights, and two resistance loops. If you do sign up for a membership, you'll be able to filter the classes by which type of equipment you'd like to use (or not use) that day.
FAQ:
Is it cheaper to go to the gym or to buy your own equipment?

If you consider that upwards of 90% of people stop using their gym membership after a year, investing in a home gym can be much cheaper in terms of money spent usefully. Smart, well-researched home gym purchases are more cost-effective than years of gym membership fees.
How much should I spend on a home gym?

How much you should spend for a home gym depends on your budget and fitness goals. You can start out with smaller, basic purchases, such as a set of dumbbells and a mat for $100 or less. Add more to your home gym as you develop a consistent routine and figure out what you know you will need and use regularly. Many people spend upwards of $5000 over time, building fully-equipped home gyms. Consider your resources and needs before making purchases.
What is the cost for a home gym setup?

You can build a complete home gym for under $2000 and can build a basic starter gym with some dumbbells, bands, and a mat for about $100. How much a home gym setup will cost depends on your needs and goals. Start out with what you can afford, choosing high-quality and versatile pieces, and build from there. If you have the money to spend, buying well-made equipment that will last longer will save you money in the long run, as will purchases like adjustable dumbbells if you plan on increasing your weight capacity over time.
Building a home gym can be an investment upfront, but the payoff in terms of your health, motivation, and convenience is more than worth it. To ensure you make the most of your home gym budget, this equipment will provide you with long-lasting quality gear that's versatile and high value. Not done exploring your options? Check out our picks for the best treadmills, exercise bikes, and adjustable dumbbells.