mbg Assistant Beauty Editor
mbg Assistant Beauty Editor
Hannah Frye is the Assistant Beauty Editor at mindbodygreen. She has a B.S. in journalism and a minor in women's, gender, and queer studies from California Polytechnic State University, San Luis Obispo. Hannah has written across lifestyle sections including health, wellness, sustainability, personal development, and more.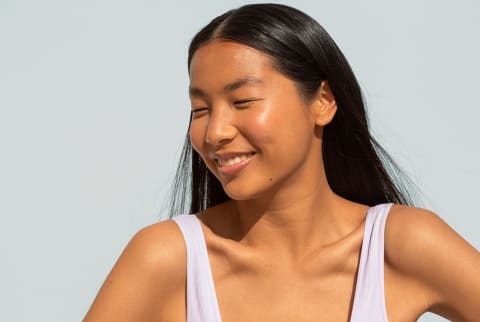 Image by Ohlamour Studio / Stocksy
December 13, 2022
Everyone is subject to seasonal changes, no matter your skin type. With a chilly breeze, decreased humidity, and increased use of central heating, it only makes sense that your skin would become drier come winter—even if you're usually oily in the summertime.
The answer, of course, is to adjust your topical routine. Still, not everyone wants to swap their favorite moisturizer for a heavier cream, so here's one tip you may be overlooking to keep your skin dewy year-round.
Advertisement
This ad is displayed using third party content and we do not control its accessibility features.
Why you should swap your toners in the winter. 
Many folks swear by a toner for their second skin care step post-cleanse. While this isn't a necessity for those looking to keep their routine streamlined, it is one easy way to add hydration to the skin and boost your barrier—but what type of toner you use makes all the difference.
For those with oily or acne-prone skin, using an astringent toner with ingredients like witch hazel, gentle exfoliants, or tea tree may help ease the shine. However, these astringent toners aren't going to help you out in the winter.
"Be careful not to overdo it, as astringent toners often contain alcohol and can be overly drying and disruptive to the skin barrier," board-certified dermatologist Rebecca Marcus, M.D., FAAD, once told mbg.
Instead, opt for a hydrating essence: This type of toner often comes free of drying ingredients, instead packed with powerful hydrators like hyaluronic acid, niacinamide, ceramides, and aloe vera.
What's more, plenty of essences also contain pre- and postbiotics to feed that microbiome even more. Incorporating a product with these ingredients will help boost your skin's defense against the harsh environmental factors that naturally come with colder weather.
And if you want to take your cold weather skin care a step further, opt for a hyaluronic acid supplement in the wintertime as well. That way, you can hydrate your skin from the inside out; in fact, one study found that people who took 120 milligrams of hyaluronic acid a day for eight to 12 weeks experienced better skin aging1 (fewer wrinkles and more supple skin) compared with those who took a placebo.
If you're not ready to commit to a year-round practice, feel free to snag an HA supplement as your winter go-to—here's a curated list of the best 13 options if you're on the hunt.
Advertisement
This ad is displayed using third party content and we do not control its accessibility features.
The takeaway. 
Cold weather can make your skin feel more dry, regardless of skin type. One important switch for those experiencing dullness during the cooler months is to opt for a hydrating essence over an astringent toner. If you're ready to pick up a new second step in your skin care routine, here are a few of our favorite products and a bit more about why this step is so beneficial.