Expert review by
Personal trainer & holistic nutritionist
BB Arrington is NASM-certified personal trainer, holistic nutritionist, and sustainability advocate.
December 25, 2022
Our editors have independently chosen the products listed on this page. If you purchase something mentioned in this article, we may
Without question, exercise bikes have grown in popularity significantly in recent years. While traditional exercise bikes or recumbent bikes might be the first options to come to mind, the best air bikes make for an excellent addition to your home gym.
Implementing regular cardio workouts into your routine improves your cardiovascular health and cognitive function1—plus, it gives you an always-appreciated boost of endorphins2. Most commonly found in CrossFit gyms and HIIT studios, air bikes differ from traditional cycling in that they offer an intense full-body workout. With more options available than ever, you can now invest in an air bike for your own home and reap the many health benefits, without needing to book time at the studio.
Before we dive into our list of the best air bikes of 2023, let's break down the benefits, how to use an air bike, and how to choose the best one for you (per expert input and advice).
The best air bikes of 2023:
What is an air bike?
A bit like a hybrid of an elliptical and a traditional exercise bike, air bikes have a fan at the front instead of a standard front wheel. As you move, the fan produces air resistance at varying intensities, depending on your speed.
Kelvin Gary, CPT, PES, CFSC, and Head Coach of Body Space Fitness, further explains, "An air bike uses paddles in the front wheel that create more resistance as you pedal, and as you pedal faster, the resistance increases." Most models also have handles that engage your arms while you pedal (which is where the elliptical aspect comes in).
What are the benefits of an air bike?
Air bikes provide a low-impact, full-body workout. "It's a great way to instantly control intensity and resistance," Gary says. "It's also significantly easier on the joints relative to sprinting or jump roping." He adds that, as a coach, he likes to bring air bikes into his training since there is less room for error in form and technique than with other full-body exercise machines, such as a rower.
The proper usage of an air bike requires significant balance, too, which makes for a great core workout. Like traditional cycling, you are exercising your legs and getting a significant cardio boost—but the full-body aspect really comes into play with the arm handles commonly found on air bikes.
How to use an air bike.
To begin incorporating an air bike into your training, Gary suggests utilizing the bike for short sprints at the end of a workout. "I also use them for longer periods of intervals and as a complete 20 to 30-minute long interval workout," he adds.
How we picked:
When selecting the best air bikes, we kept our expert's insights in mind. We also included a few recommendations that came directly from Gary, a certified personal trainer.
If you're going to invest in home gym equipment, you want it to be something that will last. We paid close attention to quality and durability for each product we considered.
What works for one person might not be the best choice for another. To give a more holistic portrayal of each bike, we read countless reviews and considered all feedback, good and bad.
No one wants equipment that's difficult to use. To make sure you'll get the most bang for your buck, we chose bikes that are easy to operate (and simple to set up).
Our picks for the best air bikes of 2023:
Best budget: Sunny Health Fitness Unlimited Resistance Bike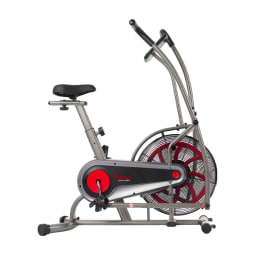 Pros:
Easy to move and store
Lightweight
Cons:
Setup instructions are a bit unclear
Seat not very comfortable
Resistance levels: Manual wind resistance
Weight capacity: 265 pounds
Adjustable seat: Yes
Screen: Performance Monitor
Subscription required: No
Warranty: 3-year
Exercise equipment is a worthy investment but often comes with a hefty price tag. This air bike, however, is one of the more affordable models. It offers easy movement through a chain and belt drive system, with a four-way adjustable seat to accommodate a wide range of heights.
Not only is there a performance monitor to track time and distance, but the bike also has a tablet holder. Stream a workout or catch up on your favorite shows, all while you push and pull your way to a solid sweat session. This air bike is an excellent option for people of all fitness levels.
With nearly 1,500 five-star ratings on Amazon, it receives a lot of praise. Customers say the bike is sturdy-yet-lightweight and "gets the job done." Many shoppers have updated their reviews to note how well the bike is holding up and how much they're enjoying it.
On the con side, a few people do say the setup instructions are a bit unclear, and there are several complains about the seat being uncomfortable. We suggest grabbing a seat cushion, which you can typically get for less than $20 on Amazon.
Best for beginners: Marcy Exercise Upright Training Workout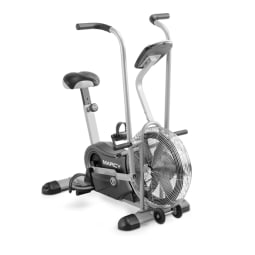 Pros:
Easy to use
Convenient wheels for transport
Cons:
Doesn't track cumulative miles
Shorter arm stride
Resistance levels: Manual wind resistance
Weight capacity: 300 pounds
Adjustable seat: Yes
Screen: LCD Monitor
Subscription required: No
Warranty: 2-year
Great for beginners, this reasonably priced bike has a straightforward design that makes it easy to implement into your fitness routine. The solid frame is crafted from premium steel with a scratch-resistant and powder-coated finish, with a sturdiness that feels like it will stand the test of time.
The bike's design is compact and won't take up too much space inside your home. And if you want to store it, the small, built-in wheels make for easy transport (although the bike itself is quite heavy). An adjustable seat will help the rider maintain proper form, and dual-action handles ensure that your upper body will feel the burn, too.
"Very good bike for the price," says one of the 1,000 five-star reviewers on Amazon. While one person says it is a bit noisy initially, the same reviewer states that they "wouldn't change a thing," calling the bike "a good product for a good price, sturdy and comes with excellent customer service if needed." Customers note that assembly is very easy. A few people wish there was a backlight on the monitor.
Advertisement
This ad is displayed using third party content and we do not control its accessibility features.
Best quiet: Schwinn Airdyne AD7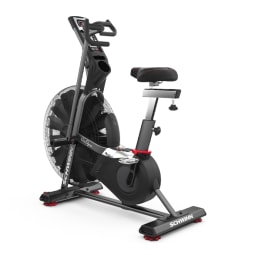 Pros:
Quiet
Durable
Water bottle holder
Cons:
Heavy
No backlight on the monitor
Resistance levels: Manual wind resistance
Weight capacity: 350 pounds
Adjustable seat: Yes
Screen: Multi-display LCD console
Subscription required: No
Warranty: Frame: 10-year, Mechanical and Electrical: 2-year, Labor: 6-month
Schwinn is a household name when it comes to bikes, so it's no surprise this airbike is durable and well-made. It uses wind-resistant technology for a low-impact, calorie-burning workout. The smooth drive belt system makes this one of the quietest air bikes on the market today.
Multi-position hand grips provide a more comfortable and personalized push-and-pull exercise experience. The high-definition consult displays metrics such as calories burned, distance, speed, and heart rate. As an added bonus, the bike comes with pre-programmed training workouts. It's also worth noting that this bike's 10-year frame warranty is the longest out of all our picks.
A repeat customer whose family has been riding Schwinn bikes for years writes, "I love that it works out the lower body at the same time as the upper body. It has a low impact which is very important to me."
Best for full-body workouts: XTERRA Fitness AIR650 Air Bike Pro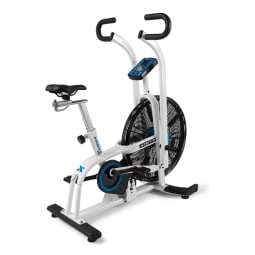 Pros:
Multi-grip handlebars
Industrial grade chain system
Wheels for easy storage and rearrangement
Cons:
No tablet holder or accessories included
Seat adjustments are not as precise as other models
Resistance levels: Manual wind resistance
Weight capacity: 350 pounds
Adjustable seat: Yes
Screen: LCD screen
Subscription required: No
Warranty: Frame: 1-year, Manufacturer parts: 1-year
For a head-to-toe workout that's low impact and easy on the joints, this air bike is an excellent choice. The frame is built to last, with an industrial-grade chain drive system and high-quality steel fan blades. While the bike is very sturdy, it has a compact design for easy storage and rearrangement.
The bike's ergonomic paddle handlebars have multiple grip options to keep you comfortable while supporting a full range of arm and shoulder motion. With an easy-to-read LCD monitor, you'll have no issue tracking metrics like speed, time, and calories burned.
Reviewers are impressed with the bike's quality and how easy it is to set up. While the majority of this bike's customer feedback is very positive, some people complain that the seat adjustments are only by the inch, and not as precise as other models. Additionally, there is no tablet holder, which some people find to be a dealbreaker.
Advertisement
This ad is displayed using third party content and we do not control its accessibility features.
Best without arms: Concept 2 Bike ERG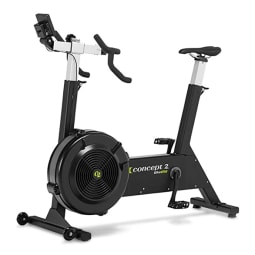 Pros:
Quiet
Great for rehabilitation and longer rides
Bluetooth connectivity
Cons:
Not ideal for HIIT workouts
The seat can be uncomfortable, but is replaceable
Resistance levels: 10 levels
Weight capacity: 300 pounds
Adjustable seat: Yes
Screen: Performance Monitor
Subscription required: No
Warranty: 2-year limited warranty
This bike has a different look than the others on our list but operates in a similar way. While it also uses air resistance to create a smooth ride, it doesn't have moveable arms, and looks more like a recumbent bike. This bike wouldn't be the best choice for HIIT exercises, but is a great option for longer rides.
Unlike the other models, this bike has a knob to control its resistance, with 10 levels to choose from. The self-tensioning belt and the lack of handlebars make for a smooth, quiet ride. It has a sleek design that takes up a very small amount of space—but if you don't want to keep it out all the time, the built-in wheels make it easy to roll into storage.
"A successful purchase," shares one Amazon customer. "Rock solid. The screen, Bluetooth connection to iPhone, and logging to the website (free) are easy to read and implement. And it operates wonderfully. I've used it 6 days a week and give it the highest marks. I replaced the seat with a far more comfortable one: count on doing that unless you have a butt of iron."
Best for athletes: Assault Fitness Air Bike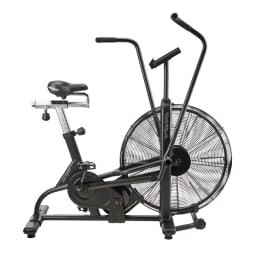 Pros:
Commercial grade
Easy assembly
Cons:
Seat is not very comfortable
Accessories not included
Resistance levels: Manual wind resistance
Weight capacity: 350 pounds
Adjustable seat: Yes
Screen: LCD High Contrast screen
Subscription required: No
Warranty: 5-year frame, 2-year non-wear parts
Previously used at the CrossFit games, this air bike is built to last through the most vigorous exercises, with a durable steel frame and reinforced pedals and cranks. The console holds access to seven programmed workouts such as Tabata, stamina training, and HIIT.
Not up for a predesigned workout? Design your own based on distance, calories, time, or heart rate. Whether you're a beginner or expert, this bike will bring your home gym to the next level. Like a few other options on our list, this bike would benefit from a seat cushion.
The ratings on this bike speak for themselves with a 4.8 out of 5-star score overall on the brand's site, and over 1,800 five-star reviews on Amazon. One Amazon customer shares how this bike changed their cardio routine completely. "If you think you're in shape and you're just running or rowing…try this bike." The same reviewer goes on to say, "We're making new goals and crushing them. The best part is, if you can master this bike, you'll be better on your other cardio implements."
Advertisement
This ad is displayed using third party content and we do not control its accessibility features.
Best overall: Rogue Echo Bike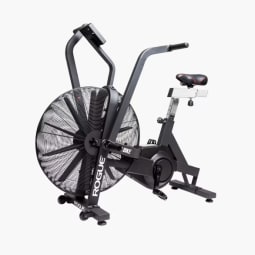 Pros:
Durable
Easy to use and assemble
Resistance levels: Manual wind resistance
Weight capacity: 350 pounds
Adjustable seat: Yes
Screen: LCD Console Display
Subscription required: No
Warranty: 2-year
Our expert's top choice, the Rogue Echo Bike, Gary states, is "built like a tank but rides very smooth." Heavy-duty steel and precise engineering create an air bike that's ready for maximum output bursts. While it's superbly sturdy, it's also portable. Small wheels are built into the front of the bike, so you can easily move it around your space, or wheel it away when not in use. The drive belt and fan blade, as Gary points out, are smooth, making for a very quiet ride. You can easily track your intervals, distance, heart rate, and calories burned on the handy built-in LCD console.
There are 4,000 reviews on the brand's website, giving the bike a 4.9 out of 5-star rating overall. One happy buyer calls it a "horrible machine, in a good way." Continuing to say, "Awful, awful piece of machinery that is absolutely amazing. You can build muscle, do steady state cardio, anaerobic conditioning, aerobic conditioning, restorative workouts, or put you on the floor in pain type of workouts."
FAQ:
Which air bike is the quietest?

The durability of the Rogue Echo bike and the Schwinn Airdyne AD7 makes them quieter options. The Concept 2 Bike ERG is very quiet as well.
What air bikes do CrossFit games use?

The Rogue Echo bike is the model used in traditional CrossFit games. The Assault air bike was a previous model used during the competition.
Can you build muscle on an air bike?

The resistance increases the harder you pedal, which helps to build muscle in your lower body. Calves, glutes, hamstrings, quads, and hip flexors will all gain strength with regular and proper usage. The arm handles also work the upper body, so your arms, shoulders, and upper back muscles stand to benefit as well. Because of the balance required, air bikes are a great core workout, too.
How long should you ride an air bike?

Gary suggests short sprints during training or an extended workout of 20 to 30 minutes.
The takeaway.
Air bikes allow for a full-body workout and are a perfect way to add cardio to your fitness routine. Cycling, even with a traditional exercise bike, provides an excellent low-impact workout that's easier on your joints than high impact activities, and can improve your overall health and well-being. Want to create a more well-rounded workout routine this year? Take a look at a certified personal trainer's picks for the best home gym equipment of 2023.