Contributor
Contributor
Brittany Natale has a degree in advertising and marketing communications from the Fashion Institute of Technology. Her work has appeared in SELF, Popsugar, i-D, Teen Vogue, Domino, Martha Stewart, and Eat This.

Expert review by
Sarah Kostyukovsky, PT, DPT, OCS
Sarah Kostyukovsky, PT, DPT, OCS, is an orthopedic physical therapist who specializes in treating pelvic floor dysfunction and the perinatal population. She earned her B.S. from the University of Virginia and her Doctorate of Physical Therapy from Columbia University College of Physicians and Surgeons. She is co-founder of Flow Physiotherapy and the owner of Mom in Balance New York, which offers pregnancy and postpartum outdoor fitness classes in Manhattan and Brooklyn.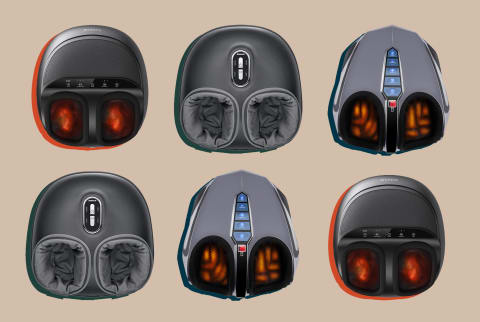 February 13, 2023
Our editors have independently chosen the products listed on this page. If you purchase something mentioned in this article, we may
Whether you live with a condition such as plantar fasciitis or simply have tired, achy feet from standing all day, most of us have experienced foot pain at one point or another. Often compact and affordable, the best foot massagers help ease your pain and can be used from home, work, or while on the go. 
If you've ever had a foot massage, you're likely familiar with the physical relief it provides—but a good massage can do so much more than alleviate pain. A 2022 study found that foot massages can help improve blood circulation1, which is especially helpful for those living with diabetes or circulation issues. Additional research shows that massage can improve your mood2, and reflexology, a type of massage therapy that focuses on pressure points (often on the feet), helps reduce stress while lessening the effects of injury and illness3.
Through research, customer reviews, and expert insight from podiatrist Jackie Sutera, DPM, and physical therapist Kevin Cronin, P.T., ATC, JSCC, owner of ARC Physical Therapy, we've found the best foot massagers available today. Below, learn how you could benefit from a foot massager and how to pick the right one for your needs.
What is a foot massager?
A foot massager is a device that can be used to relieve feet of pain or tension. Many electric models use massage rollers and air compression to knead and squeeze your feet, alleviating foot pain and improving circulation. Some also have heat functions to further relax your muscles. Manual foot massagers do not use electricity and instead feature stationary acupressure massage nodes to glide your feet over.
Who should use a foot massager?
Per Sutera, foot massagers are generally safe for most people to use—but you should always be mindful of heat and intensity levels. People with known health conditions should check in with their doctor before using a foot massager. "Those with diabetes, neuropathy, or poor circulation should ask their podiatrist before using these machines," Sutera elaborates, mentioning that if you have an open wound, ulceration, or infection on your foot, you should not use a foot massager.
Anyone with osteoporosis or significant swelling in the feet should also skip out on using this device, Cronin adds. He also says pregnant women in their third trimester should most likely avoid using a foot massager. "There's a risk of blood clots in the legs during the third trimester only," he explains. "Otherwise, foot massage has been shown by some studies to be good for both the mom and the baby." 
How to use a foot massager.
Cronin recommends using a foot massager three to four times a week for 15 to 20 minutes per session. "The massager units that have an automatic shut-off will ensure that you don't overdo it," he shares. 
Both experts agree that a foot massager can be used daily with no ill side effects, but Sutera suggests starting small and adding intensity with time. "If there is a heat feature, make sure the unit does not become too hot," she adds, saying this is especially important for those with diabetes, neuropathy, poor circulation, or skin irritations. 
Of course, each device has different functions and use cases, so you should always read a massager's instruction manual before using it (and be mindful of any warning labels). For instance, some models, such as the Nekteck Shiatsu Foot Massager, should not be used by those who are highly sensitive to kneading and squeezing.
What are the benefits and drawbacks of a foot massager?
Per Sutera, the benefits of a foot massager include reducing muscle aches, improving blood circulation, and inducing overall relaxation. 
Cronin echoes this sentiment. "The massaging action moves blood and lymph, helping to improve circulation and remove toxic waste from the tissues and get it moving in the lymphatic system, where it belongs," he says. This can be particularly beneficial for those who are on their feet all day (i.e., nurses). According to Cronin, a foot massager can allow you to relax and practice deep breathing, which he says "is known to decrease heart rate, blood pressure, and muscle tension."
Although foot massagers present many benefits, Cronin advises sticking to 15 to 20 minutes at a time, so as to not overdo it—particularly if you are using a heated massager. "Too much heat for too long may result in foot swelling," he says.
How we picked:
High-quality products last longer and are often safer to use. We kept quality top of mind in our selection process.
We followed expert insight with every pick, and included expert-recommended brands.
We read through hundreds of reviews to get a better idea of how different people experience each product. Negative reviews are noted as potential cons.
Depending on your intended use, there are a variety of features each person might prefer. We've highlighted these for each product.
Our picks for the best foot massagers of 2023:
Advertisement
This ad is displayed using third party content and we do not control its accessibility features.
Advertisement
This ad is displayed using third party content and we do not control its accessibility features.
Advertisement
This ad is displayed using third party content and we do not control its accessibility features.
Advertisement
This ad is displayed using third party content and we do not control its accessibility features.
How to choose a foot massager.
Besides budget and size, Cronin suggests considering the following when choosing a foot massager: adjustable intensity, auto-timer, and a heat option. "Adjustable intensity is important, especially if your feet tend to be sensitive or if there is weakness of the bone, such as with osteoporosis," he says. Additionally, a massager shouldn't cause pain when it presses against your feet. For peace of mind, take note of each brand's return policy when shopping.
FAQ:
Do foot massagers actually work?

The efficacy of a foot massager depends on the person and the device. To get the most out of a foot massager, purchase one with your desired features. If you have any foot or health conditions, be sure to speak with your doctor before adding a foot massager to your routine.
What is the best foot massager for blood circulation?

According to Cronin, all foot massagers can help with blood circulation, but those with a heat function can help increase circulation even more. "Heat dilates blood vessels, increasing the flow," he explains.
The takeaway.
Foot pain can be disruptive to your daily routine, mood, and overall well-being. The best foot massagers can offer pain relief and improve circulation while helping you wind down and relax. If you're interested in finding more ways to incorporate massage therapy into your life, check out our best massage guns, neck massagers, and massage cushions.