Written by
Kelsea Samson is a writer, content manager, certified yoga instructor and founder of The Mindfulness Program for Kids and Yoga for the Blind in Tampa, Florida.

Medical review by
Scott Nass, M.D., MPA, FAAFP, AAHIVS
Board-certified Family Physician
Scott Nass, M.D., MPA, FAAFP, AAHIVS is a family physician and HIV specialist in California. He takes a holistic approach to healthcare, incorporating principles of functional medicine and using food as medicine when working with patients.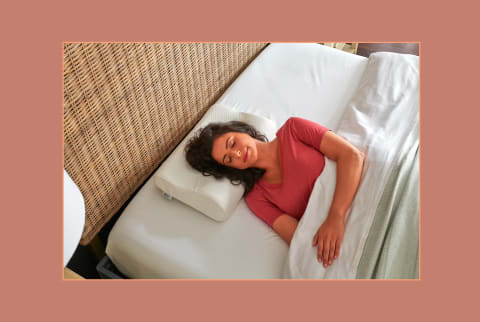 March 22, 2023
Our editors have independently chosen the products listed on this page. If you purchase something mentioned in this article, we may
If chronic migraines and headaches are impacting your sleep, your pillow could be the culprit. Factors such as your mattress and sleeping posture can impact your ability to sleep soundly through the night, and research has found that sleeping with the wrong pillow can cause immense strain on the neck muscles1. This strain often contributes to headaches that can last well after waking up. Fortunately, the best pillows for headaches help prevent neck strain and headaches, so you can go into your day pain-free.
To learn more about how to relieve headaches while you sleep, we spoke with experts and dove deep into the pillow options on the market today. Below, find our picks for the best pillows for headaches, and discover how to choose the right one for your preferences and needs.
The best pillows for headaches:
What type of pillow is best for headaches?
When it comes to finding the best pillow to relieve your headaches, there are a few factors to consider. Traditional Chinese Medicine practitioner Mally Shaw M.S., L.Ac., says, "The goal of a good pillow is to have your cervical spine in alignment with the thoracic spine. This is generally accomplished either on your side or your back."
This in mind, look for a pillow that allows for proper spine alignment and fills the "gap" between your neck, head, and back when lying down. This will keep your head in a neutral position, in line with your spine. According to experts and extensive research, the best pillows for headaches tend to be made from one of the below materials:
Memory foam: molds to your unique shape to provide comfort and support.
Latex: is buoyant and responsive, excelling at head and neck support.
Down: offers luxurious comfort and malleability for those who shift positions during the night.
Cotton: provides support, holds its shape, and is also good for neck pain.
What are the common causes of headaches?
While plenty of influences contribute to chronic headaches, Shaw emphasizes that the wrong pillow can certainly be a contributing factor. She says, "If your pillow is too high, it will flex the neck and not allow the neck muscles to relax. This results in stiff neck or neck pain, and this tension can trigger headaches."
Research shows a link between quality sleep and headaches2. Studies also show that having poor posture can cause headaches by creating tension in your upper back, neck and shoulders. This problem can often be remedied by sleeping on your back or side with a supportive pillow that promotes proper alignment.
Here are a few other factors that could be causing your headaches:
Processed foods and MSG
Caffeine, red wine, meats containing nitrates, chocolate, and aged cheeses
High blood pressure
Dehydration
Jaw clenching which puts pressure on the sinus cavity
Stress
Lack of exercise
How headaches impact your sleep.
Sleep can be a vicious cycle when it comes to causing and curing headaches. Research shows that people with migraines are up to 8x more likely to experience sleep disorders such as insomnia, sleep apnea, and teeth grinding. "Pain from headaches may disrupt sleep or cause difficulties falling asleep," Shaw says. "Bad sleep or not enough restorative sleep will result in a lack of repair to the muscle tissue, which also results in headaches."
Holistic chiropractor Sarah Sponaugle emphasizes that quality sleep is important to many, if not all, processes within our bodies. "Good quality sleep of 6 to 8 hours leads to better brain function and mood, faster healing and recovery [of headaches], and decreased pain," she says. Deep sleep allows the brain to flush out waste, alleviate pain caused by inflammation, and heal headaches naturally. Plainly put, poor sleep can be the cause, but quality sleep can be the solution for headaches.
How to choose the best pillow for headaches.
Sponaugle says, "the right pillow is essential" to fend off headaches. Shaw agrees, recommending that you" choose a pillow that supports your head and your neck, and keeps your spine straight no matter what sleeping position you are in."
For side sleepers, Shaw suggests a taller pillow. "Draw your legs up toward your chest and place a pillow between your knees," she says. "Make sure your pillow is not abnormally elevating your head. If you lay on your back, a cervical pillow placed under the neck will support the natural curvature of your cervical spine and allow your neck to relax."
Stomach sleepers may want to consider finding a new sleeping position to rid themselves of headaches. According to chiropractors, sleeping on your stomach is the worst position for neck pain and headaches, because it forces you to twist your head and neck to the side, putting extra pressure on the neck. Stomach sleeping can also misalign the shoulders and cause pain.
Shaw prefers eco-friendly pillows because they eliminate or reduce exposure to fire retardants and off-gassing from the materials in the pillow which can be toxic. She adds that these chemicals can trigger headaches, especially if a person is sensitive.
How we picked:
In order to relieve strain on the neck and ultimately headaches, a pillow needs to be thick enough to support the head and keep the spine neutral. Thickness was a key factor in determining which pillows to include.
We considered our experts' recommendations for each sleep position to find options for every type of sleeper.
Those with headaches will need a pillow that stays supportive and holds its shape over time. We scoured customer reviews to find pillows that will hold up to years of nightly use and still look and feel good as new.
We prioritized brands that value certified non-toxic materials. We've called out those that use organic materials, carbon-negative manufacturing processes, or have specific certifications.
Our picks of the best pillows for headaches of 2023:
Advertisement
This ad is displayed using third party content and we do not control its accessibility features.
Advertisement
This ad is displayed using third party content and we do not control its accessibility features.
Advertisement
This ad is displayed using third party content and we do not control its accessibility features.
FAQ:
How should I sleep to avoid headaches?
Can a flat pillow cause headaches?

Yes. Shaw explains that old pillows tend to lose their fluff and may not support the neck properly, and can trigger muscle tension in the neck, especially at the base of the skull. This muscle tension can irritate, strain, or compress the nerves in the neck leading to a headache.
Do neck pillows help with headaches?

Yes. Pillows that support the neck can relieve headaches. Sleeping on the wrong pillow will activate your neck muscles and potentially lead to headaches and migraines.
Are firm pillows good for migraines?

Shaw explains that firmness is a matter of preference. The most important consideration is proper spine alignment.
The takeaway.
Headaches can be disruptive to your sleep and your day-to-day activities. On the brightside, investing in the right pillow is a great way to relieve this pain and keep you rested and productive. And if chronic pain is keeping you awake, you might want to take a closer look at your mattress, too.