A self-described "global nomad" and "sonic sorceress," Scarlett de la Torre is a musician, DJ, humanitarian, and international sound meditation facilitator.
Born in Hong Kong but proudly rootless, Scarlett has combined her love of music and spirituality to promote sound meditation — a process of using musical instruments to enhance the benefits of meditation.
She teamed up with Beachbody to bring sound meditation to people wherever they are via the Beachbody On Demand app.
In addition to her work on the spiritual side, Scarlett travels the world on behalf of the anti-human trafficking organization Beauty for Freedom.
She uses her musical performances and influencer status to call attention to the crimes being committed worldwide.
She's also using her training in meditation and natural healing to get actively involved in therapy and recovery efforts for survivors of human trafficking.
We managed to catch up with Scarlett to discuss her work, her passions, and her approach to leading the Beachbody Sound Meditation program.
Beachbody: Music is such a big part of your life. Do you remember having an "ah hah!" moment when it came to discovering it?
Scarlett de la Torre: Yes. I knew from a very young age that music was a part of me. I think I was about three or four years old, and I got up on this electric piano organ that we had in our house and immediately started playing.
I just started playing by ear. My mom would listen to classical music and I would play the melody of what she was listening to.
How has music influenced your life?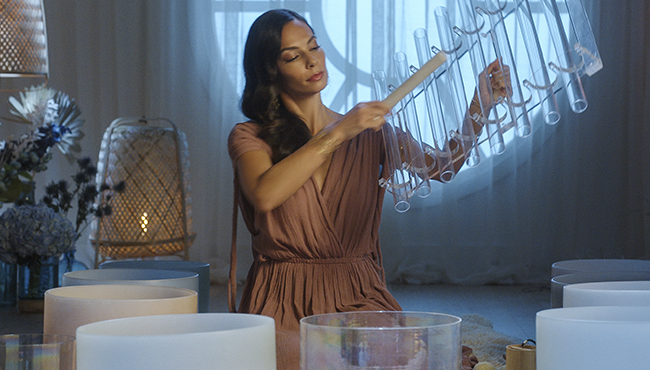 I was a techno DJ for 20 years. My life was all about traveling. All about going to Dubai and Ibiza…that would be in one weekend, by the way!
I would have a couple of days off and then I would be back on the road again. It was crazy.
Now it's a little bit less crazy, but I still travel a lot with being a sound healer. I've traveled to places like the UK to do the christening for a baby in a castle.
I've been to Necker Island to do sound healing for Richard Branson. I've had the honor of being able to travel all these places to conduct sound meditations.
In COVID times, it's been nice to get some time alone in my place in LA. This is where I came up with the idea for my school, the AHA Sound Sanctuary.
My program is called Queen Frequency, and it's all about tapping into vibrational alignment with the self.
Some people find meditation a little intimidating. How do you get them to feel comfortable sitting still?
A lot of people are like, "Oh, no. I can't meditate. I can't turn my mind off. I can't stop thinking. I can't quiet my mind."
People are intimidated about the idea of sitting down and thinking about nothing, and I'm the same way! It is impossible for me to sit still and not think of anything for 15 minutes, too.
That's why I like to use sound. I like to use mantra. I like to use intention. I've been experimenting with mantra for about seven years and with vocal meditation for about five years.
It's really wonderful when you can use your voice to get really clear on intentions.
Just be like… "I'm breathing in light and life to my intentions, and I'm breathing out all that is not serving me in this moment. Exhaling stress, exhaling anxiety, exhaling doubt.
I know it sounds a little woo-woo, but it works!
How did you get involved in humanitarian efforts like Beauty For Freedom?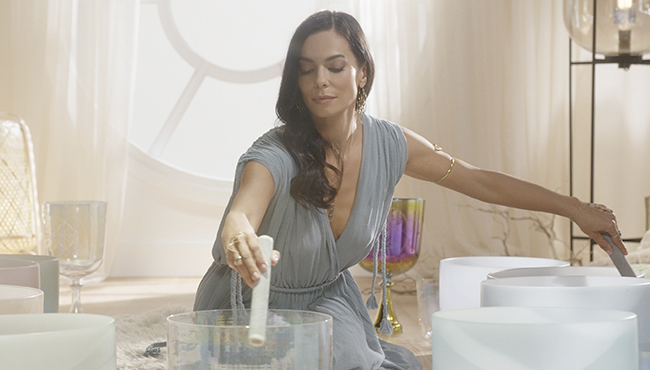 I was introduced to Monica Watkins, who's the wonderful, incredible founder of Beauty for Freedom when I was DJing in New York and helped them coordinate a fundraising event. This organization is a powerhouse.
It isn't just therapy for survivors, but it's also about advocacy, raising awareness, and helping to support missions where children are rescued and freed and put into positions where they can receive education and shelter.
I wasn't actually expecting to volunteer on the ground with them at first. But I had been meditating after a flight and I asked for a sign.
I looked down at the floor after I came out of this meditation, and the first thing I saw was my landing card that had fallen on the floor of the airplane.
I picked it up and it said, "Fight against human trafficking. Your call." I was like, "Ok, I am meant to go on this mission." That was six years ago.
Now, we're working on a mission called Her Story, which is about supporting black-owned grassroots organizations and just getting them more support.
Monica does all this with so much grace. She's my hero.
You seem to have a pretty fearless approach to life — is there anything that does scare you?
No! Why would anything scare me? I'm protected and guided. It's really wonderful to just be able to share my gift with the world.