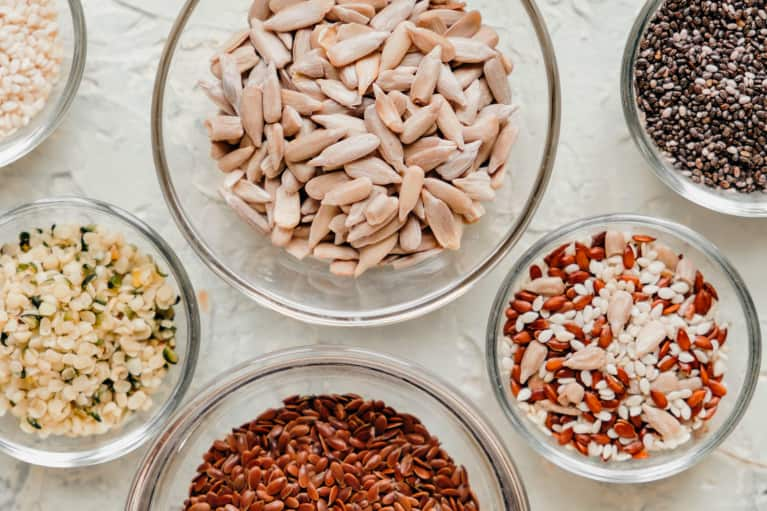 There's something magical about addressing health through an all-encompassing lens, and one of my favorite parts of being a health coach is sharing these healthy discoveries with people. Whether it's addressing autoimmune conditions, inflammation, supplements, or food intolerances, I love sharing strategic well-being guidance for leading a healthy, balanced lifestyle. 
A holistic approach considers so many factors—such as time management, stress, compassion, relationships, work-life balance, and, of course, food—when creating health goals. My role as a health coach is to keep my clients' individual needs in mind and recommend sustainable practices to bolster their well-being.
Functional nutrition plays a big role in my work as a health coach since it's essential to fostering a healthy inner ecosystem. One of my top pieces of food advice for clients? Add more seeds to your daily diet.
These remarkable embryonic plants (seeds carry all the necessary elements required to evolve into complex plants) aren't only tasty and easy to consume but are also a versatile boost to your health. Below, three reasons you should add more of these all-powerful culinary buds to your diet.
Their nutritional profile (and variety) are outstanding.
Chia, sunflower, hemp, pumpkin, watermelon, flax, tomato, sesame—within the realm of seeds, options are boundless. Beyond their variety, these small but mighty seeds are also rich in important nutrients. Seeds contain significant levels of essential fatty acids, protein, fiber, vitamins, minerals, and antioxidants—which are vital to any healthy diet. And because they are so nutrient-condensed, you don't need to eat many to reap their benefits. I like to keep several "seed jars" on my kitchen shelf to mix and match daily (hello, tahini desserts). 
They might help keep inflammation and oxidative stress at bay.
Seeds (particularly chia and flaxseeds) are a great source of plant-based omega-3 fatty acids and anti-inflammatory ALA, which can help reduce inflammation, boost metabolism, and prevent disease. Eating adequate amounts of omega-3s is also beneficial for your brain and heart health.
What's not to like about a potent plant food that's easy to eat and cook? As a health coach, I believe that one of the secrets to creating and sustaining long-lasting habits is building a proper system where lifestyle practices, goals, and behaviors can thrive. If adding more of these tiny nutrient powerhouses isn't desirable yet, I assure you that after giving them a try, their versatility will make them irresistible. 
With all this nutrient-packed, delicious seed inspiration, I hope you go ahead and start crunching your way to better health!
https://www.mindbodygreen.com/articles/health-coach-recommends-seeds