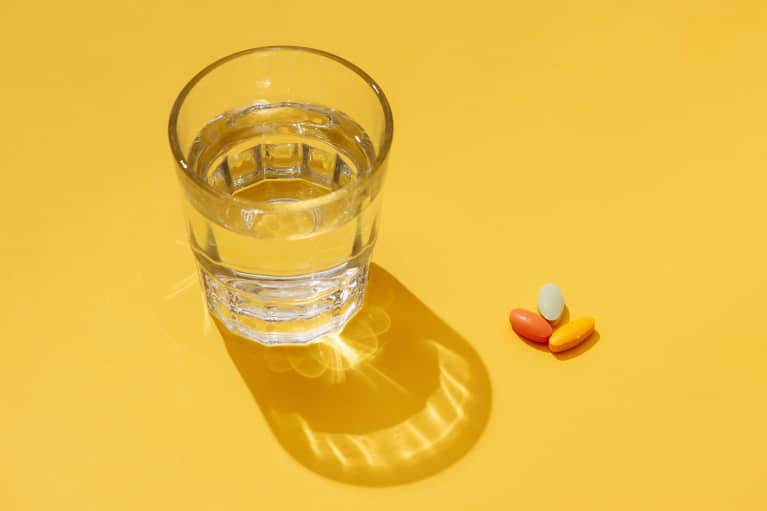 What does a "good" multivitamin look like? Don't fret, we already vetted a list of 18 top picks, but it's always a good idea to get to know your supplement facts panel as you browse. There's a ton of marketing jargon to parse—and some labels can be a bit, well, shady.
Specifically, our in-house nutritionist and vice president of scientific affairs Ashley Jordan Ferira, Ph.D., RDN, identifies one phrase that gives her pause. Here, she describes the No. 1 red flag to look for in a multivitamin. 
The biggest red flag for multivitamins
According to Ferira, any supplement brand that uses the term "pharmaceutical-grade" to describe its ingredients is questionable. See, there's a major myth that the supplement industry is unregulated by the FDA—this is entirely false. The FDA actually has very stringent rules (a breakdown of those rules here) in terms of what claims are legally allowed on supplement labels: Within these boundaries, foods are unique from dietary supplements, which are unique from over-the-counter (OTC) drugs, which are unique from prescription pharmaceutical drugs. Each category has its own lane, with a bucket of procedures to follow and claims they should and should not use—so when pharmaceutical language makes its way to dietary supplements (like a multi), it's crossing into another lane without a metaphorical blinker, and well, in driving and otherwise, that's just plain dangerous. 
"That is blurring a line," Ferira once said on the mindbodygreen podcast. "And in the United States, the laws have quite clearly drawn lines. She continues, "I would say that's a red flag. Like in a relationship, [I would] just move on."
In addition to pharmaceutical-grade, you may also see terms like pharmacist-recommended, doctor-formulated, guaranteed quality, comprehensive, complete—all of which might not hold much meaning (unless those claims have verifiable backing). High potency, however, is a nutrient content claim with an actual definition that's regulated, as it was defined by the FDA in 1997. For multi-ingredient supplements, this means at least two-thirds (or 67%) of the ingredients need to contain 100% or more of their daily value (DV).
So if your supplement boasts a high-potency claim, take a peek at the ingredient list to make sure the information checks out. If you're curious, mindbodygreen's ultimate multivitamin+ is well above the two-thirds mark; in fact, the multi can claim a whopping 83% of its vitamins and minerals with DVs as high potency (which is well above the 67% requirement). "If you check out the product, turn it over—it becomes abundantly clear in the supplement facts panel," Ferira says. 
When choosing a multivitamin (or any other supplement for that matter), it's important to determine what's a valid nutritional claim and what's merely marketing noise or hype. After cutting out those subpar players, you can find the best formula for your nutritional goals and lifestyle that ticks every single box. 
If you are pregnant, breastfeeding, or taking medications, consult with your doctor before starting a supplement routine. It is always optimal to consult with a health care provider when considering what supplements are right for you.
https://www.mindbodygreen.com/articles/major-multivitamin-red-flag