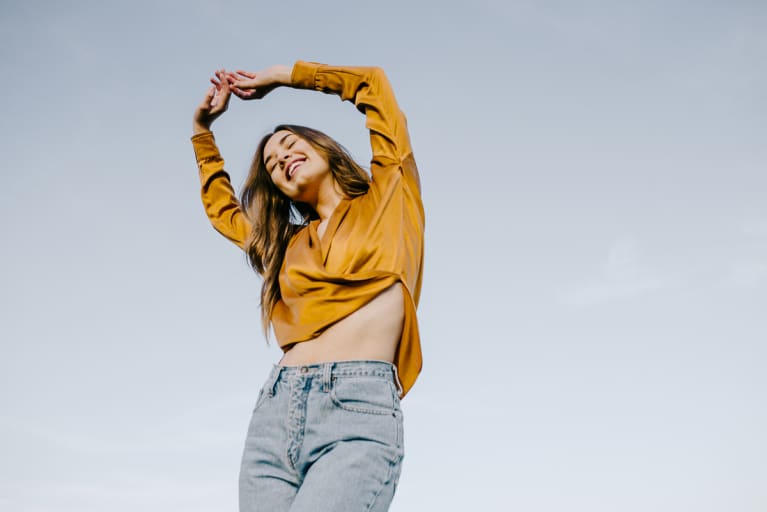 How do you care for your gut? Or do you fall into the category of only thinking about it when something feels a little off? When it comes to prioritizing your gut health, this should be a regular practice, not something you put off until it's a noticeable issue. And one of the best ways to do so is with a targeted probiotic.
So how often should you really be taking your probiotic? Daily? Weekly? mbg's vice president of scientific affairs Ashley Jordan Ferira, Ph.D., RDN, is here to help.
How often you should be taking probiotics.
"A lot of times, people think that they only need probiotics sometimes, but in fact, many of us would benefit from a daily, regular, and sustainable supply of targeted probiotics," Ferira explains in a recent mbg TikTok.
"While you can, of course, receive some pre- and probiotics from food sources and you should strive to consume those healthy foods, in reality, a targeted probiotic that includes science-backed doses of key strains is a great idea for a sustainable source of good bacteria to support your entire gastrointestinal tract,"* she adds.
That's right—your probiotic should have a permanent place in your daily routine if your goal is to keep your gut health in check by regularly colonizing your GI tract with beneficial bugs. And really, that intention spans to everything from increasing comfort throughout digestion to helping address targeted dilemmas like bloat, gas, and regularity.*
Selecting a high-quality probiotic. 
When it comes to choosing a probiotic, we recommend opting for one that contains high-quality strains (yes, you'll want to see genus, species, and strain info on your probiotic product's Supplement Facts panel) at clinically researched doses.
That's why we created mbg's probiotic+, which is the only supplement in the world with this specific combination of four targeted strains (Lactobacillus acidophilus NCFM and Bifidobacterium lactis Bi-07, B420, and HN019) to support daily upper and lower GI tract physiology, ease bloating, promote healthy digestion, nourish a balanced gut microbiome, and even keep your belly feeling comfortable.*
With 32 billion CFU of shelf-stable bacteria across the four unique strains (btw "shelf-stable" means you don't need to keep this probiotic in the fridge) in a sustainable and UV light-protective packaging (amber glass bottle), you can trust that you're supporting your daily gut health regimen with only the best.
Caring for your gut should not be a fleeting thought—ideally, it's an intentional daily practice that includes the foods you eat, the habits you follow, and the supplements you take. If you aren't already, consuming a daily probiotic may help with bloating and other digestive concerns you're facing, leaving you feeling more comfortable and balanced in your body.*
If you are pregnant, breastfeeding, or taking medications, consult with your doctor before starting a supplement routine. It is always optimal to consult with a health care provider when considering what supplements are right for you.
https://www.mindbodygreen.com/articles/how-often-you-should-take-probiotics-to-support-healthy-gut