We all do summer a bit differently. For some of us, summer bliss is found on a striped beach towel beside a body of water (begging for cannonballs). For others, it's found in wild places only hiking trails can reach. But one thing we can all agree on is that the best of what summer has to offer is always outdoors. From mountains to beaches to lakes, nothing beats a day spent with Mother Nature. 
Intuitively, we know that sunshine and a warm breeze are pure soul food, but research confirms it: Spending at least two hours in nature per week is associated with good health and well-being. So to inspire some alfresco fun, we've compiled the one-and-only checklist you need to keep the season ablaze. From outdoor activities you haven't tried yet to outdoor-friendly recipes incorporating the light indulgence of Baileys Deliciously Light, your favorite time of year is about to get lighter and brighter. Starting now!
Lighten up your summer with these outdoor ideas:
1.
Plan a fresh-picked picnic.
The perfect picnic needs only a few things: a picnic blanket, a lush patch of grass, and plenty of sips and snacks. But here's how to give your picnic a fresh twist: First, visit a local berry farm to pick your favorite juicy berries or an orchard to gather a basket full of tart apples. Pair your day's harvest with Baileys Deliciously Light for a light and delicious picnic treat (that has 40% less sugar and calories than Baileys Original). Pour it over ice to enjoy on its own, or mix it with your iced coffee for a lighter, summer spin on the classic rich cocoa and vanilla flavors you know and love!
2.
Meet your friends for jazz in the park.
As much as we love them, the summer months can feel like a social swirl of friends and adventures. Lighten things up by throwing the occasional jazz in the park on the calendar. If you've never been, these (typically free) events are usually hosted at popular city parks, featuring local musicians who love to share their passion for jazz. There's no better way to slow down the summer frenzy than in the company of friends, saxophones, and syncopated rhythms.
3.
Treat yourself to a blissful summer afternoon with Baileys Deliciously Light.
No matter how you slice it, summer is the season for indulging in life's pleasures. And sometimes that's found right in the sanctuary of our own backyard, cold cocktail in hand. For an indulgence that perfectly pairs with the lightness of your summer mood, try this Baileys Deliciously Light Raspberry Smoothie. With tangy raspberries, indulgent vanilla cream, and notes of chocolate, this decadent treat is destined to be devoured in your favorite outdoor spot. Cheers to the season!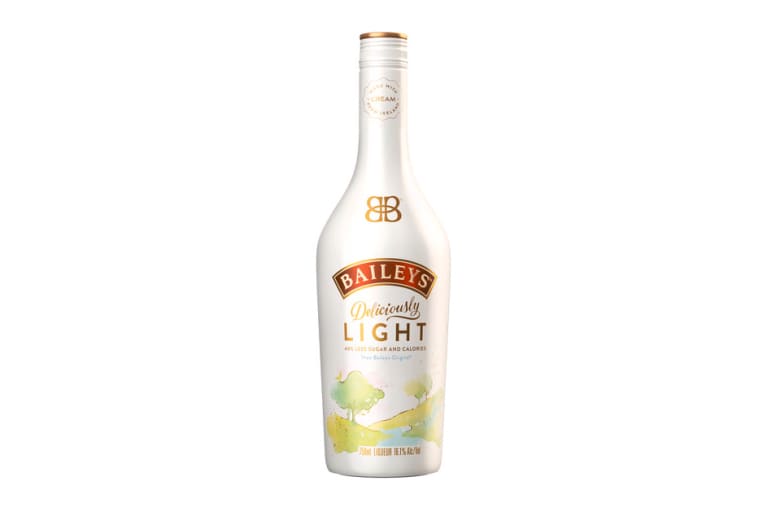 Baileys Deliciously Light
They've combined cream from Ireland and the rich cocoa and vanilla flavors of Baileys to create a light and versatile treat with all of the yummy taste of the original Baileys you know and love.
½ cup frozen raspberries
1 cup ice
Fresh raspberries (optional for garnish)
Blend Baileys Deliciously Light in a blender with raspberries and ice until light and whipped.
Top with fresh raspberries and enjoy.
4.
Inflate your raft and set sail.
When the sun blazes overhead, we all have the same destination in mind: the nearest body of water. Whether that's a pool, a lake, or the ocean, there's no better occasion for an over-the-top inflatable float. And what says summer better than a giant flamingo floatie? So gather your book, a cool beverage, and some friends to hit the waters in style. Words of wisdom: Time flies on a floatie, so don't forget the waterproof sunscreen!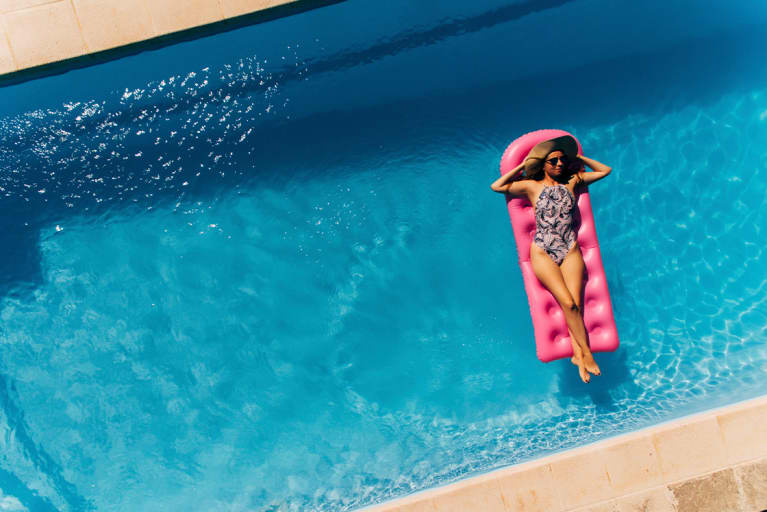 5.
Take your snacktime alfresco.
In between the vacations, festivals, and off-road adventures—summertime is made of small, blissful moments: like snack time. If you're like us, snack hour is sacred—and taking it outdoors makes it even more so. For snacks that beat the heat and keep you feeling light, whip up these favorite summer recipes!
Fun fact: Not only are sunsets breathtaking, they're actually good for our health. Studies show that engaging with natural beauty helps us feel connected to nature and our own well-being. Take that to the maximum by planning a scenic sunset hike. Choose a short trail that offers the perfect vantage point and arrive a half-hour before sunset. Trust us when we say, nothing on Netflix can compare to those fiery hues and a lustrous moonrise. Soak it up, snap your selfies, and make sure you head back down before it gets too dark.
As much as we cherish summer, the long days and warm nights go by in a flash. The fleeting summer days tempt us to constantly go big… But that often leaves us with an overwhelming social calendar and a tank running on empty! Just as important as the barbecues and baseball games are opportunities that help us lighten up. Whether it's the treat of Baileys Deliciously Light or kicking back with a book in a hammock, we're chasing after those lighter and brighter moments this summer. So pour it up, get outside, and find your bliss.
Baileys Deliciously Delight Pink Pancakes
135 g/4¾ oz self-rising flour
1 tsp baking powder
½ tsp salt
2 tbsp caster sugar
2.7 fl oz milk
1.7 fl oz beetroot juice
1 large egg, slightly beaten
2 tbsp melted butter (allowed to cool slightly) or olive oil, plus extra for cooking to serve
Maple syrup
Butter
150 g raspberries
Whipping Cream Ingredients:
6.7 fl oz whipping cream
3.4 fl oz coconut yogurt
1.7 fl oz Baileys Deliciously Light
1 tbsp icing sugar
Sift the flour, baking powder, salt, and caster sugar into a large bowl.
In a separate bowl or jug, lightly whisk together the milk, beetroot juice, and egg, then whisk in the melted butter.
Pour the milk mixture into the flour mixture and, using a fork, beat until you have a smooth batter. Any lumps will soon disappear with a little mixing.
Let the batter stand for a few minutes.
Heat a nonstick frying pan over a medium heat and add a knob of butter. When it's melted, add a ladle of batter (or two if your frying pan is big enough to cook two pancakes at the same time). It will seem very thick, but this is how it should be.
Wait until the top of the pancake begins to bubble, then turn it over and cook until both sides are golden brown and the pancake has risen to about 1 cm thick.
Repeat until the batter is used up.
Notes: You can keep the pancakes warm in a low oven, but they taste best fresh out of the pan.
Whip 6.7 fl oz whipping cream until it starts to thicken.
Add 3.4 fl oz coconut yogurt,1.7 fl oz Baileys, and sift in1 tbsp icing sugar.
Whisk further till you get a soft consistency that holds its shape.
Dollop onto pancakes and top with raspberries.
https://www.mindbodygreen.com/articles/looking-for-more-summer-bliss-lighten-up-with-these-6-outdoor-ideas