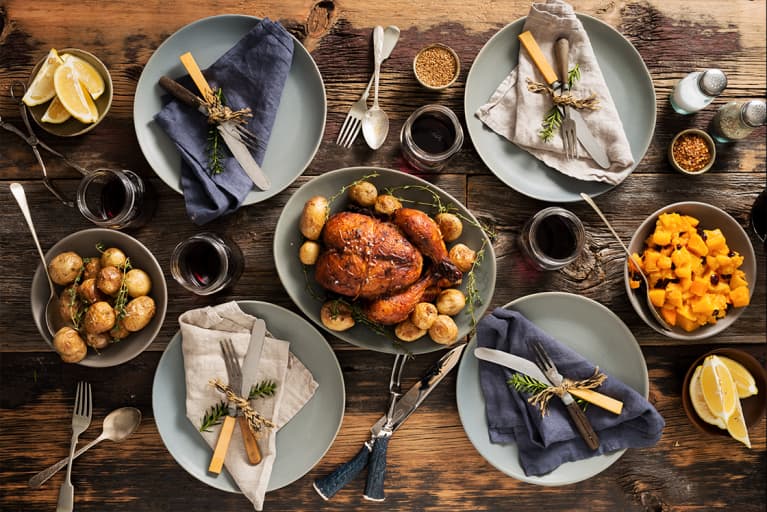 Our editors have independently chosen the products listed on this page. If you purchase something mentioned in this article, we may earn a small commission.
August 7, 2022 — 10:01 AM
If you haven't considered testing your vitamin levels, you may want to jump on the opportunity, if you can. See, some vitamin and nutrient gaps are super common, even for the healthiest eaters among us.
For example, vitamin C is a particularly buzzy nutrient, yet studies show 46% of U.S. adults aren't consuming enough. And as Alexander Michels, Ph.D., clinical research coordinator at the Linus Pauling Institute at Oregon State University, once shared with mbg: "Vitamin C insufficiency is mainly a silent issue. If you're not getting the recommended levels of vitamin C in your diet, it weakens your antioxidant defenses—a problem that presents with no obvious or immediate signs."
So how much vitamin C do you need daily and how do you make sure you're getting enough? I'm so glad you asked.
How much vitamin C do you need daily? 
The conversation around daily vitamin C intake can get a bit nuanced, but here's the straightforward information: According to the National Academies, the daily recommended dietary allowance (RDA) for vitamin C is 90 milligrams for men and 75 milligrams for women. Certain individuals—such as women who are pregnant (85 milligrams) and lactating (120 milligrams) women—require additional vitamin C each day. These are baseline daily minimums for vitamin C intake.
What does this mean in practice? Well, according to the USDA's nutrient analyses of key food sources, a whole orange contains 68 milligrams of vitamin C, a whole kiwi contains 64 milligrams, and a whole grapefruit contains 78.6 milligrams. 
So while you may consume a side dish of fruit or snack on something rich in vitamin C daily, you still might not meet the recommended dietary allowance, especially for those who have higher vitamin C needs.
"As a nation, our vitamin C gap is directly correlated with our low fruit and vegetable intake, so that's a sad correlative that begs improvement, since 88% and 90% of American adults aren't meeting daily fruit and vegetable recommendations, respectively," explains nutrition scientist Ashley Jordan Ferira, Ph.D., RDN.
How to up your vitamin C intake. 
If you want to up your vitamin C intake through diet, you'll need to put in some extra time and attention. As we mentioned earlier, eating one piece fruit a day, even if it is notoriously high in vitamin C (like an orange), may not be enough. Consider adding more vitamin C-rich foods to your diet like guava, red sweet peppers, kiwis, or brussels sprouts. Here are a few more note-worthy foods to consider. 
Still, half of American adults are failing to meet daily baseline needs for vitamin C from fruits and vegetables alone. If you want to take the guesswork out making sure you get enough vitamin C every day, a high-quality vitamin C supplement can be an incredibly useful nutrition tool.
This way, you'll achieve vitamin C sufficiency without tracking every item you eat. mindbodygreen's vitamin C potency+, for example, delivers 1,000 milligrams of vitamin C in a cutting-edge format with superior absorption while also incorporating an array of citrus bioflavonoids.*† 
There's actually much more work that goes into creating high-quality vitamin C supplements than you might think, so check out this story to learn more about what to look for, plus a few of our top recommendations. 
If you haven't checked your vitamin levels recently, you may want to do so to ensure you're not falling short of essential nutrients (since nearly half of U.S. adults aren't getting enough vitamin C). This buzzy nutrient isn't always easy to get through food alone, so a quality vitamin C supplement can be a smart and targeted strategy to ensure you're getting the right amount every single day.
If you are pregnant, breastfeeding, or taking medications, consult with your doctor before starting a supplement routine. It is always optimal to consult with a health care provider when considering what supplements are right for you.
† PureWay-CTM research has demonstrated superior cellular uptake & retention rates, serum response, and bioactivity compared to other forms of vitamin C (e.g., ascorbic acid, calcium ascorbate, Ester-C).
https://www.mindbodygreen.com/articles/how-much-vitamin-c-you-need-daily-how-to-get-it