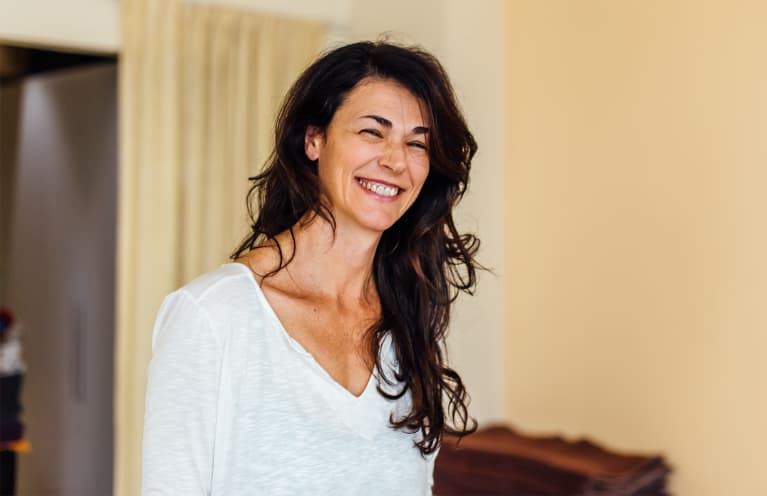 Our editors have independently chosen the products listed on this page. If you purchase something mentioned in this article, we may earn a small commission.
August 20, 2022 — 10:29 AM
Even though I may be nearing my 50th birthday, you wouldn't know it given how active I am day to day. While my lifestyle isn't slowing down anytime soon, my energy levels do need a bit more support in order to fuel my active routine I love so much. 
Personally, focusing on maintaining a healthy gut has made all the difference in how I feel—including my steady, sustained energy. After years of hard work optimizing my gut microbiome, I'm committed to maintaining its balance. Here, my secret weapon. 
Why I started using mbg beauty & gut collagen+. 
Dave Asprey, a world-renowned biohacker, host of health podcast The Human Upgrade, and New York Times bestselling author of The Bulletproof Diet, played a significant role in my health and well-being journey. As a trusted resource, I always appreciate Asprey's recommendations on the best products, practices, and foods for a healthy, balanced gut. 
So when Asprey raved about the mbg beauty & gut collagen+, I knew I had to give it a try. I ordered one bag of the unflavored variety as well as the chocolate option (which is rich and oh-so-tasty). Not only do I take the collagen every day, but I also share it with my husband and even sprinkle it into pumpkin muffins I often make for the whole family. 
While I knew that ingredients like collagen peptides and L-glutamine are A+ for gut support, I didn't realize how much I would appreciate the additional skin-loving ingredients in this blend.* Hyaluronic acid, vitamins C and E, biotin, and turmeric are all star players in the formula, which makes mbg's collagen powder well worth the price (it's a true bang for my buck). 
While I find enough comfort knowing that these research-backed ingredients support my gut and skin health internally, I also experienced some particularly noticeable results that I just have to share—they were certainly a pleasant surprise.* 
For instance, swimming is one of my favorite ways to stay active, but unfortunately, chlorine tends to dry out my skin. This year, however, I've noticed a bump in overall skin hydration, especially post-swim. Thanks to the collagen peptides and hyaluronic acid in the beauty & gut collagen+ formula, my skin is more resilient to the frequent dryness I experienced previously.*
What's more, my gut health has stayed balanced, which means my energy levels are at an all-time high. I feel ready to take on whatever activity comes my way, knowing my gut and energy stay supported from the inside out. 
While I may not feel like I'm approaching my 50th birthday, I know my body is physically aging and can benefit from a little extra support.* After spending so many years optimizing my gut health, I was quick to opt for a trustworthy supplement like beauty & gut collagen+ for gut health maintenance as well as overall skin support—and the results are 100% worth the investment.*
If you are pregnant, breastfeeding, or taking medications, consult with your doctor before starting a supplement routine. It is always optimal to consult with a health care provider when considering what supplements are right for you. 
https://www.mindbodygreen.com/articles/why-i-started-taking-collagen-how-it-supports-my-energy-levels