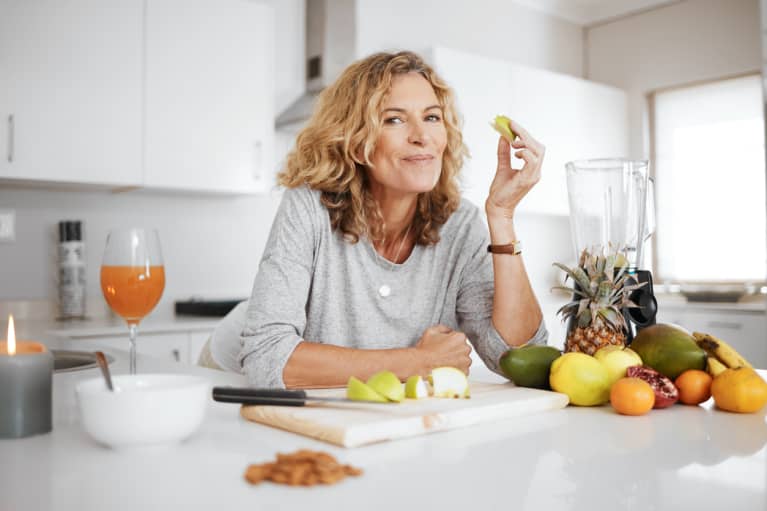 August 25, 2022 — 9:00 AM
We tend to think about our heart and brain health in the context of extending our healthspan, which often leaves one major longevity organ on the back burner: our eyes. 
But since the pandemic brought more and more digital technology (read: screens) into our daily lives, folks are realizing the importance of taking active steps to help protect their eye health and function and bolster vision longevity. 
Luckily, there are incredible eye health experts out there—like board-certified ophthalmologist and fellowship-trained neuro-ophthalmologist Rudrani Banik, M.D.—to help us properly care for our eyes.
Known as "America's Integrative Eye Doctor," Banik knows a thing or two about maintaining optimal eye health—now and down the road.
"Vision is perhaps the most important of the five senses, and our eyes need unique botanical nutrients daily to keep them healthy. This is critical now more than ever in our digital world, with increased demands on our eyes from excess screen time," shares Banik.  
That's exactly why mindbodygreen packed its vision supplement, eye health+, with critical antioxidant ingredients—and why Banik trusts mbg's formula to help folks holistically optimize their eye function and longevity.*
How antioxidants featured in eye health+ promote vision longevity.
"The nutrients found in mbg's eye health+ provide five powerful antioxidants our eyes need to stay healthy,"* explains Banik.
Possibly the most popular of eye-supporting antioxidants are macular carotenoids lutein and zeaxanthin. "Lutein and zeaxanthin act as our natural sunglasses and blue blockers, neutralizing the harmful effects of UV and blue light, and are crucial for macular health and longevity,"* explains Banik. 
An equally important carotenoid (specifically, for overall retinal health), astaxanthin is also featured in mbg's eye health+ formula.* "Often called the 'king of antioxidants,' [astaxanthin] also fights against oxidative stress in the eye, improves ocular blood flow, and protects the retina,"* Banik shares.
Colorful pigments anthocyanins (a type of polyphenol) and crocins (another type of carotenoid) also offer potent antioxidant actions that help enhance lubrication and deliver additional protection for our eyes.*
"The anthocyanins found in maqui berry support healthy tear production to fight dry eye, while saffron's crocins deliver targeted effects that help protect the retina,"* says Banik.
Together, these five botanical extracts specifically protect and nurture your visual performance by increasing ocular antioxidant activity, bolstering eye longevity for years to come.* 
While these key antioxidants can be consumed in your diet in modest amounts, the average American simply doesn't get enough fruits, vegetables, seafood, and spices on a daily basis to deliver the concentrated amounts clinically researched to support eye health and longevity. 
Alternatively, a comprehensive, daily eye health supplement like mbg's eye health+ is a simple and effective way to ensure you get targeted phytonutrient antioxidants your eyes vitally need, in just one daily capsule.*
Not quite sold on mbg's cutting-edge eye supplement formula just yet? Read more about what vision and brain health experts think of eye health+ here.
If you are pregnant, breastfeeding, or taking medications, consult with your doctor before starting a supplement routine. It is always optimal to consult with a health care provider when considering what supplements are right for you.
https://www.mindbodygreen.com/articles/antioxidants-our-eyes-need-to-stay-healthy-from-neuro-ophthalmologist