Our editors have independently chosen the products listed on this page. If you purchase something mentioned in this article, we may earn a small commission.
August 31, 2022 — 11:29 AM
My entire life, I've viewed frozen food as subpar. Even as a child, I loathed dinners where a frozen chicken patty or TV meal replaced my mom's cooking. Full transparency: It was a rare occasion, and my siblings were always thrilled by the switch-up in our family routine.
While I've opened the (freezer) door to a few frozen staples that make it easier to eat a nutrient-packed meal on a budget—like frozen fruits and vegetables—I still adamantly avoid the frozen food section at my local grocery store. You won't catch me munching on a late-night frozen pizza or mac 'n' cheese, as they've always tasted subpar to the items that I could cook myself. 
So when frozen meal delivery service Mosaic offered to send over samples of its vegetarian lineup of smoothies, bakes, pizzas, and more, I was a little hesitant. Yes, the on-site images of the perfectly curated meals looked delicious—but there was no way they actually tasted good, too.
I've never been happier to eat my words (literally). The vegetarian lineup stands out from competitors for tasting good without any additional spices or condiments, and I've never been this excited to eat a frozen meal. Here's everything you need to know about Mosaic Foods.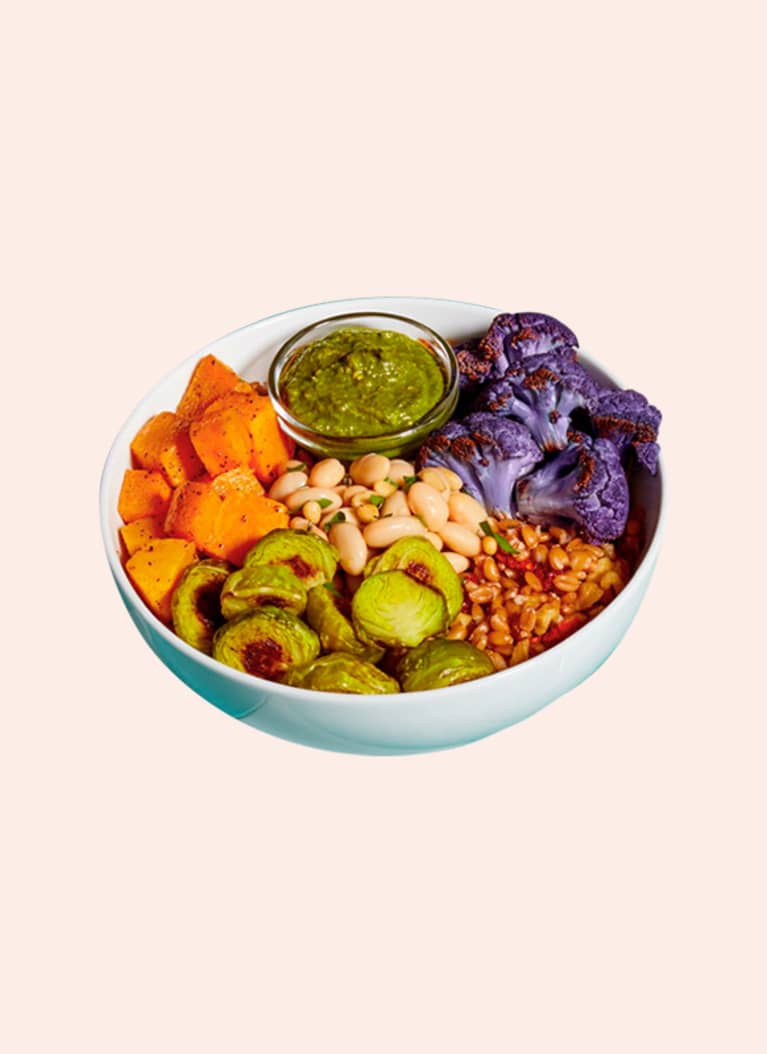 Mosaic Foods was cofounded in 2018 by Matt Davis and Sam McIntire in Brooklyn, New York. The duo wanted to create a convenient way to help people explore a veggie-focused diet without spending a fortune—and the result was a fully frozen and vegetarian lineup of goodies, including frozen oat bowls, soups, and family-style bakes.
While the brand categorizes itself as a vegetarian company, nearly 80% of the recipes are vegan, or made without any animal products including eggs and dairy. Regardless of which category you prefer, you'll find every plant-based recipe is built around maximizing the number of plants on your fork without sacrificing flavor. 
In fact, the culinary director is chef Christine Malanga, a graduate of the International Culinary Center who previously worked on Food Network shows like The Barefoot Contessa and The Pioneer Woman—and it shows. The meals are varied and inspired by a variety of cuisines, from the Spicy Dan Dan Noodles to the Moroccan Vegetable Tagine. 
The plant-based meal delivery service is still relatively new, so it only delivers to about 80% of the United States (with plans to expand!). As a result, the very first step in signing up for Mosaic foods is entering your ZIP code to ensure the brand actually delivers to your area. 
Once your address is confirmed within the delivery zone, you'll select your desired box subscription size of 6, 12, or 18 items. Both the medium and large boxes come with discounts of $10 and $20 respectively, as well as free shipping. You can always change your subscription size at a later date if you find the number of entrées doesn't work for you (whether that means reducing the total number of items or increasing them). 
From there, you'll get access to the full menu, which can be filtered for vegetarian, vegan, high-protein, nut-free, or wheat-free options. If you have dietary restrictions but still want to view the full set of options, you can also use the on-site icons to help determine the recipes that work with your dietary needs (each filter coordinates to an icon).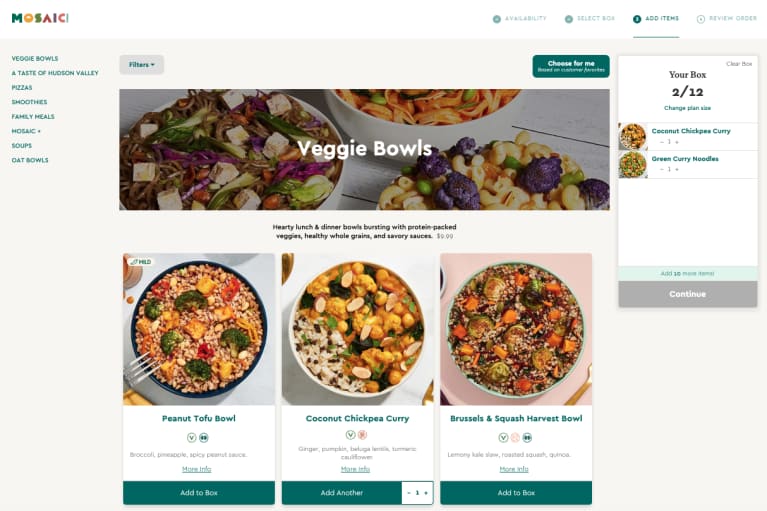 Picky eaters will love that each recipe is accompanied by a photo and a quick breakdown of the star ingredients in the dish. Spicy dishes are also labeled with mild, medium, or hot logos to ensure you don't order something beyond your spice range. 
Once added to the box, you can easily increase the count of an item—an especially handy feature once you find a recipe that you love. FYI, the brand also regularly experiments with seasonal recipes. These limited edition picks are worth a try (and may even be some of the best items that I sampled).
How much does Mosaic cost?
The final price of your subscription varies, as the total heavily depends on the items ordered. Some meals start as low as $5 per serving, like the oat bowls and family-sized bakes for four, but others cost up to $11. (These pricier picks are reserved for the Mosaic+ line, which are created by talented culinary experts like the owner of Balaboosta, chef Einat Admony, and Olmsted chef Greg Baxtrom.) 
As the final price of your subscription is heavily based on the products that you select, be sure to keep an eye on the total if you're sticking to a strict budget. And while the soups and smoothies are delicious, the most bang for your buck comes from the family-style meals and filling veggie bowls (I promise you won't need any sides!).
Mosaic sent over three separate boxes filled with a range of goodies, including a box of bestsellers, a selection of fall-focused favorites, and one dedicated to frozen pizzas. Altogether, I tried at least 14 different recipes—and I was pleasantly surprised by all of them.
The exact products I tested.
Veggie Bowls: coconut chickpea curry and chipotle mango burrito bowl
Smoothies: mango lassi and ginger papaya
Pizzas: spinach artichoke pizza; mushroom lover's; "sausage" & peppers; aloo chaat & mint chutney pizza
Mosaic+: mac & greens
Family meals: Italian "sausage" & pumpkin lasagna; corn, greens & tomato grits casserole
Soup: pozole verde; tomato, rosemary & white bean soup
Oat bowl: peanut butter, banana & cacao oats
Is Mosaic easy to prepare?
The easiest way to prepare Mosaic meals is with a microwave; however, I live in a microwave-free apartment. (It started as a budgeting choice after my roommate moved out, but now I'm obsessed with the extra space.) Luckily, any meals that require reheating can also be cooked on the stovetop. 
I found the frozen contents could easily be dumped into a pot or frying pan with just a little extra water to kick-start the steaming process. Once the meal started to defrost, I would add in a drizzle of my favorite olive oil, Graza, to restore a little bit of crunch. 
Because the summers in New York City are brutal, especially without central air conditioning, I also opted to cook all the family meals and pizzas in my toaster oven instead of my full-sized one. While the condensed baking space sometimes added a bit of premature browning to my ingredients—I ate a few crunchy cauliflower crust pizzas—it was definitely my decision to go rogue from the packaging instructions.
Altogether, I found the reheating process extremely simple, but I know that it would've been even easier with a microwave.
A lot of microwave food is just disappointing. It turns out way too dry, too rubbery, or simply too bland to actually enjoy what you're eating—but not Mosaic.
The meal delivery service has somehow managed to capture the taste and comfort of a homemade meal into a quick and easy option that takes less than 5 minutes to prepare. I'm still in awe of how impressive these meals tasted—and I'm a harsh critic. 
My friends know that I'm always quick to add an extra sprinkle of seasoning to my food to ensure I'm getting the most enjoyment from my meal. Condiments are a common addition to most takeout, and I have no problem adding (or removing) ingredients that just don't make sense in a meal. 
Even with my trusted Daily Harvest orders—which I've always felt defied the traditional concept of bland "frozen food"—I've always had to doctor the flavors to fit my preferred taste profiles. Somehow Mosaic hits the nail on the head every single time. 
I devoured the corn casserole and spent 10 minutes pouring over the ingredient list to see if I could recreate the limited-edition recipe at home. (My final verdict? Unlikely.) The oat bowl tasted better than any recipe I've attempted at home—and I've tried dozens. Even the pizzas were impressive; all feature cauliflower or other veggie-infused crusts yet still tasted indulgent and delectable. 
The only meals I wasn't super into were the Mac + Green, which was likely due to too much water in my stovetop preparation, and the pumpkin lasagna. While neither was bad or even inedible, I just found the other recipes to be even more pleasing. I'm still thinking about the tomato, rosemary & white bean soup that I ate for lunch yesterday.
Is Mosaic really worth it?
Now that I've experienced the luxury of having a few of Mosaic's meals stocked in my freezer, I can't imagine a world without them. The convenience of having a whole foods meal that I'll actually like eating on hand is almost invaluable—especially when I consider the final cost compared to takeout. 
While I received my first couple of boxes for free, I fully intend to start a subscription to ensure I always have a few filling meals on hand. I'll just be sure to focus on items with the most value: family meals and veggie bowls.
Verdict:
As a vegetarian who prides herself on delicious cooking, I've been undeniably impressed by the brand's entire lineup.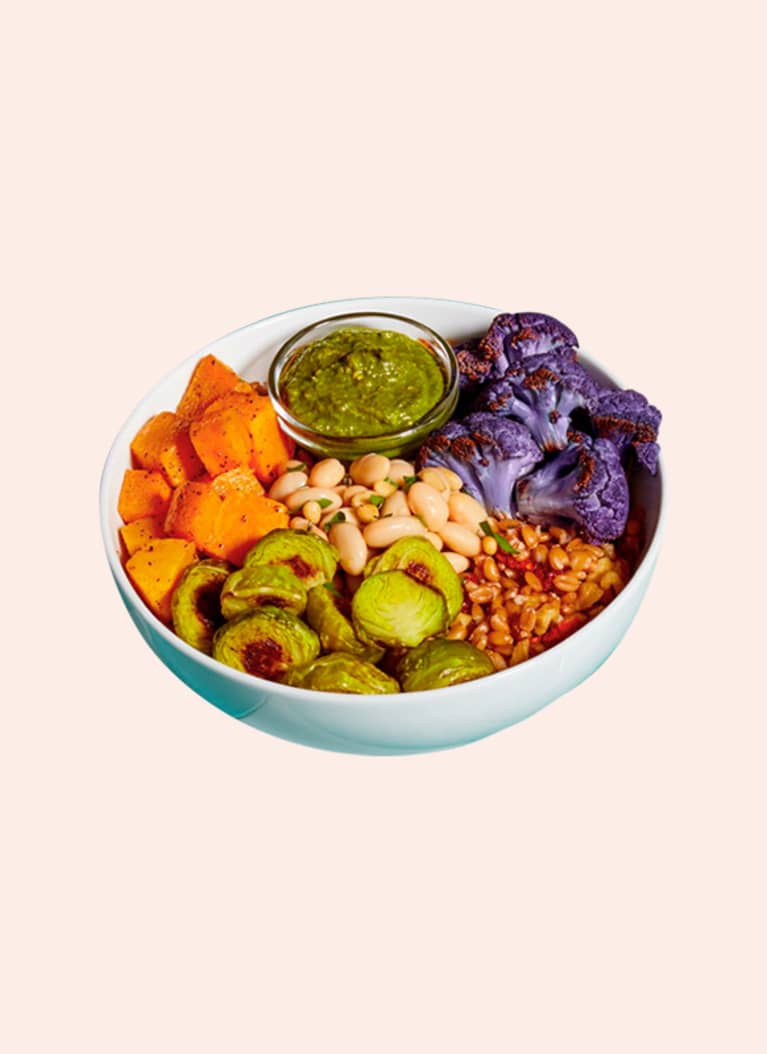 As someone who always associated meal delivery service with food waste, I was actually impressed by the sustainability efforts made by Mosaic; it starts with the food and then expands to the rest of the business.
Sure, frozen food is convenient—anyone can chuck a frozen meal into the microwave or oven—but it's also a more sustainable choice for many people. Frozen food has a longer shelf life than fresh options, so it's less likely to get chucked and turned into food waste. Bonus: This preparation also locks micronutrients into produce.
Commitment to sustainability continues with packing that's either fully curbside recyclable or made with post-consumer recycled fiber. Whether it's the liner that helps keep your items frozen during transit or the thin film layer over your cardboard tray, you can count on all packaging elements to be picked with a smaller carbon footprint in mind. 
Even the swap from ice packs to dry ice is done with sustainability in mind; it's lighter and offers less waste to repurpose or recycle. However, I was most impressed by Mosaic's microwave-ready meals, which replaced traditional plastic trays with completely cardboard ones. Not only did the frozen meals not stick to the trays, but they were super easy to clean out (especially because I opted to reheat on the stove).
My gut reaction to frozen food has always been negative, but I can officially say that Mosaic has changed my point of view by offering whole foods, delicious frozen foods that tasted like I could've made them (and I mean that as a compliment). As a vegetarian who prides herself on impressing even the meat eaters in her life with delicious food, I feel confident that even carnivores would be impressed by these recipes—and the price.
https://www.mindbodygreen.com/articles/mosaic-foods-review