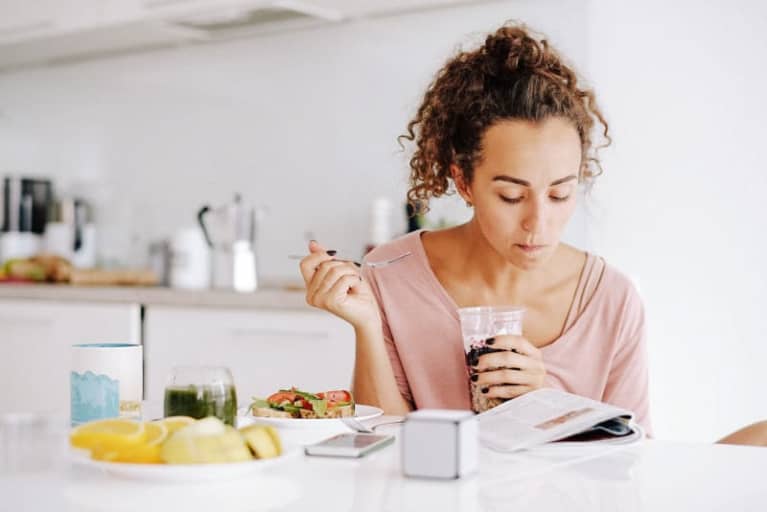 Our editors have independently chosen the products listed on this page. If you purchase something mentioned in this article, we may earn a small commission.
September 1, 2022 — 9:29 AM
When you're creating the healthiest, most nourishing diet possible, it's unlikely that you would knowingly choose to eat foods that are actually zapping you of energy rather than providing you with more. After all, the whole point of eating (other than enjoying delicious meals) is to use food as fuel—so what happens if your diet is having the opposite effect?
We know that there are ingredients that naturally provide your body with a boost of energy, helping you to feel awake and alert throughout your day. Therefore, it stands to reason that there are also foods that zap you of your spark and leave you feeling lethargic and exhausted. In order to hack your diet to work for you, it's important to know where to start, and these are the foods (and drinks) that may be making you more tired so you can change your eating habits for the better—or focus these ingredients toward the evening.
3 foods that are making you more tired:
Now, we're not here to demonize carbs. In fact, carbs are an essential energy source for the body. That being said, higher-carb meals trigger a rise in insulin, which in turn can result in a blood sugar crash and subsequent dip in energy. "When these insulin levels peak after eating, this can lead to a crash in our blood sugars—leading, understandably, to that all-too-familiar post-lunch slump—a foggy brain and tired body," Uma Naidoo, M.D., nutritional psychiatrist, professional chef, nutrition specialist, and author, previously told mbg.
One simple solution is to pair your carbs with a healthy fat and protein source to keep your energy levels consistent and avoid a sudden crash after a big meal.
Almonds are undeniably good for you: They contain plenty of healthy fats, dietary fiber, and magnesium, but if you're eating them as a midday snack, you may notice yourself feeling a little sleepy afterward. "These nuts are high in vitamin B6 and tryptophan, which support the neurotransmitter serotonin," Tiffany Lester, M.D., creator of The Unconscious Workout previously told mbg. This makes for a great bedtime snack but perhaps not so great for pushing through the workday. 
Especially if you follow a plant-based diet, you may be regularly using chickpeas to throw into salads, roast with an array of delicious seasonings, or whip up into a hummus. But did you know that chickpeas also contain tryptophan, as well as vitamin B6 and magnesium—three nutrients that help support a good night of sleep? 
"The other important role of this B vitamin? It helps make the sleep-promoting hormone melatonin. Including foods with vitamin B6 throughout the day provides your body with the right tools it needs to sleep well at night! A 1-cup serving of chickpeas provides 1.1 milligrams of vitamin B6," registered dietitian and nutritionist Karman Meyer, R.D., LDN, previously wrote for mbg.
Now, that's not to say you should stop eating chickpeas but rather, if you need help getting sleep at night this plant-based protein is a great ingredient to assist you.
It's not necessarily a bad thing that certain foods make you tired. In fact, you can easily flip this around and tailor your evening meals and snacks to help you more effectively drift off to sleep. But if you're having a difficult time making it through the day without becoming exhausted, it may be worth taking a peek at your diet to make sure the foods you're regularly eating aren't to blame for your constant urge to nap. This is just a good reminder that the staples in your daily meal plan can truly have a significant impact on your body.
https://www.mindbodygreen.com/articles/foods-making-you-more-tired