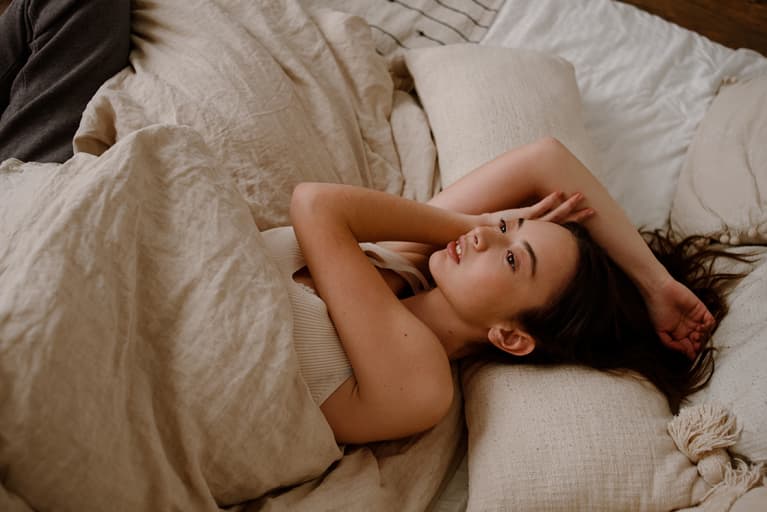 September 2, 2022 — 11:31 AM
The connection between vitamin D & sleep.
According to a 2020 scientific review from Current Pharmaceutical Design, vitamin D receptors are found in multiple areas of the brain that regulate sleep, suggesting the essential vitamin has an important role in sleep health. Vitamin D has also been found to have a direct impact on melatonin production pathways and an indirect impact on health issues that affect sleep quality.*
When it comes to vitamin D intake, it appears getting enough of the "sunshine vitamin" correlates with getting adequate sleep as well: A 2019 Nutrients cross-sectional analysis reveals that U.S. adult "short-sleepers" (i.e., individuals that get less than seven hours of sleep each night) have an average daily intake of approximately 178 IU of vitamin D. 
For the record, that's 1,822 IU below the amount of vitamin D an adult would need to avoid gross deficiency (i.e., 2,000 IU to avoid a failing vitamin D level of less than 20 ng/ml), and a whopping 4,822 IU less than the necessary daily dosage (5,000 IU) to achieve truly optimal vitamin D levels (50 ng/ml)!
Taking into account the minimum dosage (3,000 IU) required to achieve minimum clinical cutoff for sufficiency (30 ng/ml), this correlation doesn't seem coincidental.
So, how can we ensure we're getting enough vitamin D and sufficient sleep? Answer: A daily vitamin D supplement.* 
How vitamin D supplementation can help improve sleep quality.
Though it's nicknamed the sunshine vitamin, the truth is that getting enough vitamin D from the sun alone isn't just difficult—it's near impossible (and risky). Unfortunately, diet also fails us in this regard (unless you enjoy drinking 50 glasses of milk a day, which has its own nutritional concerns).
The truth is this: Daily vitamin D supplementation is your best chance of achieving healthy vitamin D levels and reaping the vitamin's many health benefits (which include supporting your sleep health!).* 
In fact, a recent Nutrients meta-analysis found a clear link between sufficient vitamin D levels and high-quality rest. What's more, the research revealed that individuals that took a vitamin D supplement had better scores on the Pittsburgh Sleep Quality Index (a robust, validated one-month assessment of sleep quality), showing how beneficial supplementation can be for the quality of your slumber.* 
There's no denying that vitamin D plays an important role in sleep health.
Considering diet and sunshine alone aren't quite enough to move the needle on vitamin D status, an effective vitamin D supplement is the best way to ensure sufficiency and support a good night's rest.* 
That said, not all D supplements are created equal—be sure to find a premium daily supplement that delivers 5,000 IU of D3 from a clean source. (Hint: mbg's vitamin D3 potency+ covers all these bases and features built-in absorption technology via a trio of organic olive, avocado, and flaxseed oils for enhanced bioavailability!)*
If you are pregnant, breastfeeding, or taking medications, consult with your doctor before starting a supplement routine. It is always optimal to consult with a health care provider when considering what supplements are right for you.
https://www.mindbodygreen.com/articles/if-you-struggle-to-get-enough-sleep-you-may-be-lacking-this-essential-vitamin