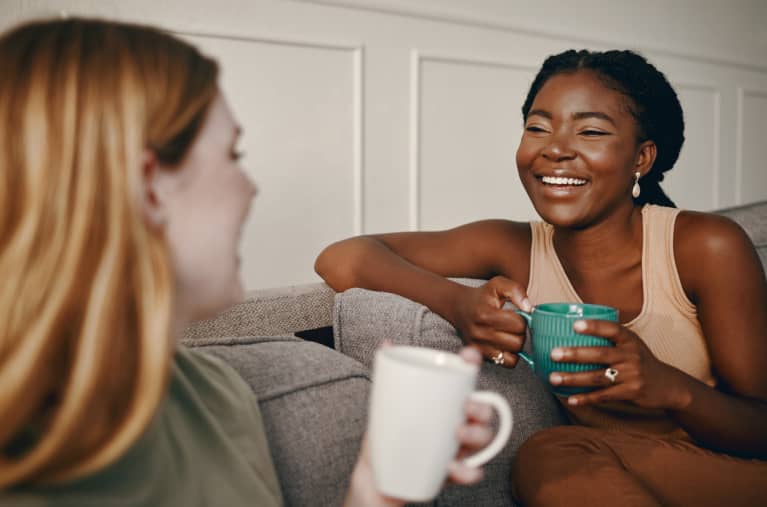 September 4, 2022 — 9:05 AM
The smell, the taste, the energizing effects—coffee is simply the best. The dreaded afternoon crash that often accompanies it? Not nearly as wonderful.
But what if we told you that you can have all the energizing benefits of caffeine that coffee is renowned for, without a midday slump? 
Nope, it's not too good to be true—with the intentional design of mbg's focus+, you can get all-day energy from plant-origin caffeine in just one daily capsule.* 
The science of a caffeine crash.
Instant-release caffeine, no matter where it's coming from (coffee, green tea, cacao, yerba mate, etc.), has almost 100% bioavailability when consumed orally, meaning it absorbs into the bloodstream very quickly.
You can expect to feel the energizing effects of instant caffeine for a few hours (approximately three to five—more if you're a slow caffeine metabolizer), and may experience a plummet in energy levels come the afternoon. 
This phenomenon is known as a caffeine crash (aka coffee crash and midday slump), and side effects range from feeling drowsy and struggling to concentrate to gastrointestinal issues, mood changes, and sensitivity to light or sound. 
Sounds pretty dreadful, huh? (This is where focus+ comes in.)
Getting caffeine's energizing benefits without coffee (or a midday crash).
When mindbodygreen created focus+, we knew a caffeine crash was simply not an option. 
The thing is, caffeine is an ancient and powerhouse phytonutrient with a lot of wonderful health benefits—it can increase our attention levels, bolster neurotransmitter production, and even deliver neuroprotective actions.*
Thankfully, we found an innovative, clinically-researched form of plant-sourced caffeine that delivers an extended release profile of the caffeine phytonutrient that prolongs focus benefits and promotes all-day energy (both physically and cognitively), all while buffering against the dreaded crash.*
You see, focus+ features 100 milligrams of this sustained-release caffeine (from green coffee beans) plus 50 milligrams of instant-release caffeine (from whole coffee fruit extract), so you get all the energy you would expect from a cup of coffee—right away and throughout the day.* 
The result? Truly sustained energy levels that extend well past the afternoon (goodbye, midday slump!) and carry you through your evening activities. 
If you're looking to increase your energy levels and avoid an afternoon crash, mbg's focus+ delivers instant- and sustained-release caffeine to carry you through your day-to-day tasks.*
With additional ingredients L-theanine (for a mood lift and support multitasking), Panax ginseng (for stress resilience and efficiency), guarana (for elevated endurance and task performance), and vitamin B12 (for neurotransmitter production and cellular energy), focus+ is a truly stacked nootropic supplement for supporting cognitive performance and energy balance.* Did we mention that all of these science-backed ingredients come in just one easy capsule?
(No wonder neuroscientists and dietitians are raving about this formula!)
If you are pregnant, breastfeeding, or taking medications, consult with your doctor before starting a supplement routine. It is always optimal to consult with a health care provider when considering what supplements are right for you.
https://www.mindbodygreen.com/articles/how-to-take-advantage-of-caffeines-energizing-benefits-without-crashing