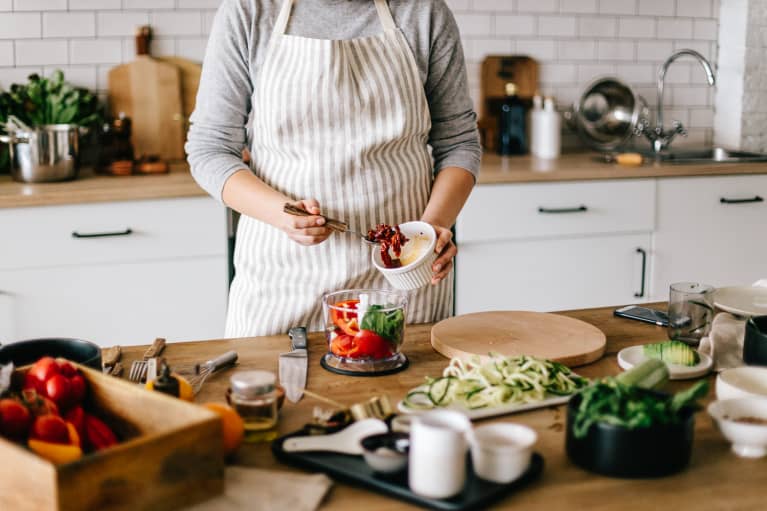 September 17, 2022 — 0:02 AM
Antioxidants are known for their many health-supporting benefits, and lucky for us, there are a lot of ways to get more of them. One of our favorite antioxidant-supporting ingredients is none other than turmeric, which comes with a host of other nutritional perks, too.
Turmeric and its main active ingredient, curcuminoids (curcumin being the famous one), also help fight cellular oxidative stress and nurture a healthy inflammatory response—which is good news for your brain function, joint comfort, heart health, and more.* Ready to start working more turmeric into your daily routine? Here are five easy ways to do so, from health and nutrition experts:
1.
Incorporate it into your breakfast.
They say breakfast is the most important meal of the day, so why not add some turmeric to the mix? Registered dietitian Maya Feller, M.S., R.D., CDN, tells mbg that she likes to make her morning eggs with black pepper, turmeric, aleppo pepper, and paprika.
Board-certified psychiatrist and professional chef Uma Naidoo, M.D., also recommends using turmeric in your morning smoothie or sipping on turmeric tea to start the day.
2.
Take a turmeric supplement.
We're all for adding turmeric to your diet the old-fashioned way, but taking a daily turmeric supplement is an easy and efficient way to ensure you're getting the most out of turmeric's many health benefits. You'll want to make sure that yours features a bioavailable form of turmeric so you can absorb as many of its valuable curcuminoids as possible.
mindbodygreen's turmeric potency+ provides full-spectrum turmeric root extract and uses polar-nonpolar-sandwich (PNS) technology to enhance its bioavailability tenfold.* The supplement is fortified with full-spectrum ginger root and black pepper fruit for a powerhouse antioxidant trio that promotes joint health and muscle fitness, as well as supports a healthy inflammatory response—all in two (vegan!) capsules that can be consumed any time of day.*
3.
Make a golden milk latte.
Another favorite of Naidoo's, golden milk lattes have been sipped on for centuries, with roots in Ayurveda. This warm and soothing drink is perfect for unwinding before bed or whenever you want a little extra comfort.
To make it, simply combine 1 cup of your milk of choice, a teaspoon of turmeric powder, and a pinch of black pepper in a saucepan and warm it up on the stove. (Don't boil!) Feel free to add a bit of cinnamon, cardamom, honey, and/or coconut oil if you like, and enjoy.
4.
Use it to season your favorite dishes.
Turmeric is as beneficial as it is versatile and can be incorporated into so many different dishes. Feller tells mbg she likes to use it to add color to rice, curries, and savory porridge, or as a dry rub on chicken, fish, or meat. Naidoo notes that she loves adding turmeric to roasted cauliflower steaks, among other veggies. She also recommends including some in your go-to spice blend, to encourage you to use it more.
5.
Add it to sauces and dressings.
Last but not least, adding turmeric to your favorite sauces and dressings is another simple way to use it in a lot of different meals. Registered dietitian Jessica Cording, M.S., R.D., CDN, previously shared her turmeric salad dressing with mbg, which is an easy combo of miso paste, tahini, apple cider vinegar, and turmeric. Whip some up and pour it over your next salad, grain bowl, or batch of roasted vegetables.
Turmeric is a powerful root with a lot to offer, and most of us would do well to get more of it in our day-to-day lives. And with so many easy ways to use it, it's never been easier (or more delicious) to enjoy all of turmeric's benefits.
If you are pregnant, breastfeeding, or taking medications, consult with your doctor before starting a supplement routine. It is always optimal to consult with a health care provider when considering what supplements are right for you.
https://www.mindbodygreen.com/articles/ways-to-eat-turmeric-daily