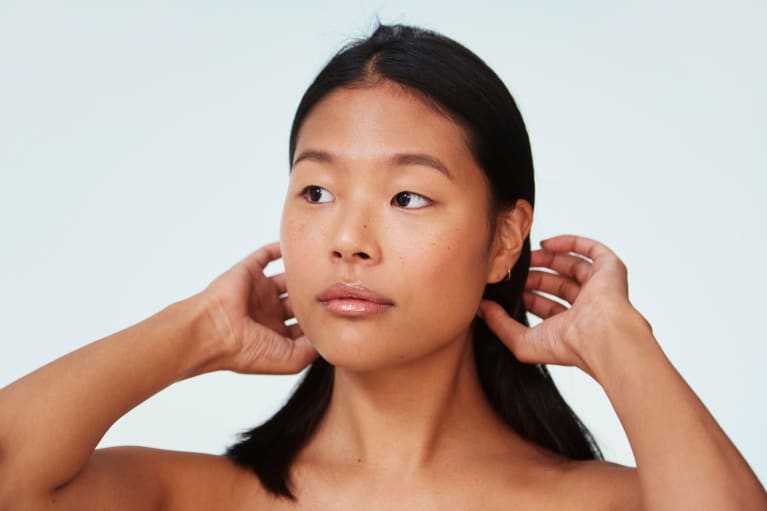 Our editors have independently chosen the products listed on this page. If you purchase something mentioned in this article, we may earn a small commission.
September 22, 2022 — 11:29 AM
There's nothing like slipping into a hot bath at the end of a long day and feeling your stress and tension wash into the water. Of course, we don't always have the luxury of taking such a soak. You might find yourself low on time, without a tub, or—if you've lived in old NYC apartments as long as I have—scared to set foot in your bathroom for longer than you absolutely need to.
For those days when you're high on stress but low on bubbles, calm+ is one thing that can help. A combination of USDA- and EU-certified organic hemp oil, ashwagandha, and lavender oil, it's a convenient supplement that eases anxiousness and promotes calm.* 
For a quick peek into how each of these ingredients works to quickly squash stress, let's start with ashwagandha: an adaptogen that has a long history of being used to decrease cortisol levels and activate steadying GABA receptors in the brain.* Then you have lavender: a plant with a luxurious scent and an ability to balance the central nervous system to boot.* Finally, nonpsychoactive organic hemp oil boosts the body's resilience against the stressors of everyday life.*
Basically, it bottles up the relaxed, chill sensation you have when you walk out of the tub, and people are loving how it makes them feel. Here's what wellness experts and everyday people alike have to say about their experience with calm+:
1.
Since calm+, I'm much less stressed and able to handle chaos with two kids better.
"I highly recommend calm+ to anyone who needs to manage stress and target stress biomarkers like cortisol."*
—Bindiya Gandhi, M.D., Family-Medicine-Certified Physician
"I really enjoy this product. It has been a good tool to help bring ease and live a less stressful life."*
—Sarah P.
3.
Plant-based ingredients to take me out of "fight or flight" and into calm.
"This product has a unique profile of botanicals and phytocannabinoids that can systematically improve your response to stress and offer relief. I'm excited to continue to use calm+ as part of my daily routine!"*
—Laura Lea, Certified Holistic Chef & Cookbook Author
4.
Great for improving response to daily stressors.
"This formula is phenomenal for improving one's response to the daily stressors of life that are ubiquitous in today's world."*
—Mark W.
"I have taken many supplements and this is one that I actually see a difference. I can be wired tight so I was looking for a little zen calmness in my life. I feel more relaxed and my day just seems to run smoother when I don't sweat the small stuff."*
—Paula M.
Looking for a fresh-from-the-bath feeling but low on time or tub space? mindbodygreen's calm+ packs it into a supplement that's easy to take anytime, anywhere. Learn more about the product here.
If you are pregnant, breastfeeding, or taking medications, consult with your doctor before starting a supplement routine. It is always optimal to consult with a health care provider when considering what supplements are right for you.
https://www.mindbodygreen.com/articles/calm-for-stress-relief-bath