mbg Sustainability + Health Director
mbg Sustainability + Health Director
Emma Loewe is the Senior Sustainability Editor at mindbodygreen and the author of "Return to Nature: The New Science of How Natural Landscapes Restore Us."

Medical review by
Scott Nass, M.D., MPA, FAAFP, AAHIVS
Board-certified Family Physician
Scott Nass, M.D., MPA, FAAFP, AAHIVS is a family physician and HIV specialist in California. He takes a holistic approach to healthcare, incorporating principles of functional medicine and using food as medicine when working with patients.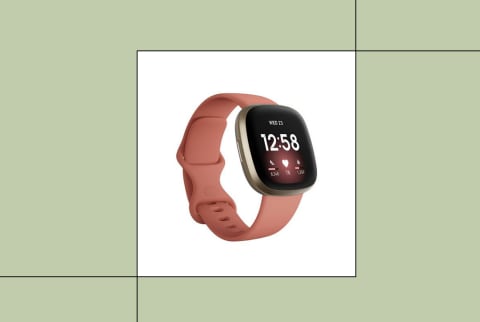 September 30, 2022
Our editors have independently chosen the products listed on this page. If you purchase something mentioned in this article, we may
Health experts agree: The best measurement of how you sleep is how you feel when you wake up. But if you crave more granular data on your snooze, sleep trackers can be helpful for some people. Equipped with sensors that measure variables like heart rate and movement, they estimate the amount of time you spend asleep and in various sleep stages, giving you a more complete picture of your rest and how it changes over time.
While not 100% accurate, sleep tech is becoming more advanced by the day, and there are a bunch of exciting new products available for the data-curious. To help you discern which ones are worth your time and money—and which ones are total snoozers—we consulted two board-certified sleep medicine specialists: Michael Breus, Ph.D., and Nishi Bhopal, M.D.
They helped us find the top trackers on the market and explained how to use them to achieve your best rest.
How we picked.
Throughout the night, sleep trackers collect data on things like heart rate, heart rate variability, motion, and temperature to estimate when you were awake, when you were asleep, and what happened in between. Some do this more accurately than others, so we sifted through the research to highlight the devices that will give you a reading you can trust. 
Nothing defeats the purpose of a sleep tracker like a clunky one that gets in the way of your snooze! The options on our list are sleek and lightweight for a barely there feel. They also have lengthy battery lives so you don't always have to worry about charging them before bed.
Beyond standard factors like heart rate and respiratory rate, some next-gen trackers have bonus metrics like blood oxygen levels to give you a more complete picture of your sleep and wakefulness habits. While not completely necessary, these may be beneficial to you depending on your personal health goals.
Clear & actionable readings
Most of us won't know how to interpret a ton of raw sleep data, so we're highlighting trackers that do the analytical work for you. They summarize your results into sleep readings that are easy to understand and even provide helpful tips and tweaks based on where your snooze could use some assistance.
mbg's picks for the best sleep trackers of 2022
Pros:
Accurate & lab-tested readings
Daily scores for sleep, readiness, and more
Access to personalized insights & educational content
Sleek & unobtrusive design
Cons:
Expensive & has monthly fees for app access
Ring sizing kit is wasteful
Ring design isn't for everyone
What it measures: Heart rate, Heart rate variability, Respiratory rate, Blood oxygen levels, Skin temperature, Body temperature
What it tells you: Readiness score, Period prediction, Total time asleep, Time in different sleep stages, Activity tracking, Sleep score
Battery life: 7 days
The Oura Ring Gen3 lives up to its motto "A sleep lab wrapped around your finger" to earn the best overall spot on our list.
Let's start with the tracker's design: A sleek ring that's hardly bigger than a wedding band but packed with ultra-sensitive sensors to measure body temperature, pulse, and movement throughout the night. It then estimates how much time you spend in deeper sleep stages like REM to assign you a sleep score on a scale of 100. And it does so pretty accurately. When pitted against a polysomnography (PSG) test, the gold standard for sleep testing in a lab, the latest Oura Ring had accuracy levels up to 92.6% in measuring key sleep metrics. Both Breus and Bhopal trust the discreet ring with their sleep tracking. "I don't like wearing a watch and find it much more comfortable to wear a ring during sleep, and it's also one of the more accurate devices at measuring total sleep time and sleep efficiency," Bhopal tells mbg.
Oura rings are designed to be worn all day long, not just during sleep. They also track your temperature and movement patterns during the day to gauge how your body is performing and how much energy you have to give (which it then shows you in a daily Readiness score). The Gen3 version even uses this data to estimate when you might be getting sick and when women can expect to get their period.
These readings can be accessed in real time on the Oura app. There, you can see your sleep and readiness scores, how they've changed over time, and personalized tips on how you can optimize them moving forward. Oura is also building out a library of educational content on how to interpret the signals your body is sending you while you're awake and asleep.
When you order your first ring, Oura will send you a free sizing kit that includes a few throwaway tester rings. Once you've found your size, your ring will arrive with a charging station (it has an impressive seven days of battery life) and access to the Oura app. It's free for the first six months; then you have to pay $5.99/month. At $299 plus these monthly fees, the Oura is an investment, but for such a small and convenient tracker, it offers unparalleled sleep and health data.
Pros:
Built-in GPS for tracking exercise
Access to texts and calls, voice features & music
Ability to customize your band style
Access to Calm meditations
Cons:
Expensive and need to buy premium membership ($9.99) for access to detailed sleep score
Watch design isn't for everyone
Slightly less accurate & detailed sleep readings than Oura
What it measures: Heart rate, Heart rate variability, Respiratory rate, Blood oxygen levels, Skin temperature
What it tells you: Readiness score, Total time asleep, Time in different sleep stages, Activity tracking, Sleep score
Battery life: 6 days
If you can get used to wearing a watch to bed, the Fitbit Versa 4 is your best option for sleep tracking. It measures most of the same metrics as the Oura ring—heart rate, heart rate variability, respiratory rate, blood oxygen levels—to give you an idea of how much time you spent asleep each night. It's also been shown to give very accurate readings on time awake vs. time asleep in research trials. "If you are looking for accuracy data, Fitbit and Oura have the best reliability of data for falling asleep, waking up, and total sleep time, per the literature," Breus tells mbg.
If you shell out an extra $9.99 for a Premium membership, your Fitbit will also give you an estimate of how much time you spent in various sleep stages and a report on noise levels. Plus, you'll get access to Calm's library of sleep meditations to help you wind down. Another nice feature is you can program your watch to act as your morning alarm so you can minimize other devices in your bedroom.
But the real selling point of the Versa 4 is its activity features. A built-in GPS will follow you on your workouts, and heart rate tracking will give you a report on the intensity of your training. You can also play music, make calls, and use Alexa voice assistant from your water-resistant watch, making this a top pick for those who want to work out without their phone on hand. All that moving around during the day will improve your sleep at night!
Pros:
Affordable
Long battery life
More comfortable to sleep in than bulkier watch
Cons:
Missing some of the activity features of the Versa 4 (GPS, voice assistant)
Need to buy premium membership ($9.99) for access to detailed sleep score
What it measures: Heart rate, Heart rate variability, Respiratory rate, Blood oxygen levels, Skin temperature
What it tells you: Readiness score, Total time asleep, Time in different sleep stages, Activity tracking, Sleep score
Battery life: 10 days
The Inspire 3 is sleeker than the Versa 4, and less bulky to sleep with. It's missing some of the bells and whistles like a built-in GPS and Alexa, but it will tell you the basics of how much time you spend asleep each night. And with a Premium membership, it will estimate how long in light, deep, and REM sleep too. If you're just looking to keep an eye on your sleep and are less concerned with exercise tracking, this is a great entry point option for you. It also features an impressive 10-day battery life so you don't have to worry about charging it before bed each night.
Pros:
Tracks your sleep without a wearable
Improved sleep quality in lab testing
Built-in alarm & temperature control
Allows bed partners to customize their own settings
What it measures: Heart rate, Heart rate variability, Respiratory rate, Body temperature
What it tells you: Total time asleep, Time in different sleep stages, Sleep score
Battery life: N/A
So, Eight Sleep is a lot more than an app. The high-tech cover will heat and cool your mattress to your optimal temperature through the night and automatically adjust based on your needs. It will also wake you up in the morning with a gentle vibration, and it comes with two-side controls so those with bed partners can customize their settings. But it's on this list for its sleep tracking capabilities: Through the night, it collects data on your heart rate, HRV, and respiratory rate, and delivers a sleep fitness score on a scale of 0 to 100 to your phone each morning. The accompanying app also monitors your sleep scores over time and pings you with suggestions on how to improve your score.
According to in-house testing from the company, people report 32% better sleep quality (based on daytime energy scores, sleep interruptions, and sleep onset) when sleeping on a Pod mattress. However, the company is lacking the sleep metrics accuracy testing of Fitbit and Oura.
Of course, there are cheaper ways to track your sleep, but if the prospect of personalizing your temperature and separating your sleep settings from your partner appeals to you and you have the money, it's worth a shot. Reviewers do note that setup is a bit arduous, and the pod cover is heavy and cumbersome. But once you get it on your bed, you're all set to track your sleep wearable-free.
Pros:
Affordable (though you do have to pay for membership after 1 year)
Comes with extensive library of health resources
More comfortable to sleep in than bulkier watch
Cons:
Sleep scores are not as accurate
Less ability to monitor sleep over time
What it measures: Heart rate, Blood oxygen levels, Skin temperature
What it tells you: Total time asleep, Time in different sleep stages, Activity tracking
Battery life: 7 days
For the most affordable tracker on the list, Amazon Halo View offers an impressive amount of features. Beyond sleep tracking, the band also comes with access to an extensive library of resources like feedback on how to improve mobility, food tracking capabilities, body fat measurement, and even analytics on the tone of your voice. It's a great companion for anyone embarking on a healthier life overall, sleep included. It also lets you track workouts, play music, and use Alexa—all from a very simple and intuitive watch display. All of these features are free for one year, then available on a $3.99/month subscription.
With that said, its sleep tracking capabilities are pretty basic. The Halo View won't show you how your sleep score changes over time or offer personalized sleep tips. Reviewers note that its sleep readings can also be hit or miss, and it doesn't have the same accuracy as the more expensive models on the list. But if you're looking to dip your toes into the world of sleep tracking (while enjoying lots of other health perks), it's a solid starter option.
How to choose.
Struggling to choose from this list of five top picks? Here's how Breus and Bhopal recommend whittling down your search:
1.
Think about what you want to track.
All of these trackers will tell you how much time you spend asleep each night and how long you stayed in various sleep stages. Together, these metrics will give you a good idea of your overall sleep quality. But beyond that, some will also monitor your daily activity, tell you to slow down when your body gets stressed, and even predict your next period.
You'll want to consider if any of these bonus metrics are important to you or if you're really just looking for something to wear to bed.
Some people can't stand to sleep wearing a wristwatch, so consider your comfort level with various wearables before investing. Most of the options on this list are sleek enough that they shouldn't cause too much of a problem, though you may need a few nights to adjust to them.
3.
Take the results with a grain of salt.
While at-home sleep trackers are getting more accurate by the day, both Bhopal and Breus note that they really can't compare to lab testing. For this reason, they shouldn't be used to diagnose a sleep disorder. Research has found that they're even less accurate when it comes to measuring sleep in people who have insomnia, Bhopal notes, because people with insomnia tend to stay still when they're trying to fall asleep.
So whatever option you go with, don't expect it to be perfect. Again, the most accurate gauge of sleep is how you feel in the morning.
How to use your tracker, according to sleep specialists.
Once your snazzy new tracker is out of the box, here's how Breus and Bhopal recommend using it to actually improve your sleep over time:
Pay attention to the basics: "I tell my patients to look at a few metrics like their sleep schedule, the amount of sleep they're getting, and their sleep efficiency, or the percentage of time they're asleep when in bed," Bhopal says. These readings tend to be more accurate than time in REM sleep or deep sleep. While basic, your bedtime and wake time are actually super important to pay attention to, as Breus notes that keeping a regular sleep schedule is the best way to improve your sleep.
Look at trends over time: "It's more important to track trends over time rather than single nights," notes Bhopal. "Don't get fixated on trying to get 'perfect' sleep because that doesn't exist. Rather, use the data to guide you in optimizing your sleep habits." Breus agrees that trends in data tend to be the most useful, as they allow you to home in on how different behaviors (like eating dinner at different times or drinking alcohol) affect your sleep from night to night.
Don't stress over a low score: "Don't focus on a score or a particular number of minutes of a stage—that stuff simply does not matter and might stress you out," says Breus. Instead, look at a low score in the context of your sleep over time, consider what could have caused it, and move forward accordingly. If it had to do with the fact that you doomscrolled on your phone until the wee hours of the morning, that's valuable information to work with.
Who shouldn't use sleep trackers?
Bhopal notes that she's seen some patients get so fixated on achieving a high sleep score that it caused them "sleep-related anxiety and an unhealthy preoccupation with sleep quality, which can actually have a negative impact on sleep." If you're someone who tends to beat yourself up over a poor night of sleep, you might want to avoid them. People who have sleep-related stress already—like those with insomnia—might also find that they do more harm than good.
FAQs
How do smartwatches know you're asleep?

Sleep trackers like watches and rings have built-in sensors that monitor things like your heart rate and temperature. They then use these metrics to estimate whether you're asleep or awake, based on what we know about how heart rate and temperature change when we're asleep.
Which health tracker is best for sleep?

It's partially a matter of personal preference, but Oura and Fitbit trackers have proved to be accurate in lab testing.
Can sleep trackers detect sleep apnea?

"Sleep is a very complicated process, and it's almost impossible to say that we can capture all of the complexity of sleep with a ring or a wristband because in the lab we need 27 electrodes, belts, cameras, etc., just to figure out sleep disorders," says Breus. For this reason, sleep trackers should not be used to diagnose sleep disorders. If you suspect you have sleep apnea, you'll want to consult your doctor for further testing.
The takeaway.
Sleep trackers offer detailed insights into your sleep behaviors, and when used correctly they can help you optimize your daily routine for rest. Some are more accurate and user-friendly than others, and the five options on this list are the best on the market right now. Sleep specialists recommend using them to monitor sleep patterns over time and not getting too hung up on one reading. From there, you can apply the data to come up with your dream sleep routine.