For years, dark chocolate has been the sweetheart of the wellness world. And while there's nothing that can shake our love for the fruity notes of dark chocolate sprinkled with flakes of sea salt, we'd be lying if we said the melt-in-your-mouth magic of milk chocolate didn't satisfy a certain craving. Not to mention, it's as nostalgic as it is delicious. How many of our favorite childhood treats were all about the milk chocolate? 
The thing is…a lot of the quintessential milk chocolate treats are full of less-than-ideal ingredients. Unwrap your average chocolate bar and you've got a handful of genetically modified ingredients—like corn syrup, soy lecithin, and even genetically modified cacao itself. Some are even reputed to contain chemicals like butyric acid, plus unnecessary additives and emulsifiers. It's no wonder we tabled some of our favorite milk chocolate goodies so long ago.
Milk chocolate done the right way.
Milk chocolate has acquired a bad rap over the years. We've been more or less programmed to consider milk chocolate "unhealthy," while its dark counterpart has gained superfood status. But the thing is, both milk and dark chocolate are made with very similar ingredients: cocoa, cocoa butter, and sugar. Obviously, milk chocolate contains milk as a fourth ingredient (and typically much less cocoa). Looking at how simple milk chocolate really should be—there are plenty of reasons to bring back this staple sweet. But it has to be done right, and who could we trust more than Hu?
Hu (as in human), a lifestyle chocolate and snacking brand, believes that everyone deserves delicious yet simple chocolate… So they did the hard work to make their own. And the fruits of their labor? Their new Organic Grass-Fed Milk Chocolate, which comes in five mouthwatering flavors: Simple, Hazelnut Butter + Hazelnut Crunch, Cashew Butter, Almond Butter + Almond Crunch, and Almond Crunch + Coconut Flakes. These bars are the reason we can feel good about eating milk chocolate again… So how did they rally the underdog? Well, it comes down to their UltraSimple ingredients.
Cashew Butter Milk Chocolate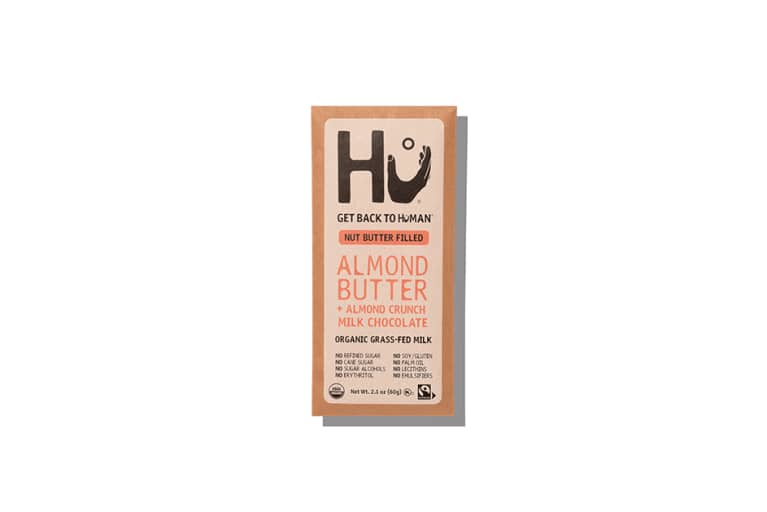 Almond Butter + Almond Crunch Milk Chocolate