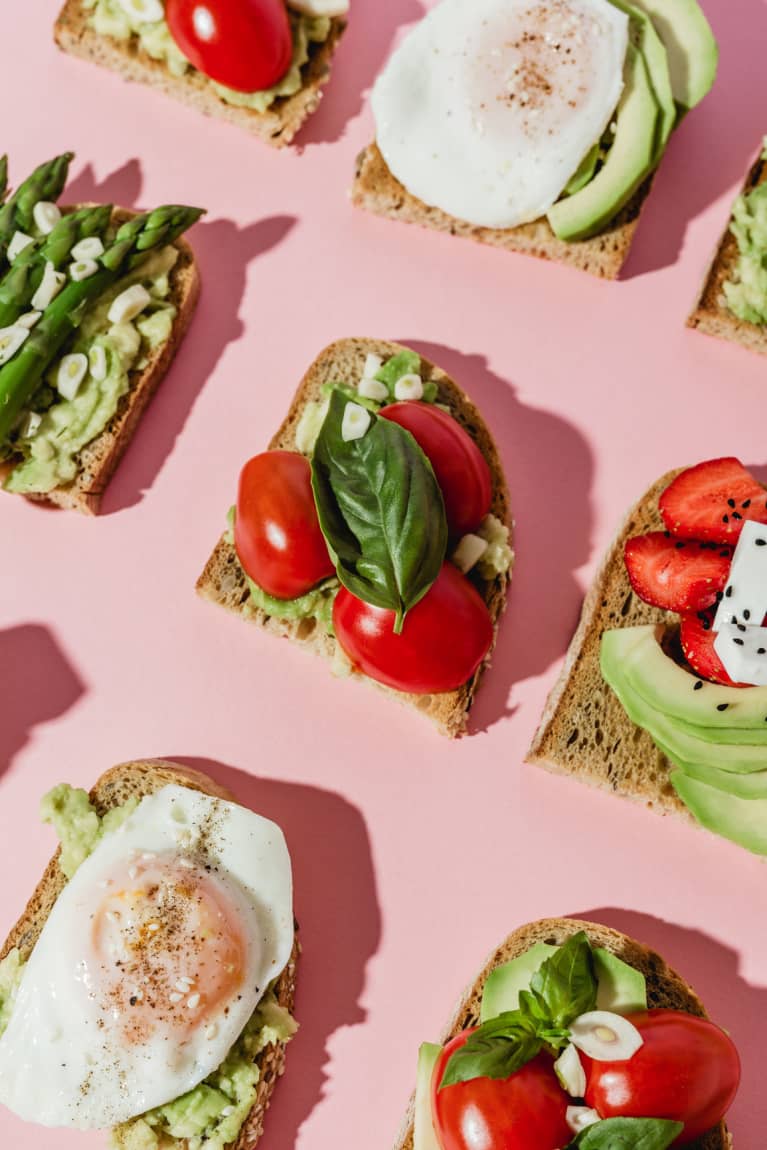 October 22, 2022 — 0:02 AM
My mom makes bruschetta for our Christmas Eve party every year and I can't get enough of the stuff. Tomatoes, onion, olive oil, and feta on toast—is there a better combo? So, imagine my surprise when I curated an avocado toast that not only reminds me of my mom's delicious holiday appetizer, but also delivers a slew of detox benefits—all before 10 in the morning! 
The secret ingredient? mbg's very own organic veggies+. I know, I know, you're probably thinking "Come on, does this avocado toast really taste better with a veggie powder?" 
I promise you, this simple addition elevates this recipe in both flavor and health benefits. In fact, my boyfriend and I have been eating this avo toast for breakfast every chance we get this week—and once you try it, I'm willing to bet you will be too.
Detoxifying Bruschetta Avocado Toast
1 slice of sourdough
1/2 avocado
2 tablespoons cherry tomatoes, diced
1 tablespoon sweet onion, diced
1 tablespoon feta or DF feta, diced
Generous sprinkle of mbg's organic veggies+
Flaky salt to taste
Black pepper to taste
Spread avocado on your sourdough toast.
Sprinkle up to 1 tablespoon of organic veggies+ powder on your toast. 
Add diced tomatoes, sweet onion, and feta cheese. If you're dairy free (like me), I recommend Violife's 100% vegan Just Like Feta!
Sprinkle flaky salt and black pepper.
Note: This toast is also delicious with an EVOO-fried egg on top! If you'd like the added protein, fry your egg while assembling your avocado toast and place it on top after sprinkling salt and pepper.
Luckily, there are foods we can add into our diet that help support the body's innate detoxification system—including the ingredients featured on this avo toast!
Avocados, tomatoes, and onions are packed with antioxidants that help remove unwanted toxins, and mbg's organic veggies+ includes an array of organic plants that support detox pathways—such as broccoli, beet root, kale, turmeric, flaxseed fiber, and sea vegetables (i.e., spirulina, chlorella, and kelp).*
Packed with a USDA certified organic blend of 31 fruits, vegetables, herbal botanicals, digestive enzymes, prebiotic fibers, and probiotics, this comprehensive powder is just the boost you need in the morning to promote a healthy gut microbiome, aid digestion, and bolster your detoxification system.*
Whether you're looking to add a little bit of joy to your morning routine or support your detox pathways by breakfast time, this delicious avocado toast recipe is for you!
If you're feeling inspired to spice up your daily meals with more fruit- and veggie-packed ingredients, check out mbg's roundup of the best superfood powders.
If you are pregnant, breastfeeding, or taking medications, consult with your doctor before starting a supplement routine. It is always optimal to consult with a health care provider when considering what supplements are right for you.
https://www.mindbodygreen.com/articles/bruschetta-avocado-toast-recipe-for-detox-support